Netflix Original Anime Coming in 2018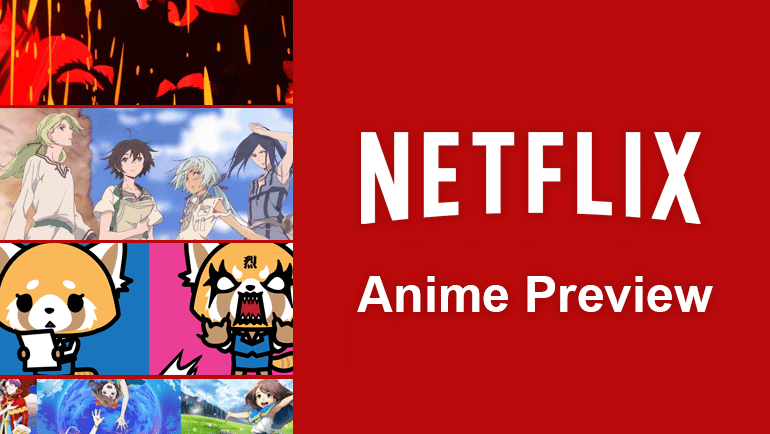 Netflix will be bringing the heat this year when it comes to Netflix Original anime with lots of new and returning anime series and movies. We've got the full preview of every anime title coming to Netflix across the world below plus we'll also take a look at some of the older titles too and see if there have been any changes there.
---
DEVILMAN Crybaby
Netflix Release Date: January 5th, 2018
Released slightly earlier than expected, Devilman returns to Netflix for the second time. His other title includes 009 vs Devil Man. Only 10 episodes were released so we're hoping more are on the way in the near future. The series is about demons that have awakened and with humanity in turmoil, it's down to a demon-boy to go up against the evil.
---
Godzilla (Part 1)
Netflix Release Date: January 17th

The first epic part of Godzilla, which results in an 88-minute movie, is the first of many coming to Netflix with more expected by the end of the year. The movies take on the well-known property of Godzilla and brings him to the anime format and for the most part, it works quite well.
---
B: The Beginning (Season 1)
Confirmed Netflix Release Date: March 2nd

March 2018 is going to be a massive month for anime on Netflix and it kickstarts with a brand new series called B: The Beginning. Featuring an all-star cast and is made by the talent of Production I.G, this series is a crime drama with a few differences where we follow a detective looking to find a serial killer who goes by the name of B.
This series will be available in an English dub and subtitles too with the original voices too.
---
A.I.C.O. Incarnation (Season 1)
Confirmed Netflix Release Date: March 9th
A.I.C.O Incarnation comes from the studio that produced My Hero Academia and Psalms of Planets EUREKA SEVEN. Set in 2035 Japan, an unknown experiment goes pear shapes when it becomes an artificial life form that' main goal is destruction and as a result, the area it resides is cordoned off. The main story revolves around Aiko who discovers she has ties to the AI.
The five minute 'teaser' gives you just an idea of what's to be had in the series, plenty of mystery, action, and intrigue.
---
Sword Gai: The Animation
Confirmed Netflix Release: March 23rd
Heading to Netflix sometime in the Spring is a new project from the studio that produced Cowboy Bepop. Based on the manga, Sword Gai is set in the modern world and is about a boy who fuses himself with a demonic sword. Expect big fighting sequences and over-the-top action when this series hits in early 2018.
The series has been in development since 2014 so it's taken a long time to get to this point and will be distributed globally on Netflix.
---
Lost Song
Confirmed Netflix Release: March 31st 
Produced by Mages, this anime series will be more akin to Glitterforce in a sense but will keep a more traditional anime style. The series is a musical fantasy where two girls who are isolated and kept away from the world adventure together using the power of song as well as their abilities to create wind, water and heal wounds.
12 episodes are currently planned for season 1 but we're not currently aware of whether it'll be dubbed.
---
Aggretsuko
Confirmed Netflix Release Date: April 20th, 2018

Love Hello Kitty? Then stay well away from this series as it only resembles Hello Kitty in a similar kind of art style and shares the same creator, the rest is very different. The series is an adaptation of Sanrio's beer-guzzling and screaming red panda. Expect chaos and a lot of randomness.
https://twitter.com/aggretsuko/status/960668570870059008
---
Children of the Whales
Expected Netflix Release Date: Spring 2018

Although the first twelve episodes of Childre of the Whales is already out in Japan, a Netflix release date has yet to be announced. Based on the Japanese manga of the same name, Netflix is distributing the show in other regions as it does with many other anime series.
The premise of the show is that it follows a boy who lives on a giant vessel called a Mud Whale. The population is split in two with people who have telekinetic powers and those that can live longer.
---
The Seven Deadly Sins: Revival of The Commandments
Expected Release Date: Spring/Summer 2018

After a promised second season came and went, we're finally getting something that resembles a sequel to the first season of The Seven Deadly Sins. Having just started airing in Japan, the next series should be on Netflix soon after. With many returning characters, this series will follow the manga pretty much exactly. This one should be on everyone's list.
「七つの大罪 戒めの復活」2018年1月6日(土)朝6時30分~MBS/TBS系全国ネット"アニメサタデー630"にて放送!第1弾PVを初公開!!#七つの大罪 pic.twitter.com/TYqOKHYA0S

— 劇場版&TVアニメ「七つの大罪」 (@7_taizai) October 7, 2017
---
Castlevania (Season 2)
Confirmed Netflix Release Date: Summer 2018

Although it's not a Japanese anime as it's produced in the US, Netflix does class it as anime hence it being on this list. The second season was announced subtly by the creators Twitter account recently and we can expect it in the summer.
---
Other Anime Mentions
AJIN: Demi-Human got a live-action adaptation but Netflix isn't in line to get it.
---
Other Netflix Anime Series Awaiting New Seasons or Cancelled
Before we go, we thought we'd take a look at the status of some other Netflix Original anime series that have yet to be renewed or has unknown statuses.
| Title | Status |
| --- | --- |
| Fate/Apocrypha (Season 3) | Not yet renewed |
| Glitterforce or Glitterforce Doki Doki | All episodes have been adapted |
| ID-0 (Season 2) | Not yet renewed |
| Kakegurui (Season 2) | Renewed – No date |
| Knights of Sidonia (Season 3) | Not yet renewed |
| Kuromukuro (Season 2) | Not yet renewed |
| Little Witch Academia (Season 3) | Not yet renewed |
| Magi: The Labyrinth of Magic (Season 2) | Not yet renewed |