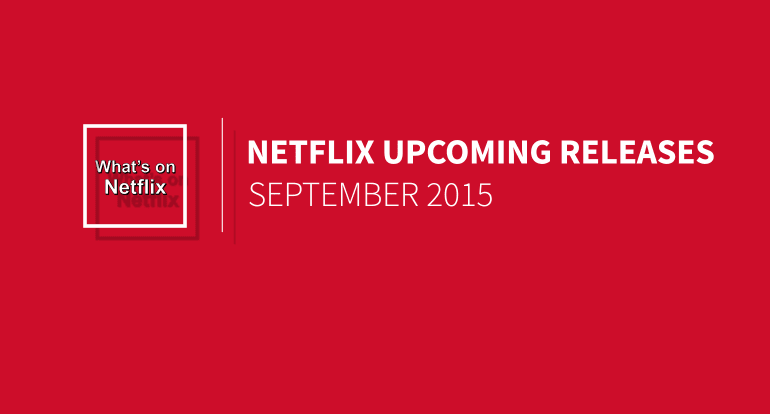 September is just around the corner and unfortunately the wait for next months new releases have been agonizing but they're here now and boy oh boy is it a good month. The delay was most likely caused by yesterday's news that came from Netflix about the lapse of the contract between Netflix and Epix who supplies Netflix with a lot of the movies you see on Netflix.
Looking for just the Netflix Originals coming in September?
Highlights
TV Series
First up and most importantly most would argue, is The Walking Dead. With its spinoff and season 6 just around the corner now is the perfect time to go ahead and catch up watching season 5 on Netflix. Based on a comic book of the same name it follows survivors after a zombie apocalypse infects America. It's probably the best realised zombie title ever created and is well worth your time.
The Blacklist also gets its second series after Netflix paid through the nose last year to get exclusive rights on it and is obviously paying off for them. Former agent turned rogue Red returns to help the FBI by locking up some of the world's most wanted criminals and only liases with a young agent called Elizabeth Keen. It's suspenseful and one of the best NBC dramas currently running.
Making its debut on Netflix this month is Gotham, the hit show taking us back to when Bruce Wayne was just a young boy and gives us a different kind of Gotham than what we're used to. It's a wonderfully realised world with solid character development and is a must watch from all Batman fans.
Rounding out the TV series are the latest seasons of fan favourites including The League, Portlandia and Parenthood.
Movies
A fairly weak month for movies when compared to the TV series but some hidden gems never the less. Kicking off with the low-budget comedy Philomena where a woman searching for her long lost son falls for a man who is documenting her search. It's one of Steve Coogan's best pieces of work and a major, but welcome, departure from his role as Alan Partridge.
If trilogies are your thing then you'll probably be excited to see that Rambo will be getting all three instalments on Netflix US from the 1st of the month. Explosions galore you can expect Rambo to fill in that 80's movie cliche list fairly quickly with Sylvester Stallones swansong movies.
Complete List of New Titles coming to Netflix in September 2015
September 1st
Hamlet (1990)
Hardball (2001)
Heather McDonald: I Don't Mean To Brag (2014)
Lawrence of Arabia: Restored Version (1962)
Masters of the Universe (1987)
Mississippi Damned (2009)
Mister Rogers' Neighborhood – Volume 1
Mouk – Season 1
Our Man in Tehran (2013)
Pandas: The Journey Home (2014)
Person of Interest – Seasons 1-3
Puffin Rock – Season 1
Rambo: First Blood (1982)
Rambo: First Blood Part II (1985)
Rambo III: Ultimate Edition (1988)
Sleepy Hollow (1999)
The Adventures of Sharkboy & Lavagirl (2005)
The League – Season 6
The Monster Squad (1987)
Up in the Air (2009)
September 2nd
Black or White (2014)
Miss Julie (2014)
September 3rd
Drumline: A New Beat (2014)
September 4th
Baby Daddy – Season Four
Bad Night (2015)
Madame Secretary: Season One
Melissa and Joey – Season Four
September 7th
September 8th
6 Years (2015)
Love at First Fight (2014)
September 9th
Teen Beach Movie 2 (2015)
September 10th
Fugitivos – Season 1
Longmire – Season 4
September 11th
About Elly (2009)
God Bless the Child (2015)
Madame Bovary (2014)
September 12th
It Happened Here (2015)
Portlandia – Season 5
The Roughnecks (2014)
Why Did I Get Married? (2007)
September 14th
Call the Midwife – Season Four
September 15th
Cowspiracy: The Sustainability Secret (2014)
Closer to the Moon (2015)
Kambu – Season 1
The Bank Job (2008)
The Road Within (2015)
September 16th
The Blacklist – Season 2
The Fosters: Season Three
Moonrise Kingdom (2012)
Reservation Road (2007)
September 17th
The Mysteries of Laura – Season 1
September 18th
Keith Richards: Under the Influence (2015)
September 21st
Gotham – Season 1
The Following – Season 3
September 22nd
Person of Interest – Season 4
Philomena (2013)
SMOSH: The Movie (2015)
September 23rd
September 24th
September 25th
Blue Bloods – Season 5
Hawaii Five-0 – Season 5
Parenthood – Season 6
VeggieTales In the House – Season One
September 26th
September 27th
The Walking Dead – Season 5
September 29th
Bones: Season Ten
Mandela: Long Walk to Freedom (2013)
Monster High: Boo York (2015)
R.L. Stines Monsterville: Cabinet of Souls (2015)
September 30th
Agatha Christies Poirot: Series Twelve
Leafie: A Hen Into the Wild (2011)
Midnight's Children (2012)
Murdoch Mysteries: Seasons Four-Seven
Ned Rifle (2014)
As always, there'll be a lot more coming to Netflix than just what's on this list. Keep checking back to What's on Netflix daily for the latest new additions.
[interaction id="55e42edf47016b292e3add64″]