Looking for every upcoming adult animated show coming to Netflix? Then welcome to our ongoing coming soon article where we'll document every new and returning animated show coming to Netflix. As of right now, we're covering new TV series coming in 2018 and 2019.
Netflix understandably has picked up the pace in the development of Original animated shows. This is largely thanks to the Fox library being removed which included the likes of Family Guy, American Dad, Bob's Burgers and Archer.
Note: This list does not include anime or children's animated shows. We will eventually do lists for these, bare with us.
---
Disenchantment (Season 1)
Release Date: August 17th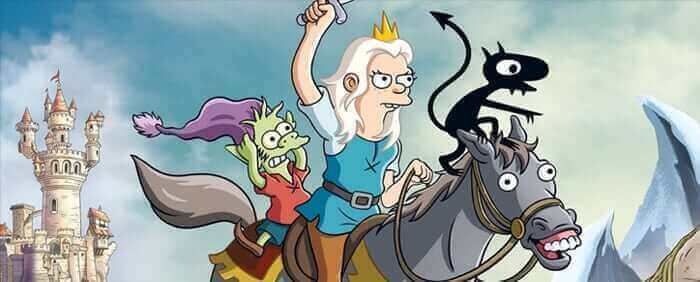 Netflix already poached talent from The Simpsons when it got Michael Price to produce F is For Family back in 2016. That clearly wasn't enough though as Netflix has now scooped up the creator of The Simpsons and Futurama itself, Matt Groening.
Matt has made shows in the present and future and now it's time for him to go back. Way back. We head to a magical kingdom to follow the adventures of a princess who's been thrown out.
For more on Disenchantment, visit our season 1 preview.
---
Paradise PD (Season 1)
Release Date: August 31st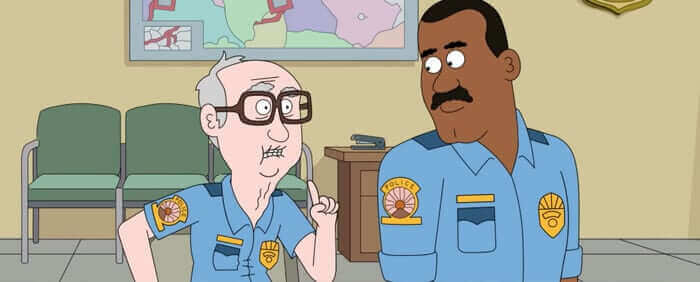 The second we saw who this show was made by and the fact the trailer includes a MAGA hat, we knew it was going to be controversial, to say the least. The series takes us to Paradise as we follow the police department which couldn't catch a criminal if they handed themselves in. We follow the antics of various characters including a cocaine-addicted dog, an old guy, a black guy and a fat traffic cop.
---
Bojack Horseman (Season 5)
Release Date: September 14th, 2018
The fifth season has been teased for months and while we're getting it slightly later than normal, we're just happy that Bojack is back. Bojack pioneered a new wave of animated shows on Netflix having the accolade of being the first and arguably, still the best.
We'll be back following Bojack in his retirement days as he struggles with life mainly because of his past life and bunch of crappy friends.
For more on Bojack season 5, check out our season preview.
---
Castlevania (Season 2)
Release Date: October 26th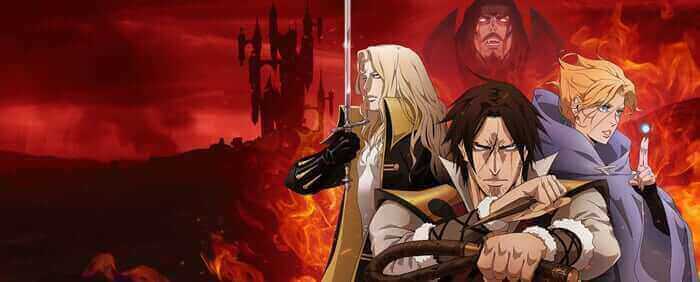 Wait, before you say it. We did say that we aren't including anime on this list but hear us out. Many sources including Wikipedia itself defines this show as an animated show so we're going to include it. Dab on the haters.
Coming slightly later than originally slated, the new season will drop in October. The series is a TV adaptation of the classic video game series and unfortunately only dropped with four episodes back in July 2017 so more will be absolutely welcomed.
---
F is for Family (Season 3)
Release Date: Late fall 2018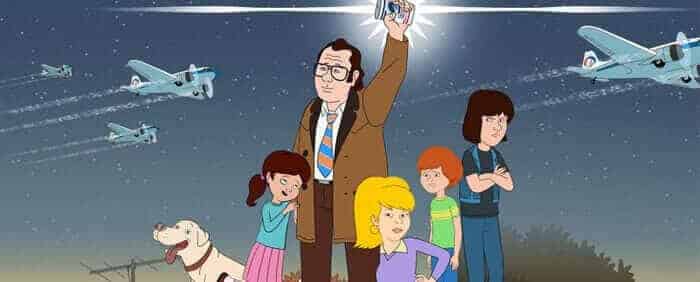 Bill Burr will be reprising his rightful place among the Murphies in season 3 of F is for Family which is expected to arrive in the latter part of 2018. The series set back in the 1970's, documents a family just about getting by. Bill Burr plays Francis Murphy, a disgruntled airport luggage worker who, in season 2, lost his job and became the house husband. Season 2 ended with Scoop no longer working at the airport and Sue feeling let down after her idea was stolen by Plast-a-Wares.
You can see more on F is for Family in our dedicated season 3 preview.
Renewed but no release date
Big Mouth (Season 2) – The second season of the potty-mouth coming-of-age animation got picked up soon after the first released. – Expected release in 2019
Non-Renewed Animated Shows
Neo Yokio (Season 2) – No news regarding its second season since it released in September 2017.
Announced Animated Shows
Tuca & Bertie (Season 1) follows "the friendship between two 30-year-old bird women who live in the same apartment building, Tuca, a cocky, care-free toucan, and Bertie, an anxious, daydreaming songbird." The series features Tiffany Haddish and Ali Wong. First announced back in February 2018. Expected to release in 2019.