Looking for every upcoming adult animated show coming to Netflix? Then welcome to our ongoing coming soon article where we'll document every new and returning animated show coming to Netflix. We've got all the release dates and predictions of what animated shows are returning.
Netflix understandably has picked up the pace in the development of Original animated shows. This is largely thanks to the Fox library being removed which included the likes of Family Guy, American Dad, Bob's Burgers, and Archer.
Don't forget that we also cover all the anime series and movies coming to Netflix in a big preview which dwarfs this list considerably.
Note: This list does not include anime or children's animated shows. 
---
Love, Death & Robots (Season 1)
Release Date: March 15th, 2019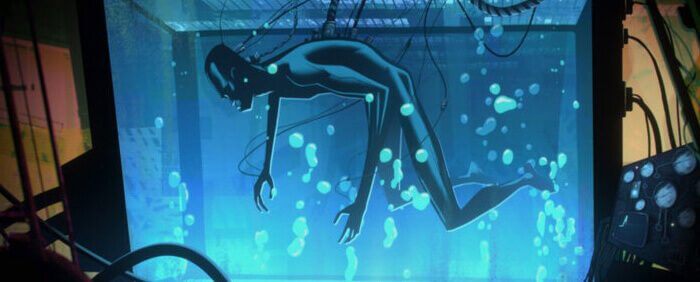 Looking for an animated version of Black Mirror? This series by Tim Miller may just be for you. 18 episodes are due to release as part of the first season which could signify it's a one-off series rather than something to expect a second season for.
We can't quite work out the nature of the show but here's how Netflix has described it:
Sentient dairy products, werewolf soldiers, robots gone wild, garbage monsters, cyborg bounty hunters, alien spiders and blood-thirsty demons from hell – all converge in eighteen NSFW animated stories.
---
Trailer Park Boys: The Animated Series (Season 1)
Release Date: March 31st, 2019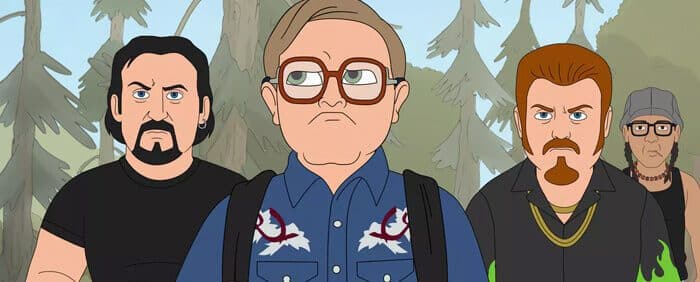 Trailer Park Boys have been on Netflix in many formats but in March, they'll be coming to Netflix in an animated format. There's still a lot to be known about the new series although we do know that the main cast including John Paul Tremblay, Rob Wells, and Mike Smith are all due to appear. We also know that the show will consist of 10 episodes.
---
Disenchantment (Part 2)
Release Date: Early-to-mid 2019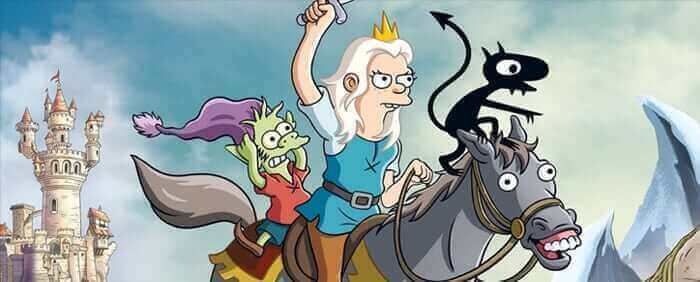 The first season of Disenchantment laid a solid foundation when it released back in August 2019 and Netflix clearly saw potential in the show by giving it a full second season. Like with a handful of other shows on Netflix, the streaming service splits up its seasons into two parts. This is to ensure new episodes are releasing on a regular basis.
At the moment we believe the Matt Groening series could release two new parts throughout 2019 but that's only if part 2 releases in the next couple of months.
---
Big Mouth (Season 3)
Release Date: Fall 2019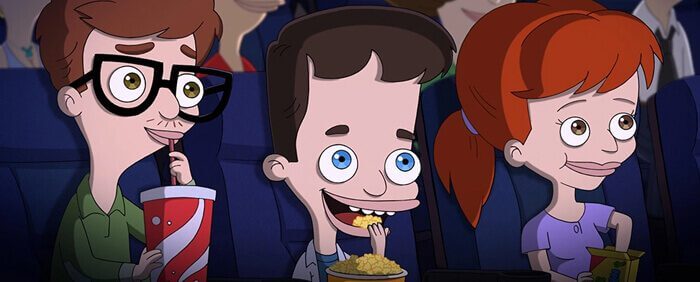 The wait for new episodes of Big Mouth is hard but this year, we were treated to a special Valentine's Day episode to help with the wait. Once again, we'll be returning to our favorite puberty-driven characters for further misadventures.
---
Bojack Horseman (Season 5)
Release Date: 2019
Bojack Horseman has been renewed for a sixth season which continues the show's reign at being the longest running animated series on Netflix.
We don't usually hear much about upcoming series of the show until close to the release date which we believe it'll arrive at its regular timeslot between July and September 2019.
---
F is for Family (Season 4)
Release Date: 2020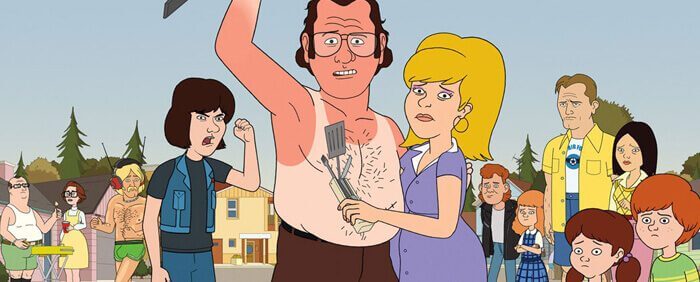 The Murphies have been confirmed for another outing come 2020. The series that whisks you back to the 1970s has been a massive hit largely in part due to its fantastic writing and an excellent performance by Bill Burr.
The fourth season will see the arrival of the new Murphy baby which joins a family that continues to be in turmoil.
We've got more on F is for Family season 4 in our ongoing preview.
---
Paradise PD (Season 2)
Release Date: Unknown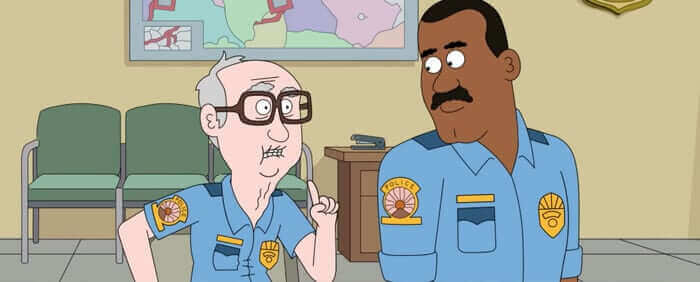 The ludicrous first season of Paradise PD was akin to the level of madness displayed in Big Mouth although what did you expect from the team behind Brickleberry. With the excruciating wait for hearing whether the show would be getting a second season, it allowed multiple 9-1-1 calls from the show to go viral.
The second season will likely be coming at the end of 2019 but there's been no confirmation as of yet.
---
Other Announced Animated Shows
Tuca & Bertie (Season 1) follows "the friendship between two 30-year-old bird-women who live in the same apartment building, Tuca, a cocky, care-free toucan, and Bertie, an anxious, daydreaming songbird." The series features Tiffany Haddish and Ali Wong. First announced back in February 2018. Expected to release in 2019.
Hoops (Season 1) – Ben Hoffman, creator of The Ben Show from Comedy Central is behind this new sports animated show. The series follows a hot-headed, foul-mouthed high school basketball coach who thinks to turn around his God-awful team will take him to the 'big leagues.
Diablo – A new series based on the video game series.
The Liberator (Season 1) – A+E Studio's first project for Netflix is a four-part animated World War 2 drama series based on the book by Alex Kershaw.
There's also animated series coming from Alex Hirsch, Elizabeth Ito, Matt Layzell and Megan Nicole Dong.
---
Pending Animated Shows
Neo Yokio (Season 2) – No news regarding its second season since it released in September 2017.
---
Canceled Animated Shows