As we approach another new year on Netflix we always see a shift of titles leaving the streaming service. Sadly Love Actually is one such title currently scheduled to leave. Sadly from the 1st of January 2019, Love Actually will no longer be available to stream on Netflix.
Considering it's been 15 years since the release of Love Actually it would be surprising if you haven't watched or of least heard of the film. With Christmas fast approaching we'd of expected the film to have been watched a huge number of times across the globe. With it leaving Netflix in the coming weeks you best get your fill before it's too late!
What is Love Actually?
Love Actually is a British Christmas Rom-Com with an all-star cast. The film debuted in cinemas back in 2003 grossed $246.9 Million worldwide, considering the budget of the film was thought to be $45 Million, this made the film a huge success. Not only was it successful at the box office but the film has also gone to become a beloved Christmas classic. During the holiday season, the film is watched by many across the globe.
Article Continues Below...
The film has an all-star cast with many well-known actors such as Hugh Grant, Liam Neeson, Kiera Knightly, Rowan Atkinson, and Emma Thompson.
Through 9 intertwining stories we learn of love and heartbreak, betrayal and loyalty, but ultimately we learn of the emotion that binds us together: Love.
---
When is Love Actually scheduled to leave?
Love Actually is currently scheduled to leave Netflix on the 1st of January 2019. Currently, all the titles scheduled to leave in January are yet to show as such on Netflix.
---
Why is Love Actually scheduled to leave?
When new titles arrive on Netflix the licenses to stream are either for 1 or 3 years. Love Actually arrived on Netflix on the 1st of January, 2018 so its year is almost up. Love Actually will remain on Netflix if the license is renewed.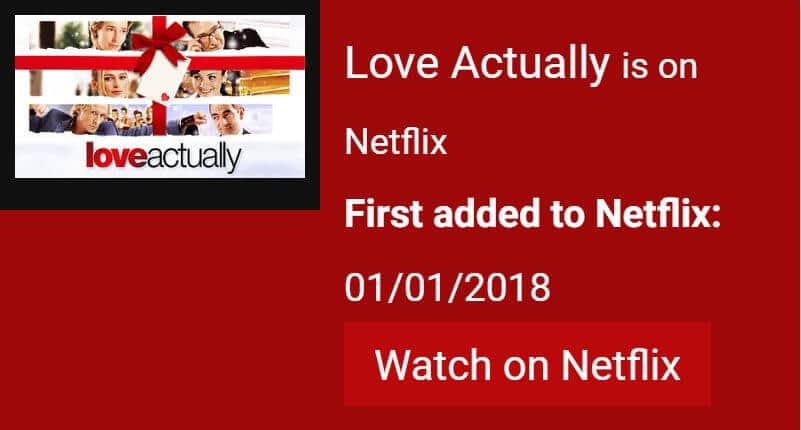 ---
Will Love Actually stream elsewhere?
If you consider the popularity of the film it would be of no surprise if another streaming service would pick the Rom-Com up. But there is now news as of yet that Love Actually will be streaming elsewhere.
Would you like to see Love Actually stay on Netflix? Let us know in the comments below!