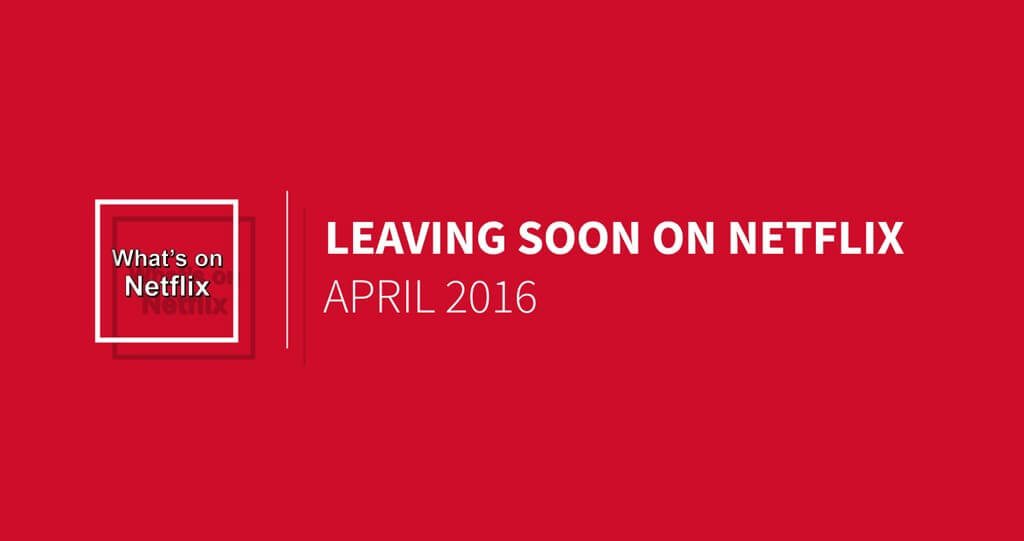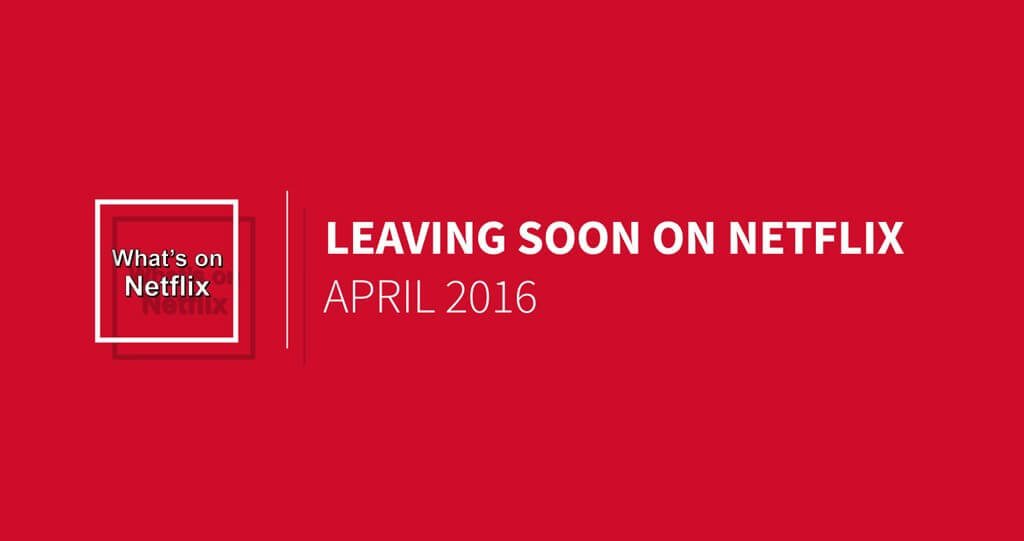 Netflix giveth and Netflix certainly takeths. 2016 has already seen the departure of a a substantial amount of movies and some much loved TV shows and we're going to document on this page any of the titles currently scheduled to leave throughout the month of April 2016. There's no Aprils fools here, every title listed is set to expire so watch them while you can.
The format of this post is simple, new titles get added to this list normally 30 days before they're due to expire. Towards the end of the month Netflix then gives us another set of listings that we'll filter into the days below. We'll mark those actually confirmed by Netflix with bold styling and those that are both submitted and shown to be expiring in a normal format.
Here's what's leaving Netflix in April 2016.
---
April 1st
101 Dalmatians (1996)

2 Fast 2 Furious (2003)

Along Came a Spider (2001)

Along Came Polly (2004)

American Girl: Grace Stirs Up Success (2015)

Amistad (1997)

Auschwitz: Inside the Nazi State (2005)

Bandolero! (1968)

Barefoot Contessa: Back to Basics Collection (2011)


Beachfront Bargain Hunt Collection (2013)

Berkeley in the Sixties (1990)

Charlie's Angels: Full Throttle (2003)

Cheaper by the Dozen (1950)

Chuck's Eat the Street Collection (2012)

Craigslist Joe (2012)

David Attenborough: Wildlife Specials (2002)

Dear Genevieve Collection (2011)

Design on a Dime Collection (2011)

Ferris Bueller's Day Off (1986)

Flashdance (1983)

Frankenstein's Army (2013)

Good Eats Collection (2008)

Heaven Knows, Mr. Allison (1957)

Hook (1991) our reviews / info

Hotel Rwanda (2004)

House of Wax (2005)

Intolerable Cruelty (2003)

M*A*S*H (1983) (11 Seasons)

Man Hunt (1941)

Meet the Fockers (2004)

Meet the Parents (2000)

My First Place Collection (2007)

Nanny McPhee (2005)

Nazi Hunters (2010)

Nine to Five, aka 9 to 5 (1980)

No Holds Barred (1989)

Nurse (2014)

Pride & Prejudice (2005)

Property Virgins Collection (2011)

Rock Star (2001)

Selling New York Collection (2010)

Sex and Lucia (2001)

Signing Time (2007)

Snake Eyes (1998)

Something New (2006)

Star Trek: Insurrection (1998)

Strangers in Good Company (1990)

Sunset Strip (2000)

The Butcher's Wife (1991)

The Closer You Get (2000)

The Incredible Universe with Neil deGrasse Tyson (2013)

The Life of Birds (1998)

The Life of Mammals (2002)

The Man Who Never Was (1956)

The Naked Gun 2 1/2: The Smell of Fear (1991)

The Seven-Ups (1973)

The Shining (1980)

The Tale of Despereaux (2008)

The Vanilla Ice Project (2014)

The Wedding Date (2005)

This Ain't California (2012)

Throwdown with Bobby Flay Collection (2006)


Vanilla Ice Goes Armish (2013)

Wild China (2008)
April 2nd
Anchors Aweigh (1945)
Around the World in 80 Days: Special Edition (1956)
The Devil at 4 o'clock (1961)
High Society (1956)
On the Town (1949)
Pal Joey (1957)
Some Came Running (1958)
Take Me Out to the Ball Game (1949)
April 3rd
Short Poppies (Season 1)
Space Dogs (2010)
April 4th
Goddess of Marriage (2013)
April 6th
The Passion of the Christ (2004)
April 8th
April 9th
April 10th
Le the Right One In (2008)
April 13th
The Moon Embracing the Sun (2012)
April 15th
All American Christmas Carol (2013)
Arpeggio of Blue Steel (2013)
Aguila Roja (2013)
Bill Cunningham New York (2010)
Kotoura-san (2013)
My Little Monster (2013)
New York, I Love You (2008)
Splatalot (2011)
Wild Iberia (2014)
April 16th
Mr. Bean's Holiday (2007)
April 17th
April 18th
You're All Surrounded (2014)
April 19th
Freezing (2011)
Freezing Vibration (2013)
April 20th
April 22nd
April 25th
April 30th