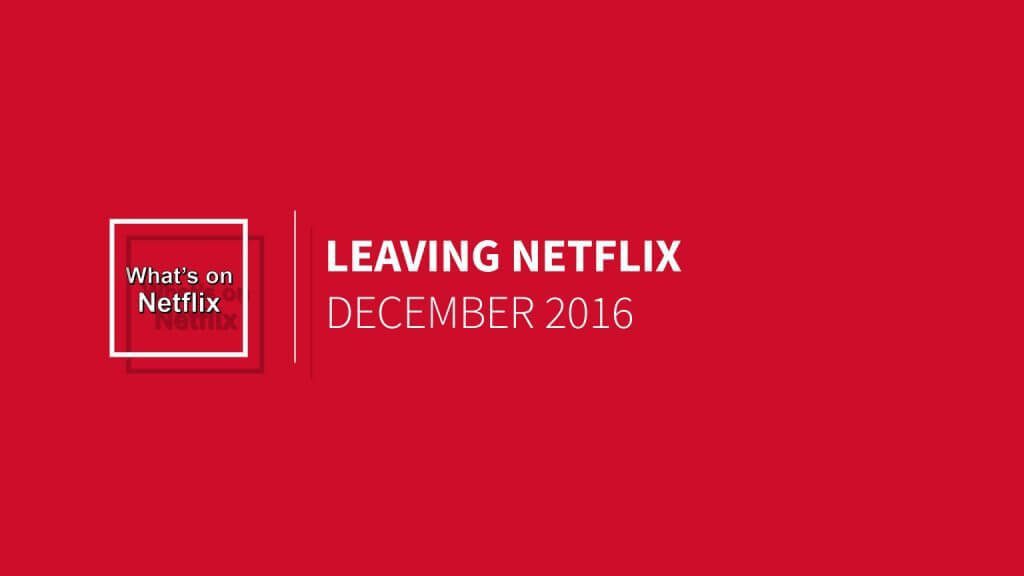 The last month of 2016 is upon us and it's time to take a look over all the titles that are scheduled to leave throughout the holiday season. Traditionally, we see quite a few movies leave in December as Netflix and other networks buys in their Christmas lineup. Keep an eye out for January 2017's leaving soon list though as that tends to include the most titles.
Just a quick look back at November first. We saw quite a few well-known TV series leave including NBC's Chuck, a wide range of Cartoon Network offerings on Netflix, Adultswim content and some other fan-favorites. The first of November also saw another exodus of movies too.
Keep this page bookmarked throughout the month as new title expiration dates usually pop up 30 days before they're due to expire plus we get the official leaving list from Netflix towards the end of the month too.
Article Continues Below...
December 1st
50 First Dates (2004)
American Beauty (1999)
Black Ops (Drama Series- Season 1-2)
Bleach (Anime – 3 Seasons)
Camp Takota (2014)
Carmen Jones (1954)
Cats & Dogs (2001)
Chuggington (Kids Series – 4 Seasons)
Curious George: Swings Into Spring (2013)
Don't Be a Menace to South Central While Drinking Your Juice in the Hood (2016)
Elizabeth: The Golden Age (2007)
Event Horizon (1997)
Frequencies (2013)
McConkey
Medora (2013)
Monkey Business (1952)
Myth Hunters: Series 1
Myth Hunters: Series 2
Neil Young: Heart of Gold (2006)
Paycheck (2003)
Pirates Who Don't Do Anything: A VeggieTales Movie (2008)
River of No Return (1954)
Sling Blade (1996)
Terriers (Comedy Series – 1 Season)
The Great War Diary (Documentary series – 1 Season)
The Great War Diary: Season 1
The In-Laws (2003)
The L.A. Complex (TV Drama – 2 Seasons)
The Out-of-Towners (1999)
Thor: Hammer of the Gods (2009)
Top Gun (1986)
Valley of the Dolls (1967)
World Trade Center (2006)
December 2nd
Legends of the Knight (2013)
The Red Baron (2008)
December 3rd
December 5th
December 6th
December 14th
December 15th
Ancient Black Ops (Season 1)
High Profits ( 1 Season)
InuYasha (2 Seasons)
LEGO: Legends of Chima (2 Seasons)
Morbito: Guardian of the Spirit (1 Season)
Nana (1 Season)
Secrets of the Bible (1 Season)
World War II in Colour (1 Season)
December 16th
December 19th
H20: Just Add Water (3 Seasons)
December 22nd
December 26th
December 27th
December 31st
Hercules: The Legendary Journeys (Seasons 1-6)
Bones Leaving Netflix
A few of you are reporting that Bones is leaving Netflix. We've covered in more detail including the dates when each season may expire. It looks like a glitch at this point but we'll update as soon as we learn more.