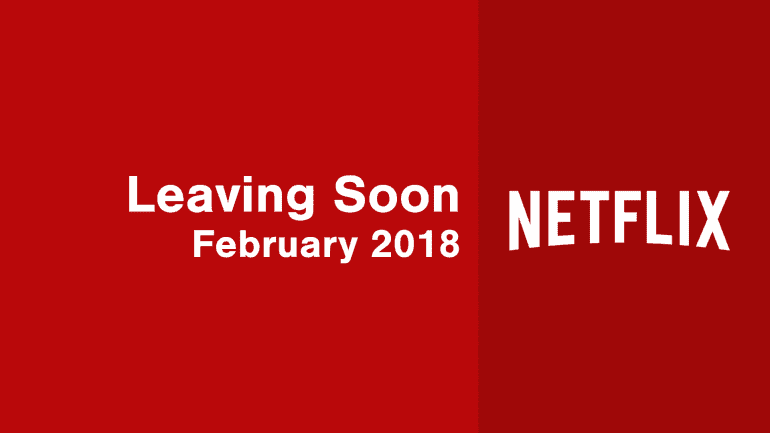 February 2018 won't see as many titles leaving Netflix as January but there's still plenty to keep your eye on as the Fox contract comes to a close and others are also up for renewal. Here's a rundown of what's scheduled to be leaving Netflix next month.
The new year, in balance, brought more quality content than saw content lost. The biggest couple of titles lost were Lost and Law & Order: SVU. Looking ahead to February, nothing that big seems to be leaving.
Just a quick reminder of how this post works. We typically get dates of removals around 30 days before they're scheduled to expire. We also receive an extended list from Netflix themselves towards the end of the month too.
Looking back at last year, you can also expect many BBC and National Geographic titles to get refreshed/removed in February as that's when their contracts typically come up for renewal.
Fox Shows Leaving in February?
No FOX shows are leaving in February although Futurama will be removed a day before. We're expecting New Girl to expire fairly soon so don't be surprised by it joining this list.
Complete list of titles leaving Netflix in February
February 1st
The Kindness Diaries (Season 1)
Lindner's Fishing Edge (Season 1)
Little Lunch (Season 1)
Magic City (2 Seasons)
Slugterra (Remaining 1 Season)
Tin Man (Season 1)
Top Gear (All Seasons) See note below
Wild Ones (Season 1)
Wildest Africa (2 Seasons)
Wildest Arctic (1 Season)
Wildest India (1 Season)
Wildest Indochina (1 Season)
Wildest Islands (2 Seasons)
Wildest Latin America (1 Season)
Wildest Middle East (1 Season)
February 14th
Family Guy (Seasons 1 to 8)
Regarding Top Gear – February is usually the time most of the BBC contract comes up for renewal. In the case of Top Gear, older seasons get removed in favor of new ones. So we'd advise to watch the oldest season and expect a new season to land shortly afterward.
If you spot anything else up for removal, let us know down below and we'll update accordingly.