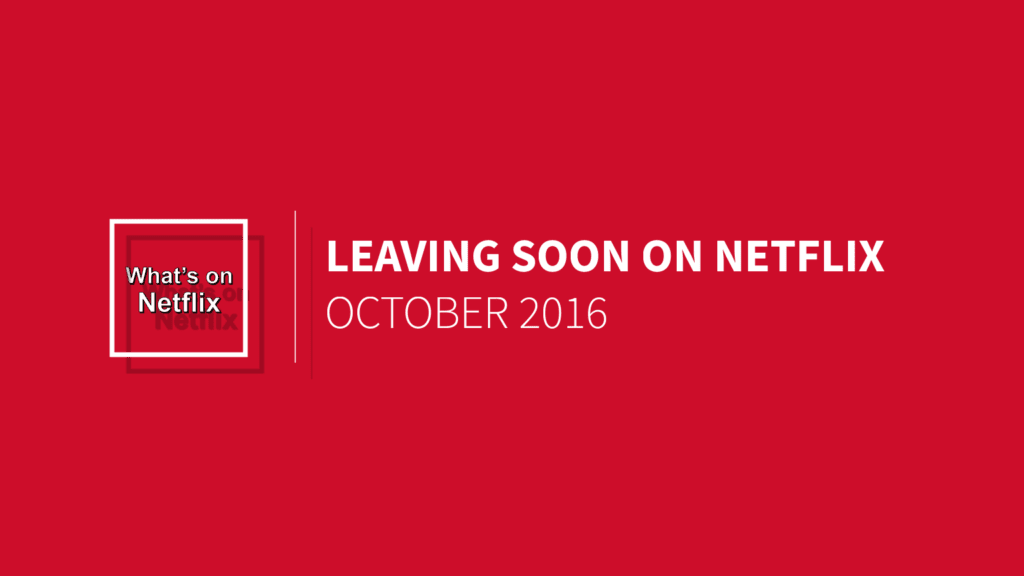 The fall is in full swing, and as major title contracts come up for renewals, it's likely we'll see lots of new content come and go. We'll be covering everything in detail of course and this post, we'll be detailing all of the content that's scheduled to leave throughout October.
Let's recap both last month as there were a few noticeable titles that left the service. Although the 1st took away some big movies including the likes of Jurassic Park and the Fast and Furious movies that were only available on Netflix for the summer the real losses came in the form of TV series. The biggest of the losses came on September 1st where Everybody Loves Raymond, a much loved American sitcom got removed from Netflix. Later in the month sci-fi hits Fringe and ALIAS were removed from Netflix too.
Looking ahead, the 1st of October will see the potential removal of PBS, Food Network and NBC shows. Highlights include Heroes and Psych, so if you're watching those at the moment, best speed up your binge.
Article Continues Below...
October 1st
10.0 Earthquake (2014)
Ace of Cakes Collection – Collection 1 (2010)
America's Test Kitchen – Season 14 (2014)
Animal Mechanicals – 1 Season (2008)
Back to the Future (1985)
Back to the Future Part II (1989)
Back to the Future Part III (1990)
Beat Bobby Flay – 1 Season (2014)
Beverly Hills Cop II (1987)
Bite This with Nadia G – 1 Season (2014)
Booze Traveler – 1 Season (2014)
Chopped Collection – Collection 2 (2013)
Congo (1995)
Cupcake Wars Collection – Collection 2 (2012)
Cutthroat Kitchen – Seasons 1-4 (2014)
Deep Impact (1998)
Departures – 2 Seasons (2009)
Diners, Drive-Ins and Dives Collection – Collection 2 (2012)
Duff Till Dawn – 1 Season (2015)
Erin Brockovich (2000)
The Exorcist (1973)
Expedition Unknown – 1 Season (2015)
Extreme Homes Collection – Collection 1 (2012)
Extreme Vacation Homes – 1 Season (2014)
Fixer Upper – 2 Seasons (2015)
Flip or Flop – 1 Season (2013)
Food Network Star – Seasons 9-10 (2014)
Genevieve's Renovation – 1 Season (2014)
Ghost Adventures Collection – Collection 2 (2011)
Giada at Home – Season 7 (2014)
Good Eats Collection – Collection 3 (2011)
The Great British Baking Show – 1 Season (2014)
The Great Food Truck Race – Seasons 1-5 (2014)
Guy's Grocery Games – Season 3 (2014)
Half-Price Paradise – 1 Season (2015)
Heroes – Seasons 1-4 (2009)
Honey (2003)
Honey 2 (2011)
House Hunters Collection – Collection 3 (2014)
House Hunters International Collection – Collection 3 (2013)
House Hunters International Renovation – 1 Season (2013)
House Hunters Renovation Collection – Collection 1 (2012)
How We Got to Now with Steven Johnson – 1 Season (2014)
Insomnia (2002)
Iron Chef America Collection – Collection 1 (2010)
Jimmy Neutron: Boy Genius (2001)
Ken Burns: Cancer: The Emperor of All Maladies – 3-Part Series (2015)
Kids Baking Championship – 1 Season (2015)
Kitchen Crashers – Season 7 (2014)
Lakefront Bargain Hunt – 1 Season (2014)
The Layover – 2 Seasons (2012)
Love it or List It, Too – Season 4 (2015)
Man Caves – Season 13 (2014)
Man Fire Food – Season 3 (2014)
Man v. Food Collection – Collection 3 (2010)
Mega Mansions – 1 Season (2014)
Million Dollar Rooms Collection – Collection 1 (2011)
Monumental Mysteries Collection – Collection 1 (2013)
Mr. Deeds (2002)
My Girl (1991)
Mysteries at the Museum Collection – Collection 2 (2011)
Mystery Diners – Season 8 (2014)
Nature: Animal Homes – 3-Part Series (2015)
Nazi Mega Weapons – Season 2 (2015)
Nick of Time (1995)
Pizza Masters – 1 Season (2014)
Property Brothers – Seasons 3-5 (2013)
Property Brothers at Home – Season 1 (2014)
The Phantom (1996)
Psych – Seasons 1-8 (2014)
Rev Run's Renovation – Season 2 (2015)
Rev Run's Sunday Suppers – Season 1 (2014)
The Running Man (1987)
Salvage Dawgs – 1 Season (2012)
Saturday Night Live: The 2010s – Season 38 (2012)
Sex in the Wild – 4-Part Series (2014)
Small Space, Big Style Collection – Collection 1 (2005)
Taco Trip – 1 Season (2014)
Texas Flip and Move – 1 Season (2015)
Timeline (2003)
Thomas Edison's Secret Lab – 1 Season (2015)
Tiny House Builders – 1 Season (2014)
Tiny House Hunters – 1 Season (2014)
Twice Born: Stories from the Special Delivery Unit – 3-Part Series (2015)
Uncommon Valor (1983)
Underground BBQ Challenge – 1 Season (2014)
The Warriors (1979)
Worst Cooks in America – Seasons 3-5 (2014)
You Live in What? – Season 3 (2014)
October 2nd
October 7th
October 15th
Adaalat (2013)
C.I.D (2013)
Ivan the Incredible (2013)
Finding Jesus: Faith. Fact. Forgery (2015)
Maharana Pratap (2013)
More Business of Being Born (2011)
Wolf Blood (2014)
October 16th
Devil (2010)
Estranged (2015)
Inspector Morse (8 Seasons)
October 20th
Marvel's Avengers Assemble (1 Season – 2015)
October 21st
The Taking of Deborah Logan (2014)
We The Economy (2015)
October 24th
October 25th
October 27th
The Many Adventures of Winnie the Pooh (1977)
October 31st