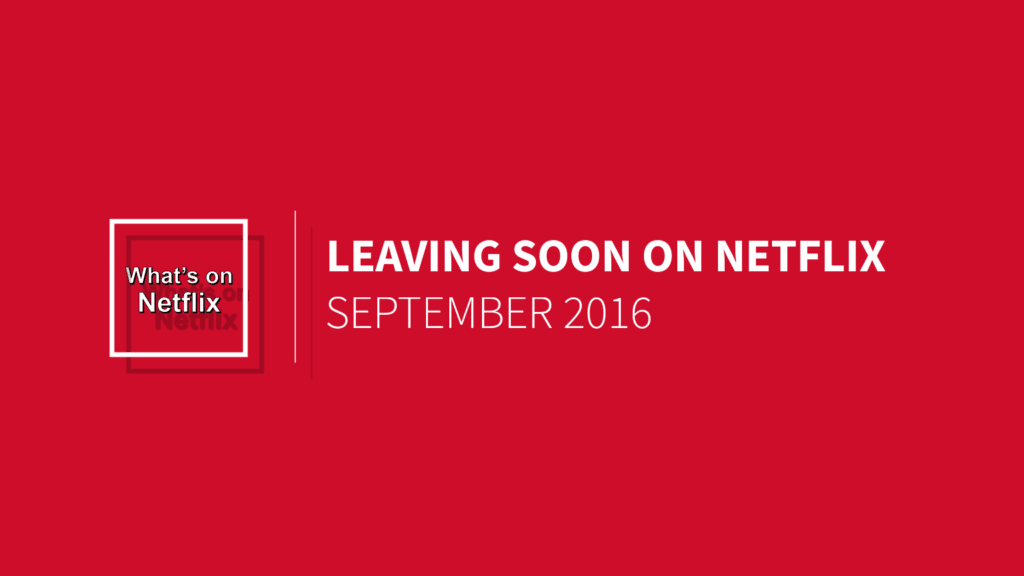 As we quickly approach the final rundown of 2016, Netflix will be getting tonnes of brand new additions over the next few month which will likely also see some titles depart but never fear as What's on Netflix is here to help. As always, we're going to give you the complete low-down of everything that's scheduled to leave Netflix in September 2016.
Currently, Death Note, the anime series, is currently due to expire from Netflix on September 1st. We think this is highly improbable and simply marks the renewal of the contract given Netflix are producing a movie around the title. Other than that, we can safely say you're all clear at the moment for big titles leaving.
As always, check back daily as titles are normally added to this list 30 days before they're due to expire. A full list will also drop towards the end of the month announcing anything that we may have missed.
Article Continues Below...
September 1st
2 Fast 2 Furious (2003)
A Walk to Remember (2002)
A Year in Burgundy (2013)
Aaron Karo: The Rest Is History (2010)
The Adventures of Sharkboy and Lavagirl (2005)
Alistair MacLean's Air Force One Is Down – (2013)
All the Light in the Sky (2012)
American Experience: Butch Cassidy and the Sundance Kid (2014)
Anastasia (1997)
Antisocial (2013)
Anywhere But Here (1999)
Avengers Confidential: Black Widow & Punisher (2014)
The Best of Men (2012)
The Bridge on the River Kwai (1957)
Bruno and the Banana Bunch – 1 Season (2007)
Bullett Raja (2013)
Call Me Crazy: A Five Film (2013)
Childless (2015)
The Color Purple (1985)
Crocodile Dundee (1986)
The Crucible (1996)
Days of Thunder (1990)
Defending Your Life (1991)
Double Jeopardy (1999)
Eraser (1996)
Everybody Loves Raymond (All Seasons)
Exporting Raymond (2010)
Flight of the Intruder (1991)
Full Metal Jacket (1987)
Gary Gulman: In This Economy? (2012)
Genius Party (2007)
Genius Party Beyond (2008)
Giggle and Hoot's Best Ever! (2014)
Girl Rising (2013)
Hachi: A Dog's Tale (2009)
Hardball (2001)
The Haunting (1999)
Hostage (2005)
Humshakals (2014)
I Know That Voice (2013)
Jealousy (2013)
Josh Blue: Sticky Change (2012)
Jurassic Park (1993)
Jurassic Park III (2001)
Kevin Nealon: Whelmed, But Not Overly (2012)
Levitated Mass: The Story of Michael Heizer's Monolithic Sculpture
(2013)
The Lost World: Jurassic Park (1997)
The Machine (2013)
Mind Game (2004)
Mirage Men (2013)
Naked Ambition: An R-Rated Look at an X-Rated Industry (2009)
Nick Cannon: Mr. Showbiz (2011)
Note to Self (2012)
Our Man in Tehran (2013)
Primal Fear (1996)
Princess Arete (2001)
The River's Edge (1957)
The Robe (1953)
Roboshark (2015)
Roman Holiday (1953)
S.W.A.T. (2003)
Sins of My Father (2009)
Spanglish (2004)
Traffic (2000)
The Unbelievers (2013)
Vic the Viking – 1 Season (2014)
War of the Worlds: Goliath (2012)
We Always Lie to Strangers (2013)
The Weather Man (2005)
The Wood (1999)
Zoolander (2001)
September 3rd
Happy End, aka Happy End?! (2014)
I Am (2011)
Out in the Line-Up (2014)
Out to Kill (2014)
Parts Per Billion (2014)
Ram Lakhan (1989)
September 4th
The Auction (2013)
Melissa & Joey – Seasons 1-4 (2010-2015)
Shanghai Knights (2003)
September 5th
The Alps from Above: A Symphony of Summits, aka Die Alpen: Unsere Berge von oben (2015)
American Mary (2012)
Apostle Peter and The Last Supper (2012)
Blood Money (2012)
Brawler (2011)
By the Gun (2014)
Gabe the Cupid Dog (2012)
More Than Chance (2011)
We the Party (2012)
September 6th
Hollywood Homicide (2003)
My Babysitter's a Vampire: The Movie (2010)
September 8th
The Country Teacher (2008)
September 9th
Category 8, aka Cat.8 – 2-part Mini-Series (2013)
The Emperor's New Groove (2000)
Lilo & Stitch (2002)
September 11th
Fringe – 5 Seasons (2012)
How to Train Your Dragon 2 (2014)
September 13th
Jay and Silent Bob's Super Groovy Cartoon Movie (2013)
September 15th
Bob Saget: That's What I'm Talkin' About (2013)
Tweeny Witches – 1 Season (2007)
What If… (2010)
September 16th
Gridiron Gang (2006)
The Kids Are All Right (2010)
September 17th
Gimme the Loot (2012)
Simon Killer (2012)
September 19th
Dream School – 1 Season (2013)
September 20th
Something, Anything (2014)
September 23rd
The Lost Medallion (2013)
September 24th
The Forbidden Kingdom (2008)
September 25th
Alias – 5 Seasons (2005)
Jobs (2013)
September 26th
How to Be a Gentleman – 1 Season (2011)
NYC 22 – 1 Season (2012)
Rob – 1 Season (2012)
September 27th
Father of the Pride – 1 Season (2004)
September 28th
Comic Book Men – Season 3 (2014)
Open Water (2004)
Open Water 2: Adrift (2006)
September 30th
666 Park Avenue – 1 Season (2012)
Another Gay Movie (2006)
The Aviators, aka Flying Heroes (2008)
League of Super Evil – 1 Season (2009)
We Were Soldiers (2002)
Wolf (2013)