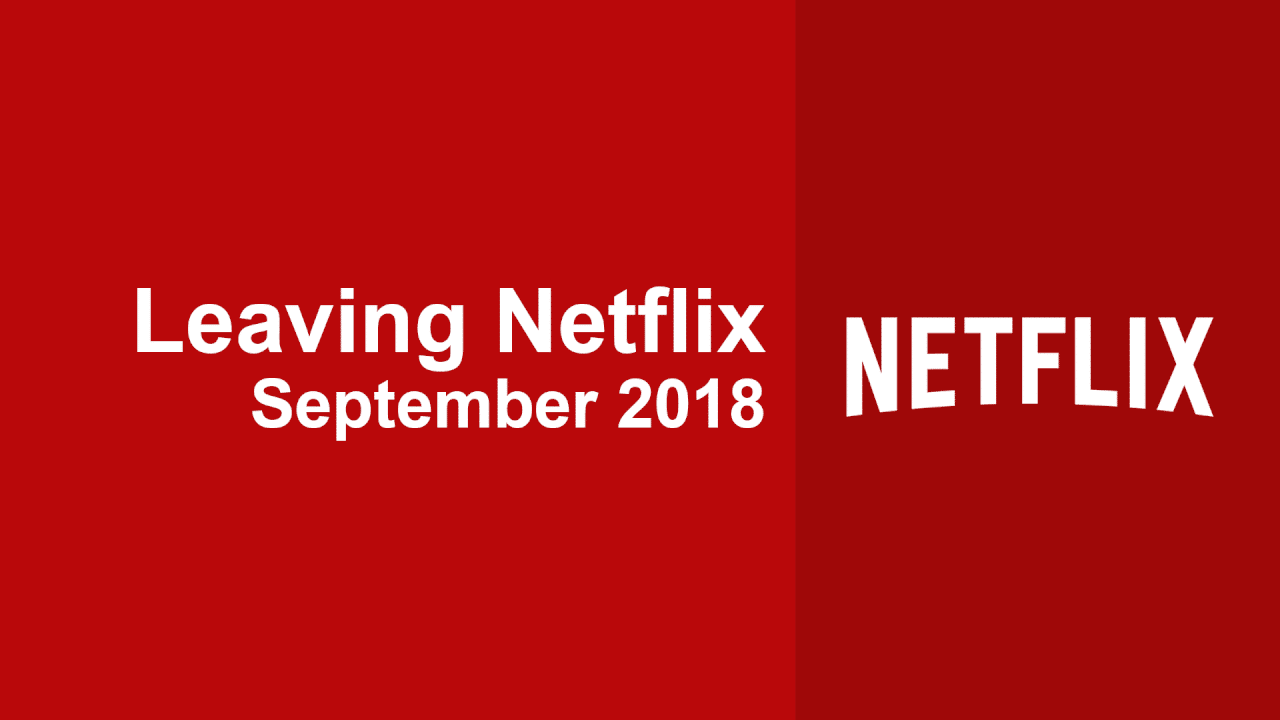 It's time to go over the movies and TV series that are scheduled to leave September 2018. This is an ongoing list that will be updated throughout the month to reflect the departures from the Netflix US library in September 2018. 
August saw some notable departures including a huge swath of movies leaving on the first and some children's favorite in the middle of the month such as My Little Pony, Transformers, and Littlest Pet Shop.
September is already seeing some big titles facing the chopping block. If you're an anime fan you're undoubtedly going to be sad to see that both Bleach and Naruto are currently facing removal. Fortunately, Netflix looks like they're keeping the movies for the meantime.
Article Continues Below...
Also currently on the first of the month, a number of history and nature documentary series from the BBC are due to expire currently.
As always, this list is not for definite as sometimes titles simply come up for renewal and Netflix chooses to renew.
Here's everything currently scheduled for removal from Netflix in September 2018:
---
September 1st
A Conversation with Gregory Peck (1999)
A Royal Night Out (2015)
Archivo 253 (2015)
Auschwitz: The nazis and the final solution (Season 1)
Batman Begins (2005)
Blackbird (2014)
Bleach (3 Seasons)
Casino (1995)
Consumed (2015)
D-Day (2004)
Dead Poets Society (1989)
Descendants of the Sun (Season 1)
Egypt (Season 1)
Eternal Sunshine of the Spotless Mind (2004)
Europe's Last Great Wilderness (Season 1)
Fabulous Flores (2015)
Forgetting Sarah Marshall (2008)
Full of Grace (2015)
Ghostbusters 2 (1989)
Ghostbusters (1984)
Great Raids of World War II (Season 1)
Hachi: A Dog's Tale (2009)
Hellevator (2 Seasons)
Hotel for Dogs (2009)
I Now Pronounce You Chuck and Larry (2007)
India's Lost Worlds (Season 1)
Indochina's Wild Heart (Season 1)
Infini (2015)
InuYasha (2 Seasons)
Joyful Noise (2012)
Kiss Me, aka With Every Heartbeat (2011)
Like You Mean It (2015)
Lockup: County Jails (Season 1)
Man on Wire (2008)
Naruto (3 Seasons)
Nuremberg: Nazis on Trial (Season 1)
Ocean Giants (Season 1)
One World War (Season 1)
Pirates of the Caribbean: Dead Man's Chest (2006)
Room in Rome (2010)
Sea Fog (2014)
Sleeping Giant (2015)
So Awkward (Season 1)
Stuart Little 3: Call of the Wild (2005)
Supervolcano (Season 1)
The American Bible Challenge (2 Seasons)
The Assets (Season 1)
The Bucket List (2007)
The Dark Knight (2008)
The Descent (2005)
The Descent: Part 2 (2009)
The Last Nazis (Season 1)
The World War: Forgotten Soldiers of the Empire (Season 1)
Waffle Street (2015)
Wet Hot American Summer (2001)
Women He's Undressed (2015)
Zeitgeist Addendum (2008)
Zeitgeist: Moving Forward (2011)
Zeitgeist: The Movie (2007)
September 11th
Rules of Engagement (7 Seasons)
September 12th
Ainsley Eats the Streets (1 Season)
Animal Airport (2 Seasons)
Bondi Rescue (Seasons 10-11)
Border Patrol (Seasons 6-7)
Changing Faces (1 Season)
Deals, Wheels and Steals (1 Season)
Monkey Life (Seasons 7-8)
September 13th
September 14th
September 15th
Bordertown
Dream Knight (1 Season)
Emergency (1 Season)
It Takes a Church (2 Seasons)
Real GOT7 (3 Seasons)
Secrets of Ancient Rome (1 Season)
Sports on Fire (1 Season)
September 16th
Are You Here
Jackass 3.5: The Unrated Movie
Moonrise Kingdom
September 24th
September 28th