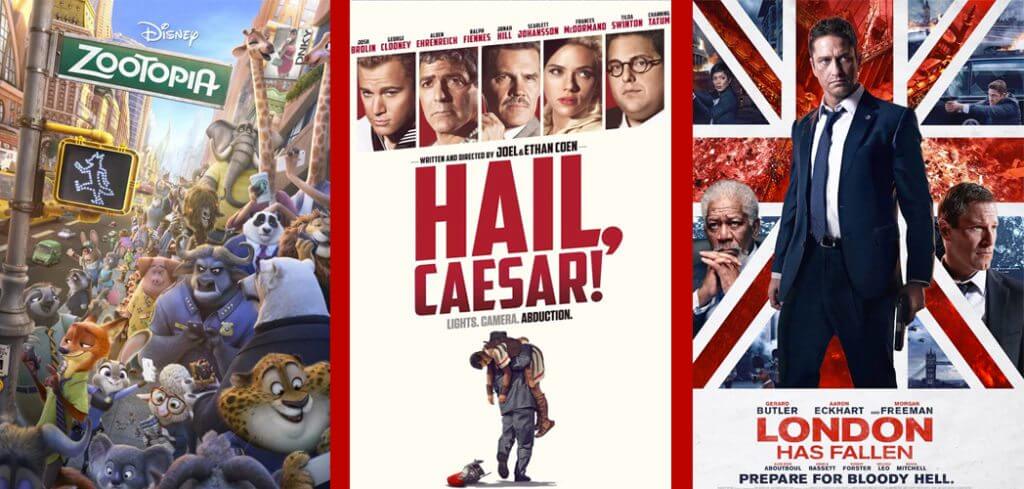 The summer blockbuster season has begun in the cinemas and over on Netflix DVD's, the new releases reflects that too. We've got a massive amount of movies to cover today which you can now rent as part of your subscriptions. So hang tight and prepare for a summer of movies!
Let's start off with the highest grossing movie first. Zootopia has gotten its Netflix DVD release this week and with the movie not only grossing over a 1 billion, it's also one of the highest rated Disney movies in recent memory. The talking animal animation is a classic and is among the best movies of the year so far.
Hail, Caesar! is our next highlight and it's one that was pretty much shunned in the box office earlier in the year. The George Clooeny movie really had a lot going for it. An impressive casting including the likes of Jonah Hill, Scarlett Johansson and Josh Brolin and a great plot and visual. The other movie releasing on the DVD service from earlier in the year is London has Fallen, the followup to Olympus Has Fallen. While it probably 'falls short' of the previous movie, it's still an enjoyable action movie.
Article Continues Below...
A few more highlights within the movie catalog this week includes biopic on the winter athlete, Eddie the Eagle. Finally, Netflix has managed to secure an anime classic in the form of Only Yesterday.
Moving over to the boxsets, you've now got the opportunity to watch the latest season of House of Cards. We've also got new seasons of iZombie and Death in Paradise and a debut for Colony.
New DVD/Bluray Releases
13 Cameras (2015)
A Sinner in Mecca (2015)
Body (2015)
Born to Be Blue (2015)
By the Sea (2015)
Code of Honor (2016)
Eddie the Eagle (2016)
Everybody Wants Some (2016)
Green Room (2015)
Hail, Cesar! (2016)
Holidays (2016)
I Saw the Light (2015)
London Has Fallen (2016)
Manhattan Nocturne (2016)
Miracles from Heaven (2016)
Mountains May Depart (2015)
My Big Night (2015)
My Golden Days (2015)
Only Yesterday (1991)
Phoenix Incident (2015)
Search Party (2014)
Sworn Virgin (2015)
Term Life (2016)
The Adderall Diaries (2015)
The Boy and the World (2013)
The Dark Horse (2016)
The Divergent Series: Allegiant (2016)
The Family Fang (2015)
The Mermaid (2016)
The Other Side of the Door (2016)
The Preppie Connection (2015)
The Young Messiah (2016)
Zootopia (2016)
New TV Boxsets
Colony: Season 1
Death in Paradise: Season 4
House of Cards: Season 4
iZombie: Season 2