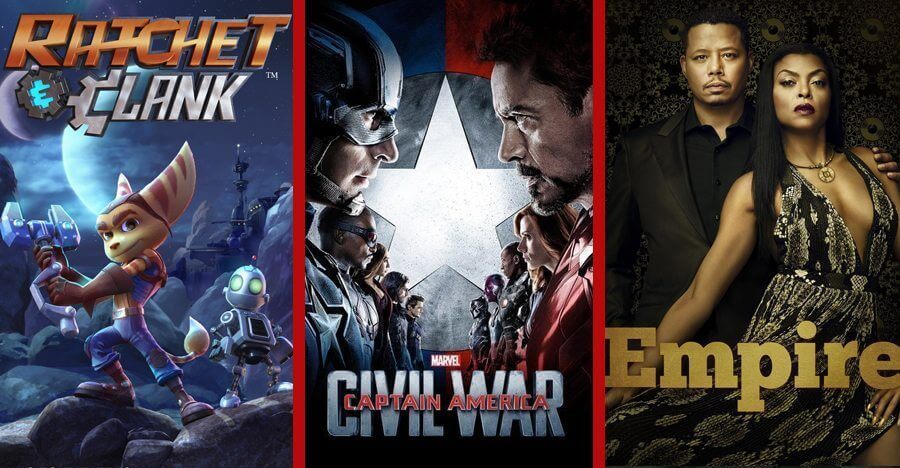 This week we've got some great new releases on the DVD platform including some pretty decent movies and more of the fall TV lineup from last year.
Let's start with the movie highlights. First up, the biggest Marvel release of the year is now available on Netflix DVD. Captain America: Civil War is actually more like another Avengers movie because Captain America only plays one small part in the overall picture here. It contains one of the best superhero brawls we've ever seen.
Also, the animated adaptation of the Playstation game Ratchet and Clank is now available on Netflix DVD rentals. It stars most of the original lineup from the game and introduces new characters with the voices of Sylvester Stallone and Paul Giamatti.
Moving onto the box set line up, we'll kick off by highlighting Empire season 2. The FOX show really hit its stride in season 2 with Terrence Howard really finding his calling in this role.
We're also getting new seasons of crime dramas including Hawaii Five-O and Law & Order.
New DVD/Bluray Releases
Barbie Star Light Adventure (2016)
Captain America: Civil War (2016)
Conner4Real (2016)
Fishing Naked (2015)
God's Not Dead 2 (2016)
Marauders (2016)
Presenting Princess Shaw (2015)
Ratchet & Clank (2016)
The Fits (2016)
The Measure of a Man (2015)
Vaxxed: From Cover-Up to Catastrophe (2016)
New TV Boxsets
Chicago P.D.: Season 3
Doctor Blake Mysteries: Season Two
Empire: Season 2
Hawaii Five-0: Season 6
Law & Order: Special Victims Unit: The Seventeenth Year
Madam Secretary: Season 2
Quantico: Season 1
Scorpion: Season 2