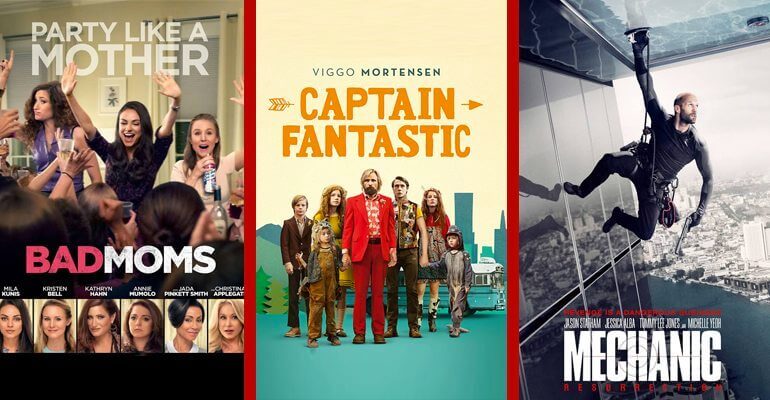 TV boxset lovers, look away as this week we've got a 100% movie lineup, and while most are lesser known releases from this year, there's still some golden eggs hidden amongst this list. Here's your Netflix DVD releases list for 22nd November.
Let's start off with the comedy highlight of the week which comes in the form of Bad Moms. From the writers of The Hangover and an all-female cast including the likes of Mila Kunis (Family Guy, TED), Kristen Bell (Veronica Mars, Frozen), Kathryn Han (Parks and Recreation, Wanderlust) among others. It's exactly what you'd expect which isn't necessarily a bad thing.
For the action lovers amongst you, we've got yet another Mechanic movie starring Jason Statham, Jessica Alba and Tommy Lee Jones. An all singing and all dancing action movie seem to take a lot of cues from one of the recent Mission Impossible films.
Finally, we've got a fantastic indie movie that released earlier this year in the form of Captain Fantastic. It tells a 'heart-wrenching' story of a hippie family and how they attempt to fit in.
New DVD/Bluray Releases
Bad Moms (2016)
Captain Fantastic (2016)
Chicken People (2016)
Good Kids (2016)
Hands of Stone (2016)
Harry and Snowman (2015)
Hell or High Water (2016)
Lights Out (2016)
Lo and Behold: Reveries of the Connected World (2016)
Mechanic: Resurrection (2016)
Our Little Sister (2015)
Papa: Hemingway in Cuba (2015)
Silicon Cowboys (2016)
The Childhood of a Leader (2015)
The Land (2016)