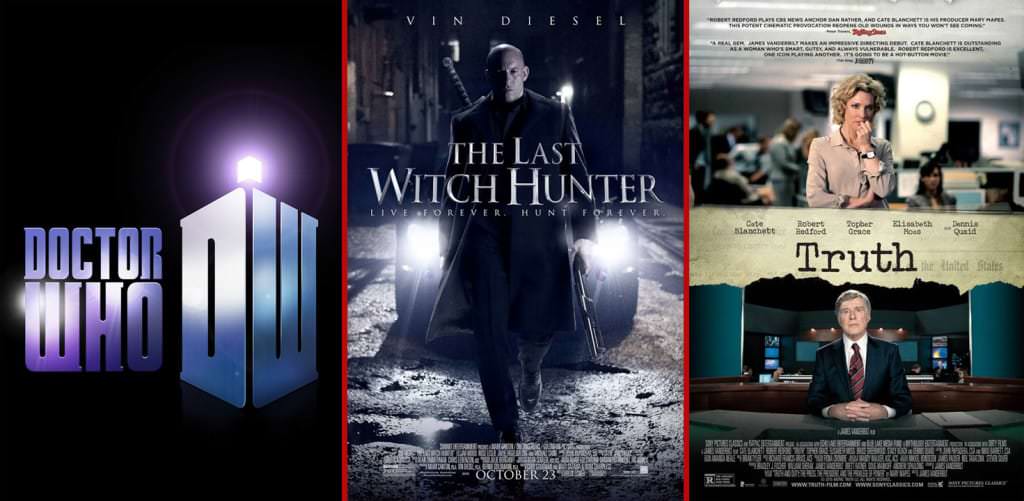 Lots to get through this week with over 50 new rentals now available from your account including plenty of new movies, particularly in the horror department this week.
Our first stand-out highlight and what must seem like a cruel joke this week especially, is the addition of the second half of season 9 of the masterful Doctor Who. For the Netflix Streamers among you, you'll know that the show was removed in its entirety from the service on February 1st. The second half of season 9 continues the adventures of the timeless Doctor who is now played by Peter Capaldi.
The big blockbuster movie this week is last years Vin Diesel epic that wasn't Fast and Furious. The Last Witch Hunter premiered last year to a mixed response but most fans of Vin Diesel will just be happy to see him regardless as to how well the movie did with critics. Effects heavy and conforming to many traits you find in an action fantasy movie nowadays this movie will push many people's buttons.
Article Continues Below...
Finally this week we recommend you give Truth from 2015 a go. The movie that resembles HBO's The Newsroom is all about CBS anchor Dan Rather and producer Mary Mapes and the controversy that surrounded a report that went out about George W. Bush and his military history. It's of course based on a true story and is a solid movie starring Robert Redford and Cate Blanchett.
New DVD's/Blurays
A Ballerina's Tale (2015)
American Hero (2015)
Army Dog (2016)
Bleeding Heart (2015)
Breathe (2015)
Close Range (2015)
Condemned (2015)
Curve (2015)
Effie Gray (2014)
Extraordinary Tales (2015)
He Never Died (2015)
Hellions (2015)
Home Invasion (2016)
Howl (2015)
Infected (2012)
Khail Gibran's The Prophet (2014)
Ladrones (2015)
Man Up (2015)
Martyrs (2008)
Meadowland (2015)
Mercury Plains (2016)
Rise of the Krays (2015)
Shelter (2014)
Six Ways to Die (2015)
Stand your Ground (2013)
Take Me To The River (2014)
The Keeping Room (2014)
The Last Witch Hunter (2015)
The Veil (2016)
The World of Kanako (2014)
This Ain't No Mouse Music! (2013)
Timber the Treasure Dog (2015)
Truth (2015)
Visions (2015)
Wrecker (2015)
New TV Boxsets
Black Work
Doctor Who Season 9 Part 2
Show Me a Hero
The Lizzie Bordern Chronicles: Season 1