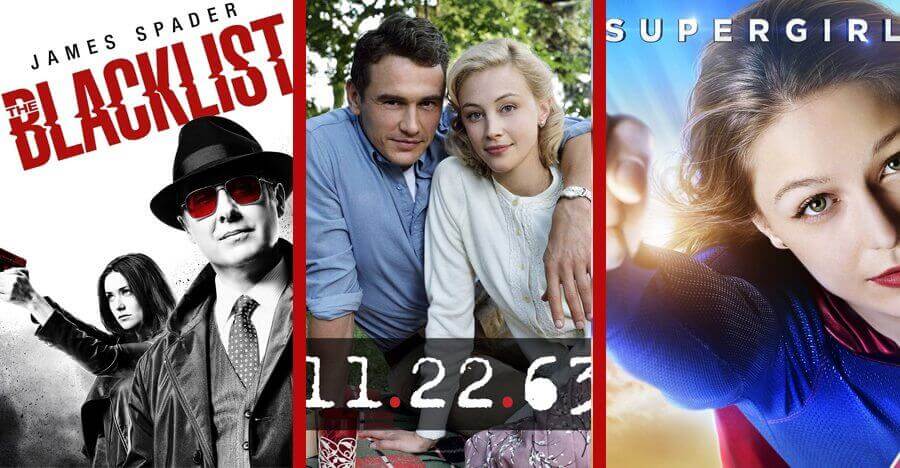 We're in box set heaven this week as two massive shows debut on Netflix DVD rentals as well as a returning favorite too. Plenty of smaller movie titles are now available to rent. Here's a recap of your Netflix DVD releases of this week and last.
Let's kick off with highlighting the brand new box-sets first. 11.22.63 is our highlight of the week. The Hulu Original show has been previously held away from all Netflix services but we're glad that it's now available as a complete boxset. The series which concludes at the end of season 1 was the visual adapatation of Stephen Kings thriller involving one person travelling back in time to prevent the Kennedy assassination.
Supergirl also premieres on Netflix DVD this week with its first season. While the show didn't exactly get off to a great start and with it ultimately moving to The CW, it probably fell just short of the mark. The show does show some promise though so it may be worth giving a chance. Returning for its third season on boxset is The Blacklist. The show goes from strength to strength mainly in part due to James Spader's fantastic acting.
The movies are all generally unknown independent movies so do some research and give them a go.
New DVD/Bluray Releases
A Hologram for the King
A Monster with a Thousand Heads
Addicted to Fresno
April and the Extraordinary World
Being Canadian
Careful What You Wish For
Carter High
Confirmation
Difret
Dough
Fathers & Daughters
Friends and Romans
High-Rise
In The Deep
Jim: The James Foley Story
Last Days in the Desert
Lazer Team
Louder Than Bombs
Manhattan Nocturne
Marguerite
Meet the Blacks
Mother's Day
Puerto Ricans in Paris
Requiem for the American Dream
Septembers of Shiraz
Sniper: Ghost Shooter
Songs My Brothers Taught Me
Summer Camp
Sweet Bean
The Bronze
The First Monday in May
The Lobster
The Trust
Viral
New TV Boxsets Releases
11/22/63
Halt and Catch Fire: Season 2
Line of Duty: Season 3
Murdoch Mysteries: Season 9
Supergirl: Season 1
The Blacklist: Season 3
The Knick: Season 2