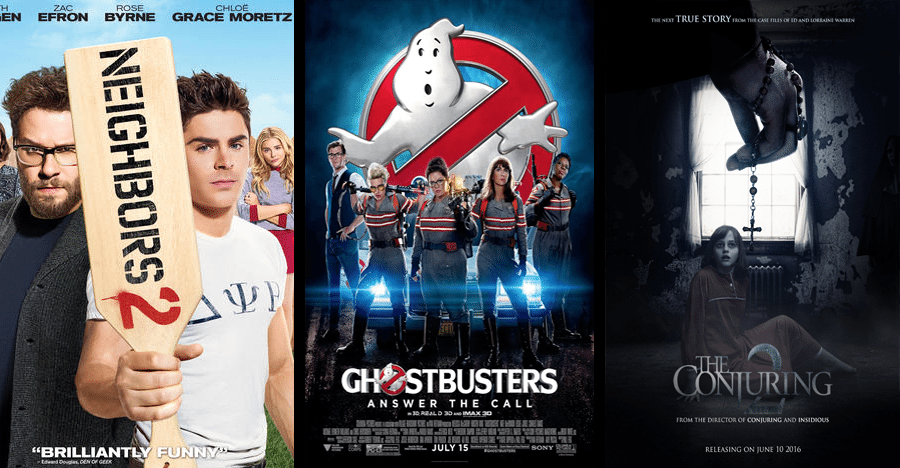 Half way though October getting ever closer the start of the festive season and some blockbusters and brand new seasons have been added to the Netflix's DVDs and box sets.
Firstly, the film that has cause controversy within fans and adds to the series to make it into a trilogy and that is of coarse the new Ghostbusters, with now an all female cast, contrasting its 1984 and 1989 male, spirit exterminator predecessors. the film has been met with mixed reviews but overall a fun and comedic film that the whole family can enjoy.
'Paul Feig's reboot pays tribute to the 80s blockbuster with in-jokes and cameos – but it's a brand new work, firing off top-quality zingers every 10 seconds.' – Peter Bradshaw, The Guardian
Also coming to Netflix this week is brand new, terrifying horror The conjuring 2, directed by James, who also directed iconic and more recent horror films like Saw, the Insidious trilogy and Annabelle, all films that bring a chill to your spine and the Conjuring 2 is no different. Its web of interlocking main characters with other films like Insidious and Annabelle gives a more in depth narrative for the viewer to follow.
'With plenty of scares per square inch, this is a worthy follow-up to the original.'- Chris Hewitt, Empire
 Another film worthy of its hilarious predecessor is Neighbors 2 , which includes the comedy genius and house hold names like Seth Rogen and Zac Effron. Similar to its predecessor plot, the Neighbors are young and destructive but this time they're girls trying to prove that they can have parties as good as their male counterparts, possibly even better but not so good for their neighbors who are trying to force them out but with immense difficulty, reliving the nightmare of the first film.
The stakes are low, the jokes are mostly simple and gross, but the film as a whole is so enjoyably clever that it doesn't matter.- David Sims, The Atlantic
    New DVD/Blu ray Releases
Ghostbusters
Neighbors 2
The Infiltrator
The Conjuring 2: The Enfield Poltergeist
Hilary's America: The Secret History Of The Democratic Party
Blood Father
Amityville: The Awakening
Approaching The Unknown
Les Cowboys
Len & Company
Free State of Jones
Cafe Society
Our Kind of Traitor
Front Cover
Space man
    New TV Box sets
When Calls the Heart: Season 3
Good Witch: Season 2
Mike and Molly: Season 6
Portlandia: Season 6
Bates Motel: Season 4
Scott and Bailey: Season 5