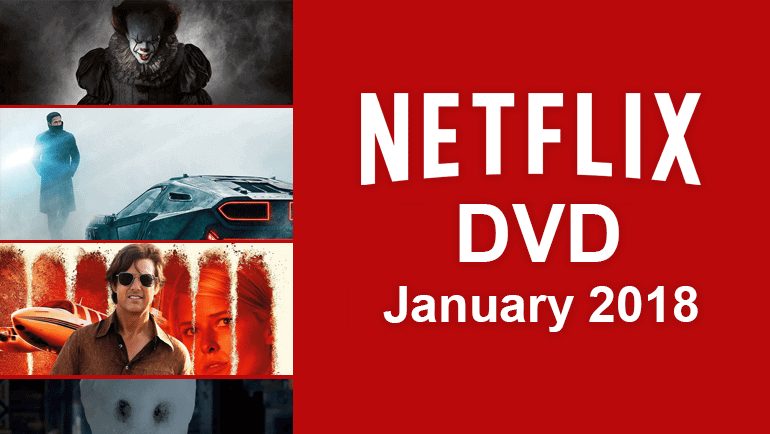 2018 has begun, and from everyone at What's on Netflix, we wish you a Happy New Year. And what a better way to start off the year than watching all the brand new titles that are coming through January.
Although there are many great movies and box-sets coming this month, a few did stand out to us in particular. The latest adaptation of Stephen King's book 'It' is now available to rent. It released in cinemas last year and quickly become the highest grossing horror film of all time. The popular sequel Blade Runner 2049 also comes on the service on the 16th. Netflix DVD get their hands on titles significantly ahead of their direct streaming service, so if you are lucky enough to have an account you've got plenty to get stuck into.
---
2nd January
New DVD's/Blurays
Article Continues Below...
American Made (2017)
Battle of the Sexes (2017)
A Question of Faith (2017)
Breathe (2017)
The King's Choice (2016)
Brad's Status (2017)
Love Beats Rhymes (2017)
Rebel in the Rye (2017)
Slumber (2017)
The Stolen (2016)
New TV Boxsets
Ten Days in the Valley – Season 1 (2017)
---
9th January
New DVD's/Blurays
It (2017)
The Foreigner (2017)
My Little Pony: The Movie (2017)
Marshall (2017)
Friends Request (2016)
Mark Felt: The Man Who Brought Down the White House (2017)
68 Kill (2017)
Bullet Head (2017)
November Criminals (2017)
The Pirates of Samalia (2017)
---
16th January
New DVD's/Blurays
Blade Runner 2049 (2017)
Happy Death Day (2017)
The Showman (2017)
Loving Vincent (2017)
9/11 (2017)
Beyond Skyline (2017)
Crooked House (2017)
Gangster Land (2017)
I, Daniel Blake (2016)
New TV Boxsets
Better Call Saul – Season 3 (2017)
---
23rd January
New DVD's/Blurays
Jigsaw (2017)
Geostorm (2017)
Thank You for Your Service (2017)
The Killing of a Sacred Deer (2017)
Goodbye Christopher Robin (2017)
Chasing the Dragon (2017)
Earth: One Amazing Day (2017)
New TV Boxsets
Dirk Gently – Season 2 (2017)
---
30th January
New DVD's/Blurays
Boo 2! A Madeo Halloween (2017)
Professor Marston and the Wonder Women (2017)
The Square (2017)
Last Flag Flying (2017)
God's Own Country (2017)
Death Race: Beyond Anarchy (2018)
Ray Donovan – Season 5 (2017)
---
Last Updated: 11th January 2018