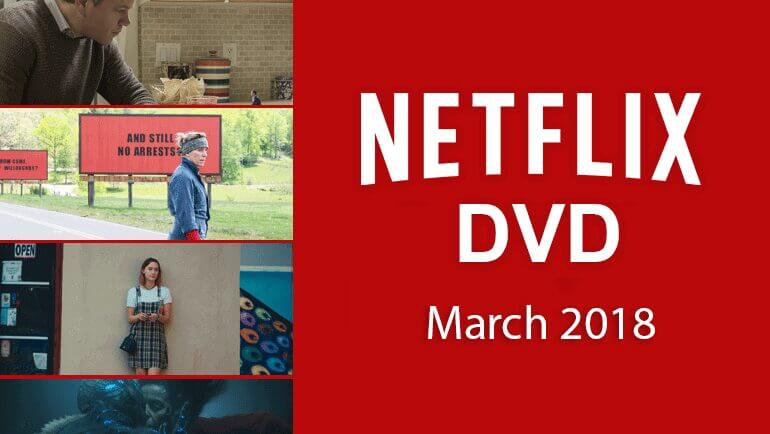 March has already begun, and 2018 seems to be flying past quickly. Welcome back to another month of great new DVD's for you to get stuck into. Below you will find an ever-updating list of all the movies and box sets that are coming in March.
If you are lucky enough to have a Netflix DVD account, it's quite amazing how soon you can get your hands on huge new titles after they've released in the cinema. For example, this month has welcomed the new Matt Damon film 'Downsizing' following a man who gets himself shrunk, meaning he can live a life of luxury. Another really recent film to become available is the comedy, drama 'Lady Bird' starring Saoirse Ronan as an artistic 17-year-old. The new Guillermo del Toro film 'The Shape of Water' has also come to the rental site. Feel free to take a look at the list yourself below. Keep in mind we will be updating this list as we get information about new titles.
---
6th March
New DVD's/Blurays
Thor: Ragnarok (2017)
Three Billboards Outside Ebbing Missouri (2017)
Murder on the Orient Express (2017)
Lady Bird (2018)
The Man Who Invented Christmas (2017)
Wonder Wheel (2017)
Faces Places (2017)
Novitiate (2017)
The Breadwinner (2017)
Blue Planet II (2017)
Scorched Earth (2018)
The Clapper (2017)
New TV Boxsets
Article Continues Below...
Atlanta – Season 1 (2016-)
Curb Your Enthusiasm – Season 9 (2000-)
---
13th March
New DVD's/Blurays
I, Tonya (2017)
Justice League (2017)
Ferdinand (2017)
Call Me by Your Name (2017)
The Disaster Artist (2017)
The Shape of Water (2017)
Children of the Corn: Runaway (2018)
Kickboxer: Retaliation (2017)
LEGO DC Super Heroes: The Flash (2018)
New TV Boxsets
The Handmaid's Tale – Season 1 (2017)
Fear the Walking Dead – Season 3 (2015-)
Into the Badlands – Season 2 (2015-)
Kendra – Season 6 (2009-)
Knightfall – Season 1 (2017-)
LEGO Star Wars: The Freemaker Adventures – Season 2 (2016-)
Major Crimes – Season 6 (2012-)
The Good Fight – Season 1 (2017-)
The Handmaid's Tale – Season 1 (2017-)
---
20th March
New DVD's/Blurays
Jumanji: Welcome to the Jungle (2017)
Pitch Perfect 3 (2017)
Downsizing (2017)
Small Town Crime (2017)
The Vanishing of Sidney Hall (2017)
New TV Boxsets
Archer – Season 8 (2009-)
---
27th March
New DVD's/Blurays
Star Wars: The Last Jedi (2017)
Last Man in Aleppo (2017)
Acts of Violence (2018)
The Last Movie Star (2017)
New TV Boxsets
Legion – Season 1 (2017)
Mr. Robot – Season 3 (2015-)
The Americans – Season 5 (2013-)
---