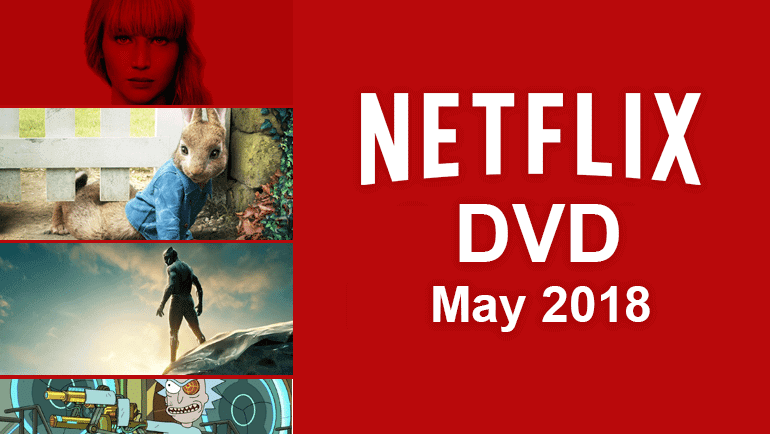 As another month passes, plenty of great new Movies and TV shows are being released and brought to Netflix's DVD Rental Service. Below you will find a list of all the titles that have been added to the site. You might be surprised how soon some of these titles have become available since releasing in theaters
First of all, if you are lucky enough to have a Netflix DVD account it's always handy to keep up with all the latest titles that have been introduced. The successful and very recent animated/live-action film 'Peter Rabbit' is now available on the service along with the critically-acclaimed Marvel film 'Black Panther'. Another brand-new release includes the Jennifer Lawrence Mystery Drama 'Red Sparrow' following a Russian Intelligence Officer tasked with infiltrating the CIA. The list below isn't set in stone, and more films/boxsets could arrive throughout the month; we will make sure to update this list.
---
1st May
New DVD's/Blurays
Article Continues Below...
Maze Runner: The Death Cure
Winchester
Peter Rabbit
Paddington 2
In the Fade
The Insult
Please Stand By
Tremors: A Cold Dat in Hell
Mary and the Witch's Flower
Nostalgia
All I Wish
In Between
Wait for Your Laugh
First We Take Brooklyn
Josie
The Price of Fame
God's Best Friend
Defective
The Lotus
The Unwilling
Before We Vanish
Stephanie
Most Likely to Murder
Taco Shop
---
8th May
New DVD's/Blurays
12 Strong
Fifty Shades Freed
Batman Ninja
Condemned
Becks
Paradox
New TV Boxsets
Dear White People – Season 1
---
15th May
New DVD's/Blurays
Samson
Bent
Submergence
The Other Side of Hope
The Forgiven
10×10
Cocaine Godmother
House on Elm Lake
The Manor
In Search of Israeli Cuisine
The Honor List
The Monkey King 3
LEGO DC Super Hero Girls: Super-Villian High
New TV Boxsets
Rick and Morty – Season 3
The Body Type – Season 1
The Shannara Chronicles – Season 2
Masterpiece Mystery: Unforgotten – Season 2
---
22nd May
New DVD's/Blurays
Wonderstruck
Early Man
The Party
I Kill Giants
Graduation
Genesis
Daphne & Velma
Black Hollow Cage
Fatal Crossing
New TV Boxsets
Call the Midwife – Season 7
Little Women – Mini-Series
---
29th May
New DVD's/Blurays
Red Sparrow
Annihilation
The 15:17 to Paris
Au Hasard Balthazar
Miss Stevens
Agenda: Payback
New TV Boxsets
I'm Dying up Here: Season 1
Suits: Season 7
---