New on Netflix DVD: September 2017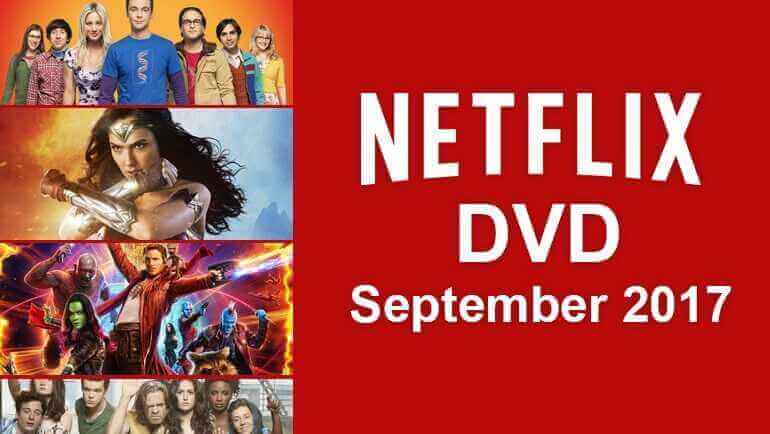 Our new and improved Netflix DVD section is back for September. We're giving you a quick preview of all the DVD titles arriving in the coming weeks. This list will be constantly updated throughout the months in order to deliver a complete list of new titles.
This month will welcome a number of massive titles to the DVD section of Netflix. Some films that stood out to us was the 2017 Wonder Woman film depicting the origin of the Amazonian Warrior. Another that caught our eye was the sequel to the incredibly successful Marvel film, Guardians of the Galaxy Vol.2. Along with some great films, some great TV shows have also been confirmed, including season 12 of The Big Bang Theory, and season 7 of Shameless (US). 
---
3rd September
New DVD's/Blurays
Megan Leavey (2017)
Rough Night (2017)
My cousin Rachel (2017)
All Eyez on me (2017)
---
10th September
New DVD's/Blurays
New TV Boxsets
The Big Bang Theory (2007-) Season 12
This is Us (2016) – Season 1
---
17th September
New DVD's/Blurays
Guardians of the Galaxy Vol.2 (2017)
The Big Sick (2017)
Captain Underpants: The First Epic Movie (2017)
Cartels
The Treasure
The Hero
Manifesto
Ghost House
The Veil
New TV Boxsets
Bates Motel: Season 5
Modern Family: Season 8
Timeless: Season 1
Arrow: Season 5
---
24th September
New DVD's/Blurays
Wonder Woman (2017)
Transformers: The last knight (2017)
Queen of the Desert (2015)
The Lion King
The Lion King 2: Simba's Pride
Mune: Guardians of the Moon
Certain Woman
Manifesto
The Death of Louis XIV
47 Meter
2:22
Born in China
Do Not Resist
Jeremiah Tower: The Last Magnificent
David Lunch: The Art of Life
The Diplomat
It Stains the Sands Red
The Devil's Candy
L.O.R.D: Legend of Ravaging Dynasties
3 Idiotas
New TV Boxsets
Shameless (2011-) – Season 7
Sleepy Hollow: Season 4
Longmire: Season 5
Last Updated: 25th September 2017