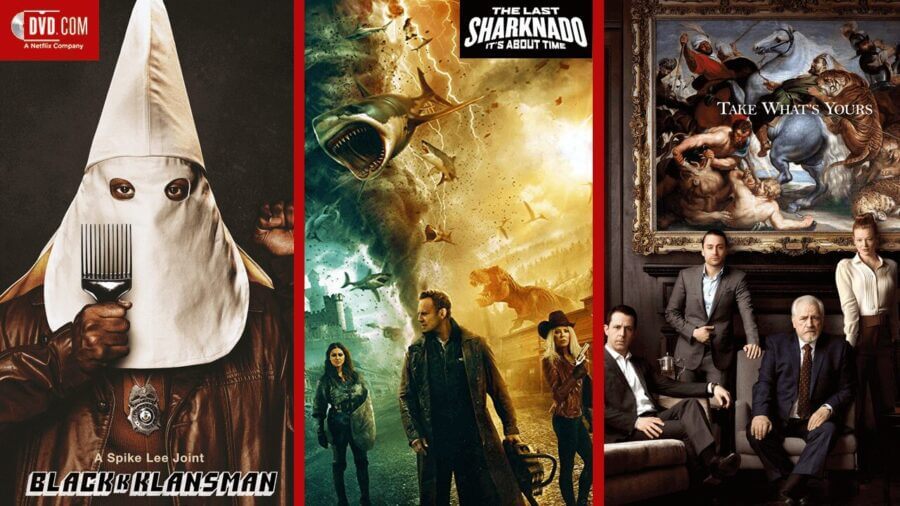 This week is a big week on Netflix DVD mainly because it finally means for the first time Netflixers get to watch the final Sharknado movie. Here's a full look at what's new on Netflix DVD this week. 
Spike Lee is behind some fantastic comedies including the Netflix TV series She's Gotta Have It. Earlier this year, he was also behind the well-received BlacKkKlansman which is now available on Netflix DVD. The movie stars Alec Baldwin, John David Washington, Isiah Whitlock Jr, and Adam Driver.
This week we'll get the final Sharknado movie. The movies have defied all expectations of what should work in a movie. Who'd have thought Sharknado would not only be a success but hit five full feature-length films? The final movie is called The Last Sharknado: It's About Time. Many cast members return to fight more flying sharks.
Article Continues Below...
On the boxset front this week, we'd like to highlight another HBO release. The series stars Brian Cox, Hiam Abbass, Nicholas Braun, and Kieran Culkin. You could refer to the series as a modern-day Game of Thrones. It follows a rich, global media family and the future of their legacy. Succession Season 1 is now on Netflix DVD.
Now onto the full list of new releases this week.
---
New DVD/Blu-rays on Netflix DVD
| Movie Name | Genre | Distributor | Rating | Language |
| --- | --- | --- | --- | --- |
| 1945 | Drama | Menemsha Films | NR | Hungarian |
| A Bag of Marbles | Drama | Passion River | NR | French |
| A Crooked Somebody | Drama | Vertical | R | English |
| American Dresser | Action & Adventure | Cinedigm Entertainment Group | NR | English |
| An Interview with God | Drama | Universal | PG | English |
| Bel Canto | Thrillers | Screen Media Ventures | NR | English |
| Billy Graham: An Extraordinary Journey | Documentary | Virgil Films And Entertainment | NR | English |
| BlacKkKlansman | Drama | Focus Features | R | English |
| Christmas Manger | Faith & Spirituality | Pure Flix Entertainment | NR | English |
| Destination Wedding | Comedy | Universal | R | English |
| Krampus Origins | Horror | Uncork'D Entertainment | NR | English |
| Loving Pablo | Drama | Universal Pictures | R | English |
| Mara | Horror | Saban Films | R | English |
| Mermaid's Song | Sci-Fi & Fantasy | Wild Eye Releasing | NR | English |
| My Pet Dinosaur | Children & Family | Uncork'D Entertainment | NR | English |
| Papillon | Action & Adventure | Bleecker Street | R | English |
| The Cakemaker | Drama | Strand Releasing Llc | NR | Hebrew |
| The House of Violent Desire | Horror | (N/A) | NR | English |
| The Last Sharknado: It's About Time | TV Shows | Syfy | TV-14 | English |
| The Little Witch | Children & Family | Breaking Glass Pictures | NR | English |
| The Prayer Box | Faith & Spirituality | Pure Flix Entertainment | NR | English |
| The Sitter | Horror | Wild Eye Releasing | NR | English |
---
New TV Boxsets
| Boxset Name | Distributor | Rating | Language |
| --- | --- | --- | --- |
| Masterpiece: Poldark: Season 4 | Public Broadcasting Service (PBS) | NR | English |
| Succession: Season 1 | Home Box Office (HBO) | TV-MA | English |