Amazon, a world leading online distributor, began offering its customers a new level of service called Amazon Prime. The service, for only $79 a year, offers prime members many discounts on shipping products home, even going so far as offering free two day shipping on select purchases. If a customer makes multiple purchases from Amazon a year, then the service can pay for itself rather quickly. But what if someone doesn't make a lot of online purchases and looks at Amazon Prime for its digital streaming service similar to Netflix? Is Amazon Prime a viable replacement for Netflix? Find out in this head to head of Netflix vs Amazon Prime.
How Much?
Amazon Prime costs a yearly membership fee of $79. It comes with the above mentioned shipping benefits and access to Amazon's streaming service of tv shows and movies. Amazon also offers prime members entrance to the Kindle Lending Service, an ebook lending program that is ran through Amazon's Kindle store. Netflix has a cost of $7.99 a month, each month, for a yearly $95.88 and does not offer any of the bonuses that Amazon does. For an extra $7.99 Netlix does allow movie disc rental by mail.
Programing
Netflix began its streaming service in 2007, offering at the time lower budget movies and primetime television shows. Today, Netflix is home to literally thousands of hit tv shows and blockbuster movies. And guess what? Amazon Prime is too. Both services have AMC hits like Breaking Bad and The Walking Dead, the difference being that Netflix is a season behind the current airing season. Meanwhile, Amazon offers recent shows to Prime members at a discount from the regular show price. This is an option that Netflix does not offer its customers. One advantage to Netflix is the original programing such as the critically acclaimed House of Cards, starring Kevin Spacey.
App TV
Both services wish for their users to stay connected with them and each has apps for smartphones, tablets, gaming consoles and tvs. The user interface for the Netflix app offers a more user friendly feel to it. The Amazon apps have a more webpage feel to them that reminds most users of the Amazon website. Amazon Prime Members can make direct purchases and rentals on the services apps for instant streaming or downloads. Netflix does not offer streaming rentals or direct downloads and can often receive movies for streaming much later than Amazon.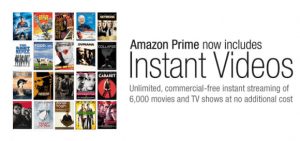 Which to Choose?
So can Netflix be replaced by Amazon Prime? In the cost of ownership, Amazon Prime is hands down the better deal for consumers. In relation to content, Netflix, even though it is a year behind on nearly all of its television shows, it does receive them eventually. With the bonus of original content, Netflix seems to offer more variety to their customers. Netflix also takes the edge in the delivery of their content in a user friendly manner in spite of the direct downloads from Amazon Apps. As far as the general services themselves go, Amazon Prime offers more value to its members than Netflix is capable of at this present time.