'Derek' arriving on Netflix UK January 30th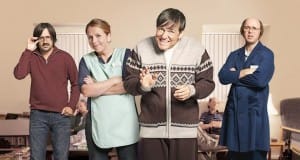 The charming and brilliantly written Ricky Gervais comedy that has been on Netflix in every region except the UK got it's release date for Netflix in the United Kingdom very soon, January 30th to be exact. In a tweet by the actor Ricky Gervais said it was 'Time to subscribe' as season 1 which as to now was funded and placed on the UK's 40D service.
If you're not familiar with Ricky Gervais's work you can catch his earlier 2001 series The Office and his later series about the life of a actor (Extras) that style of comedy is at play here as Derek Yoakes is a simple minded male who's volunteering at an old people's home. It's an honest and down to earth comedy that gives ordinary people the highlight.