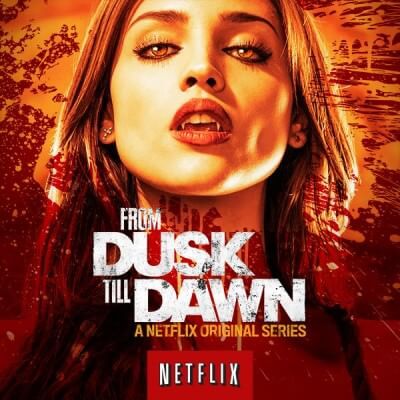 A new series starting from March 12th is set to be a Netflix Original Series, well sort of. The remake of the 1996 movie which we'll tell you where you can find just below is a new TV series which will be airing in the United States on television before coming to Netflix in the UK as well as other regions 24 hours after the broadcast. This really shouldn't be considered a Netflix Original Series but we get why they've called it that.
So from the week starting 12th March which is the Wednesday you'll be able to get brand new episodes of 'From Dusk Till Dawn' on your Netflix streaming account.
Ted Sarandos who is head of content in Netflix said that the company is 'thrilled to premiere From Dusk Till Dawn : A Netflix Original Series exclusively in our international markets.' This move is very similar to the deal struck with last years massive finale of the Breaking Bad series which saw the UK audience getting the newest episodes just a few hours after the premiere on America's AMC network.
The series is based around the 1996 cult classic movie sharing the same name. Starring young Salma Hayek and recent Gravity star George Clooney as Seth Gecko in the action-horro movie from the brilliant mind of Quentin Tarantino. The writer and film director is known best for his movies Django Unchained, Pulp Fiction and 2009 hit Inglourious Basterds.
The series will be streaming in all regions except the USA who'll be getting it on TV and the original movie is available on Netflix in Ireland, Mexico, Brazil, the United Kingdom, Canada and the Netherlands.