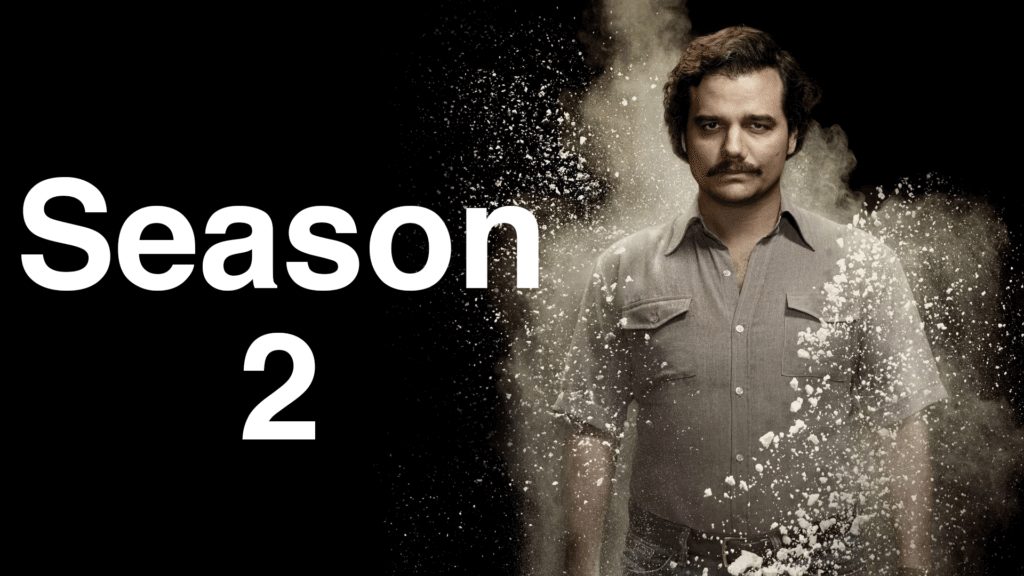 It feels like ages since we got our last and first dose of Narcos on Netflix but it's almost time to head straight back to Colombia to continue the drug war between the state and Pablo Escobar. The first season was added to Netflix on August 26th, 2015 and while we have to wait a bit longer for season 2, all signs are pointing to it being a bigger and better season than the first. We figured with just a few weeks until the launch of season 2, we put up for your pleasure everything you need to know about the upcoming second season. 
Never seen the show before? Let's give you a quick catch up before we get into our preview. The series is a Netflix Original drama that sets out to document the life of Pablo Escobar, a drug lord living within Colombia. The first season show how he rose to power and the lengths he'd go to retain that power whatever necessary. It also followed a cop that came from America to help the Colombian  police try and track down the infamous drug lord. Season 1 left us (spoiler alert) with Pablo Escobar escaping the prison he built for himself after a showdown between him and the National Army.
Release Date for Season 2 of Narcos
Let's start off with when it'll be actually streaming on Netflix. It's actually been pushed back from its season 1 release date which last year was August. This month it's scheduled to arrive on the first Friday of September which this year lands on the 2nd of the month. As far as we're aware, it wasn't a delay of any reason and is certainly not to clear the way for any other Netflix Original series in August as it's looking a bit lackluster that month to say the least. 10 episodes are expected
NARCOS Season 2 will stream on Netflix from September 2nd 2016 at 12:00:00 AM EST
Story of Narcos Season 2
Just to recap where we're at in the story. Pablo is walking off into the distance after escaping the prison that he built for himself which he was given after the assassination of a Government official. It's likely that we'll fast forward a few months and get into the formation of various organisations that are set out to capture and potentially extradited to the United States. These events took place in 1992.
Of course, time is running out for Pablo as he died the following year after an intense gunfight. It's yet to be known who actually shot the fatal gunshot and it'll be interesting not only to see if those events are covered in season 2 and if they do, how they go about it. It's certain however that Pablo's mission to not only keep his business running but just to essentially stay alive, will lead him to becoming more erratic.
Trailer and Screens from Season 2
13738309 1273976429299302 1855775640036670231 o
13661845 1273976375965974 2323489585455046408 o
13737655 1273976465965965 5002570223482949667 o
13765896 1273976522632626 6044579191105160465 o
13765724 1273976349299310 6807420373292713020 o
13737656 1273976569299288 7783053896530018138 o
13669521 1273976665965945 7661049592299952137 o
13767415 1273976602632618 6040964026530053470 o
13698025 1273976389299306 1389225554493589188 o
Although we haven't had a full trailer from Netflix, we have gotten a glimpse of season 2's Pablo which he is certainly looking a fair bit older with his grey seeping through his hairline. They've also clearly amped up his facial features too making him look older and probably explains the pressures of the global business his cartel still runs. Particularly in the shot with Pablo in the swimming pool you can see his age and health deteriorating.
The full trailer is 2 minutes of what looks to be a chaotic and intense second season with the military ramping up its actions to get Pablo Escobar into custody.
https://www.youtube.com/watch?v=nkOKkS7mKfY
Everything else you should know about season 2
The series is listed on IMDb as having 10 episodes which match last years episode count this is also confirmed on Netflix's official site. Each episode run-time is around 45 minutes.
It will once again be available in 4K
The shows main star Wagner Moura starred on Chelsea to announce the release date.
The wife of Boyd Holbrook, Joanna Christie is only listed on IMDb as being involved in 12 episodes so is likely to leave early on.
Currently won't be competing with any other Netflix original as the next series won't premiere until September 23rd.