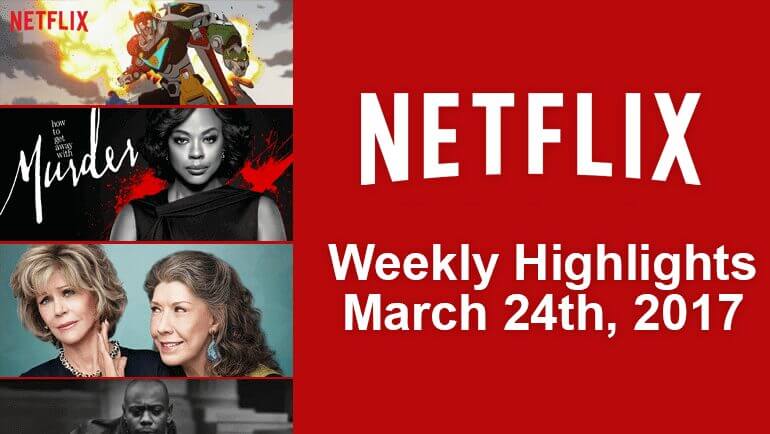 New week, new titles. It's finally spring! Alas, it's still a little chilly. Stay indoors and keep your toes toasty while making a list of all the great things you're going to do with Netflix this spring! (Mobile, people. Take it everywhere. Netflix is your friend.) Stay warm with these great titles that hit Netflix this week.
Edited March 25, 2017 to include additional title.
Grace and Frankie Season 3 
Netflix Original
Real-life best friends, Jane Fonda and Lily Tomlin play two older women whose lives are turned upside down when they discover their husbands are in love with each other and plan to marry. Now in it's third season, the show has settled in and is really hitting its stride. G&F have started their own business selling vibrators for the geriatric. This show is curiously addictive, no matter what your age, and it just keeps getting better.
---
Voltron 84 
Netflix Exclusive
If you haven't heard by now, Netflix is bringing the iconic series Voltron back to life. To celebrate, the makers and cast members of new show Legendary Defender present 12 handpicked episodes that inspired their current work. Each episode will have an intro with the crew on why they chose it. Have a blast-from-the-past binge this weekend and get ready for the new series.
---
Dave Chappelle Collection 1: 2 Episodes 
Netflix Original
When Dave Chappelle is on stage, you can see the gears turning. His rapport with his audience is effortless and to be admired. Pushing them to their limit, he begins weaving an intricate story and before you know it he hits you with the punchline. This triumphant return to stand-up by way of Netflix is certainly a reminder that he is one of the greatest living comedians. This time around he's having fun with it.
---
How to Get Away With Murder Season 3
Annalise Keating is a tough as nails criminal defense attorney who also teaches a course called How To Get Away With Murder. The class is cut-throat and the stakes are high as her students compete with each other for internships. They soon find out, however, that in addition to reading case files, they are going to be dealing with murder.
---
The Most Hated Woman In America 
Netflix Original
While Netflix has been delivering outstanding content in the series department for some time, their venture into movie making hasn't been going quite so well. Have hope though, dear streamers, because they are improving with each try. Frankly, this story is so bananas I can't believe someone is just getting around to making a film about it.
The film centers on Oscar-winner Melissa Leo as Madalyn Murray O'Hair, controversial activist. If you're not familiar, she was the founder of American Atheists. She did quite a number of things to achieve her 'hated' status, but she is best known for her successful fight to end mandatory Christian prayers in public school. The film cuts between her backstory and rise to her notorious position and **SPOILER ALERT** the events that lead up to her eventual murder. **END SPOILER**
Keep it up, Netflix. You're getting there.
---
Happy weekend and happy streaming!