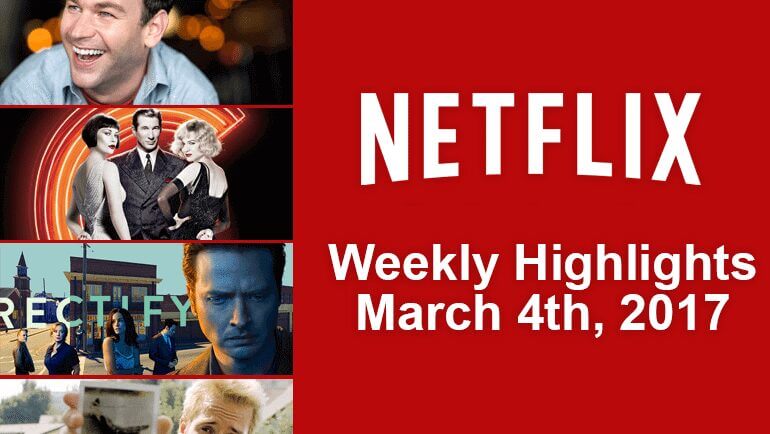 New week, new movies, new month! Woowhoo! There are a lot of goodies to look forward to in March, but a few great titles have already been delivered. Spring may be around the corner, but it isn't here yet. You need to huddle under blankets for two days in your binge pants. It's a moral imperative. Let's take a look at what you should be watching this weekend.
---
Mike Birbiglia: Thank God for Jokes 
Netflix Original
Full disclosure: I love Mike Birbiglia. I first came across his comedy through NPR and Ira Glass, and I've been a fan ever since. (Bonus: He has a recurring on Orange is the New Black. Do you recognize him now?) He doesn't tell jokes so much as he tells wonderful, funny stories. He is endearing and kind and seems like a guy you'd like to be friends with. Tune into this special and when you're done give his movie Sleepwalk With Me a watch. You'll like it. Git it done.
---
Chicago
This movie version of Bob Fosse's stage show has an all-star cast and is filled with stunning dance numbers. Renee Zellweger is Roxie Hart, a girl who dreams of being on the stage but finds herself in the big house. She's shrewd and knows how to get what she wants and uses that to get herself a big-time lawyer and splashy headlines. Catherine Zeta-Jones' is incredible in the role of Velma. Her dancing is is going to knock your socks off. Throw in Richard Gere and Queen Latifah and you have yourself a good time.
Article Continues Below...
---
The Salvation
I almost passed right by this title, but then the name Jeffrey Dean Morgan caught my eye. In 1870s America, a peaceful settler seeks revenge and kills the men who murdered his family. This unleashes the fury of a notorious gang leader who is now intent on hunting him down. This Danish western is a definite throwback to films of the 1970s and it's beautiful. The washed out palette of grays, blues, greens almost looks tinted, like black and white brought to color. The pace of the film is slow, but taught. Tension builds from the very beginning and keeps you wondering what will happen. It's quiet but keeps your attention.
---
Rectify Season 4
The first original series from SundanceTV, Daniel Holden (Aden Young) is an ex-con putting his life back together after serving 19 years on Death Row.  DNA evidence calls his conviction into question and he is released. Now he must find a way to blend back into his small Georgia town. It's a slow-burning show, with deep plotlines and compelling characters. Give this a try, especially if you liked Bloodline.
---
Memento
This psychological thriller from Christopher Nolan stars Guy Pearce as a man struggling with short-term memory loss. He is searching for the person who attacked him and killed his wife, using an intricate system of Polaroid photographs and tattoos to keep track of information he cannot remember. It won numerous awards and was nominated for two Oscars. It truly is original.