Netflix has had a lot of original programming rolling out lately, but their chilling new series Stranger Things looks like one to really get excited for. Created by Matt and Ross Duffer, it's a dark period piece set in 1980s Indiana. The series follows the mysterious disappearance of a 12-year-old boy who vanishes without a trace – just as a strange girl with inexplicable abilities is discovered. The desperate search for him uncovers dark, dangerous secrets about their small town involving top-secret experiments and terrifying supernatural forces that are, you guessed it, strange. Detective series seem to be a dime a dozen nowadays. Even the most promising ones have fallen flat (True Detectives anyone?). Stranger Things has the potential to really stand out.
Why we're going to love it:
We can't seem to get enough of nostalgia these days and this is chock full. According to the official description, it's "a love letter to the supernatural classics." It has the same look and feel of 80s favorites and a lot of the same themes. Stranger Things has a vintage vibe, like a Stephen King and Spielberg movie rolled into a spooky series. If you're a person of a certain age (read: me) a huge part of growing up was spent with worn copies of Stephen King paperbacks everywhere and watching movies like E.T. This has all the hallmarks of Stephen King and Spielberg classics: A small, close-knit town (reminds me of Castle Rock). Secrets everyone seems to be hiding. Coming of age (lead kid actor is Finn Wolfhard who co-stars as Mike, a bullied 12-year-old who becomes an unlikely hero in the quest to save his best friend). Mysteries lurking beneath the surface involving the paranormal (the trailer suggests either some kind of alien contact or government coverup). There are even kids on bikes (Goonies). The poster looks like the cover of a King thriller.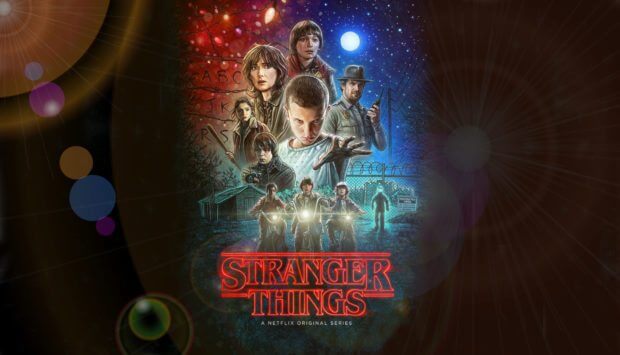 Even the casting is a throwback. Winona Ryder, poster girl for the 90s, plays the hardworking single mom Joyce whose son disappears. It's appropriate casting. Ryder admits to herself believing in government conspiracies. "I'm just highly suspicious. Maybe it was just the house I grew up in. It's weird. The government actually came up with the phrase 'conspiracy theory,' so it would sound like just a theory during the Pentagon Papers. My parents were very active in the '60s."
Why it shows potential:
It was created by Wayward Pines writers Matt and Ross Duffer who also directed some episodes.  They will be executive producers along with veterans Shawn Levy and Dan Cohen (via their 21 Laps entertainment banner) who have some pretty great film credits ("The Spectacular Now," "Night at the Museum," "Date Night"). The young cast is paired with well known acting pros like Ryder, along with David Harbour (Chief Hopper) and Matthew Modine.
I'm hoping this series turns out to be as daring as Orange As The New Black has been and that it doesn't get lost in the of ocean of new programming coming our way. It looks promising. Like a fresh homage to the classics. I'm very hopeful. Stranger Things just might turn out to be one of the biggest, most binge-worthy hits of the Summer.  I can't wait!
Stranger Things premieres exclusively across all Netflix territories on July 15th.