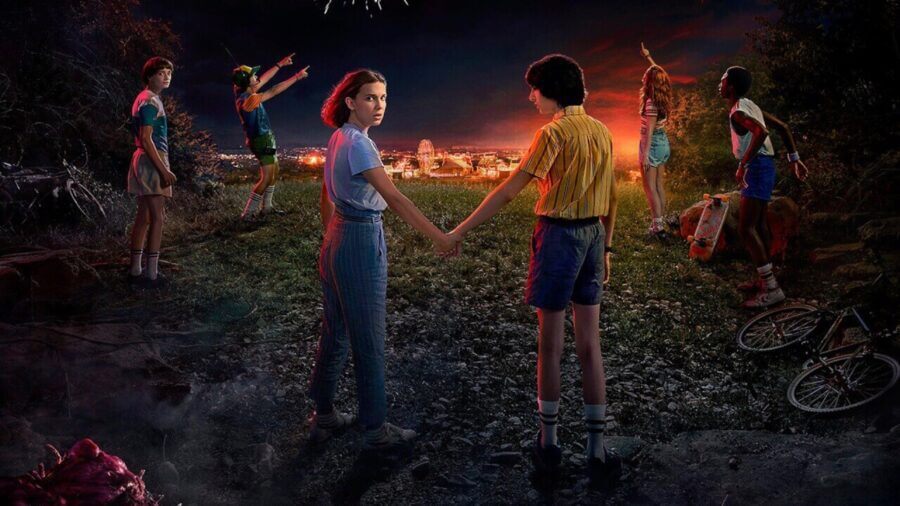 Stranger Things season 3 has been given the go-ahead and is expected to arrive midway through 2019. If you're looking for all the latest information on Stranger Things season 3 including all the casting news, release date, trailers, gossip and more this is your central location where we'll cover everything Stranger Things 3. Here's what you need to know. 
---
Season 1 & 2 Recap
Let's set the stage a little and give context to season 3 of Stranger Things. The year is 2016 and Netflix are having their best year yet with its Netflix Original lineup. Its well-known originals are firing on all cylinders such as House of Cards and Orange is the new Black. In early summer, we get the first word of a brand new sci-fi series called Stranger Things. Initially, the response was mute but when it landed on Netflix on July 15th, 2016 it blew audiences away.
The series, set in the 1980's follows a group of four friends who get mixed up in the dealings of a government agency that's unleashed all sorts of hell in the town of Hawkins. One of the friends manages to get abducted by a creature called the Demogorgon. The remaining three friends stumble upon a young girl called Eleven who helps them.
Season 2 saw our team face off with quite a few new threats whether that be a new form of Demogorgon, the hive mind controller or even a new douchebag that makes Steve look like a puppy in comparison.
---
Stranger Things 3 Teaser Trailer
Updated: July 16th, 2018
On July 16th, Netflix released the first teaser for season 3 of Stranger Things. We learn about a brand new mall opening up in Hawkins, Indiana (where the show is set). We also get a glimpse of Steve at the end who appears to have a job at the mall. There are also rumours surrounding the clock which could indicate the release date of the new series.
---
Season 3 Plot
Contains spoilers from season 2
As several people have already said, season 2 actually wraps up the story pretty well, at least in terms of what happens with the upside down. The gate has been closed but as we know from the end of episode 9, the large hivemind is closely following Eleven or even Will still.
We'll also likely see the return of 008 as her story was left rather open as they escaped from the police. Both 008 and Eleven have unfinished business in the form of 'Papa' who is said to still be alive and at large. Even though the Hawkins facility is now shut, you can bet experiments are continuing elsewhere.
The story will likely pick up a year from now when Eleven/Jane is freely allowed to join society as Hopper's kid. On the whole, though, The Duffer Brothers have kept the show open to interpretation and almost giving it a blank slate heading into season 3.
---
Season 3 Timeline So Far
Here's a complete timeline view of season 3 so far including its season 2 release, renewal, production start, trailer drops and more.
Season 2 released on October 27th, 2017
Season 3 was officially announced by Netflix in December 2017
Production began officially on 27th April 2018 (see video below)
First teaser trailer released 16th July 2018
---
Are the Duffer Brothers working on anything else?
It does look as though The Duffer Brothers are currently looking at solely focusing on their efforts on Stranger Things given how intensive the show is. The pair were involved in Fox's Wayward Pines during the first season of that show but given the show is currently on hiatus and their non-existent involvement in season 2, it looks as though they won't be returning for writing duties there.
Shawn Levy, one of the other key executives working on the show is currently involved in the production of several other movies. This year he's had credits in Fist Fight and Table 19. Next year is the scheduled release of the movie The Darkest Minds and titles such as Atlantis 7, Cubed and Uncharted also has Shawn involved.
---
Will Season 3 be the final season?
As you may now know, season 3 isn't currently planned to be the final season. The show is currently scheduled to have four seasons although it's been cited that it could extend to five.
One of the points Ross Duffer was key to point out is that he didn't want the series to 'linger on' possibly referring to shows in the same genre such as American Horror Story which has lost its edge in later seasons. Ross was keen to point out that they want to tell the story they have to tell and simply get out afterwards.
---
Will there be other Stranger Things spinoffs?
As of right now, there are no current plans for spinoffs. Ross Duffer in an interview stated it was 'about focussing on this story' and to 'tell this story and tell it right'. The good news there, of course, is that the pair hasn't ruled out the possibility of a spinoff show and it'd be interesting to see what kind of direction it'd take.
Just off the top of my head, it'd be interesting to see the early days of Hawkins National Laboratory as we have little doubt the experiments began with Eleven.
---
Season 3 Netflix Release Date
We were initially expecting season 3 of Stranger Things 3 to be released towards the end of 2018. The official release date has now been moved back to summer 2019. Some speculation as to the clock in the teaser trailer citing a release date of July 28th, 2018 has been rumoured but that's all that is at the moment.
We'll continue updating this post as we learn new information about Stranger Things Season 3. What do you want to see? Let us know below.