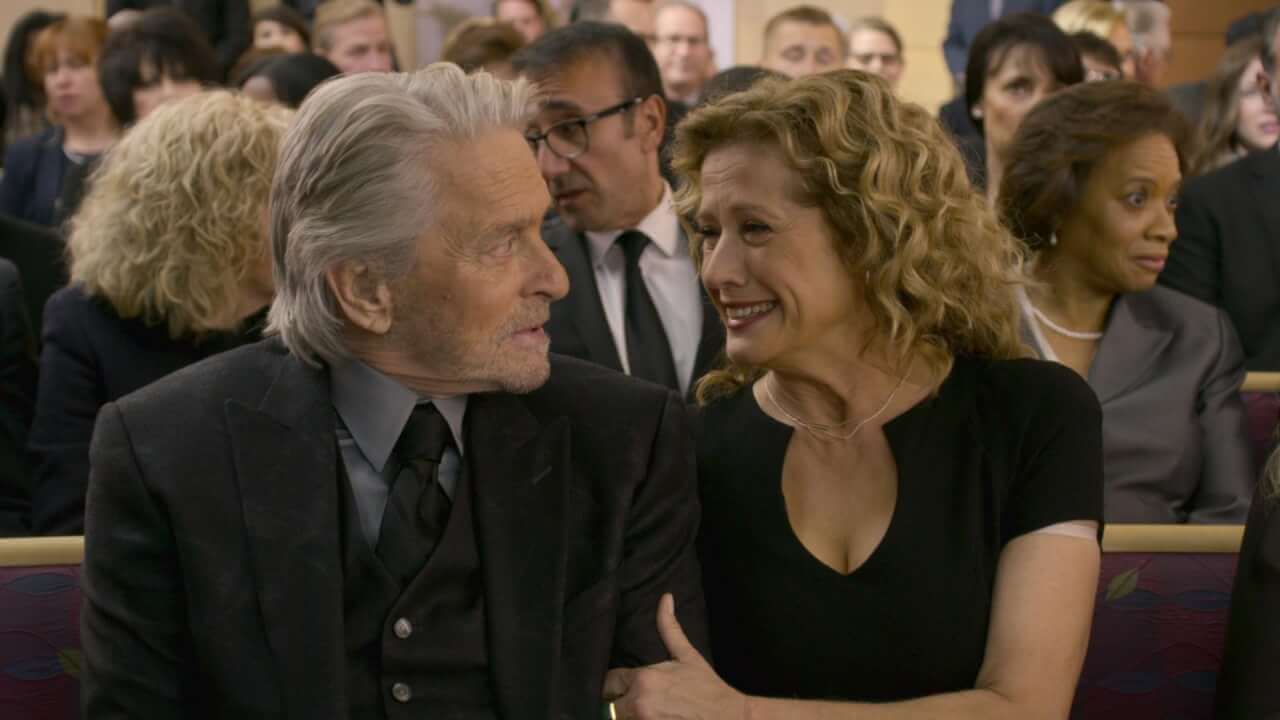 The Kominsky Method is one of the latest comedy series to arrive on Netflix. While the series has been very popular among fans, this hasn't stopped shows from being pulled before. Therefore the question is will The Kominsky Method be getting a second season?
Comedies on Netflix have been very hit and miss. Like marmite, many of these shows have been either loved or hated, hence why some have seen the ax. As for The Kominsky Method, many fans will be hoping to see a second season and for us at What's on Netflix think the loveable and charming series deserves a second season.
Season one of The Kominsky Method follows retired actor and acting coach Sandy Kominsky with his friend and agent Norman Newlander. In his youth, Sandy was a renowned actor but now he teaches at his very own studio known as "The Kominsky Method." While teaching Sandy falls in love with one of his students but is lacking in skills to even make a relationship work. As for Norman, sadly his wife passed away to which he struggles to deal with her death and his drug-addled daughter.
---
The Kominsky Method Season 2 Renewal Status
Official renewal status: Not yet renewed (last updated: 12/05/2018)
As of the time of writing, the series hasn't officially been renewed for season 2.
How likely will The Kominsky Method be renewed?
The series has been well met by both fans and critics alike. The series performed so well we thought it appropriate to Nominate it for our annual awards.
Considering the show has been created by Chuck Lorre, we can't imagine that the series would get pulled anytime soon. Considering the prestige he has a comedic writer we could expect to see the show improve each subsequent season.
---
Are fans wanting a second season?
Oh definitely. Many fans have taken to Twitter to express their wish for a second season.
The Kominsky Method has a respectable 8.4 out of 10 with fans posting their thoughts on IMDb and also has a 78% fresh rating on Rotten Tomatoes.
Grace & Frankie + Grumpy Old Men = The Kominsky Method
Looking forward to season 2

— Lena Lazyeye (@LenaLazyeye) November 21, 2018
@netflix LOVED the Kominsky Method – hope there is a Season 2

— Emerald Greetings (@EmeraldGreeting) November 19, 2018
@netflix #KominskyMethod just binged the entire season and was mesmerized. #MichaelDouglas #AlanArkin you were both brilliant. Bring on Season 2!

— Daphne Prator (@AZFieldTripMom) November 18, 2018
If, like me, you love Curb Your Enthusiasm, check out The Kominsky Method on Netflix. Michael Douglas and Alan Arkin in fine form. Binged over three days & now waiting for season 2. Please @netflix? pic.twitter.com/E9D9Zh5hFZ

— Justin Kings (@newsleader) November 21, 2018
Safe to say it's in demand!
---
When will Season 2 of The Kominsky Method be on Netflix?
Comedy shows don't take as long to film as other shows but Michael Douglas and Alan Arkin have busy schedules. So the filming schedule may entirely depend on what the outlook is for them in the coming year. If the show gets renewed within the new year then we can expect a late 2019 release date.
Would you like to see a second season of The Kominsky Method? Let us know in the comments below!