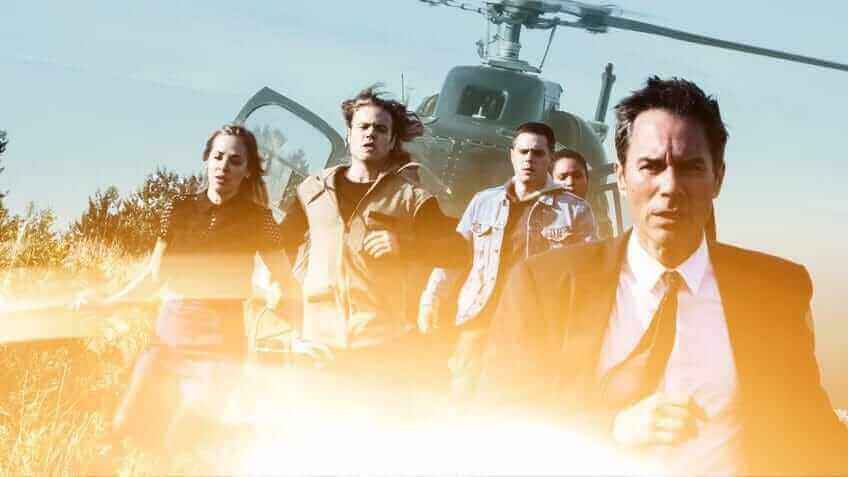 Will Netflix and Canadian network Showcase decide to bring Travelers back for a third season? Here you'll find the up-to-date renewal status of the third season plus when season 3 will likely release on Netflix. 
The sci-fi series a is a co-production between Netflix and Showcase in Canada. It airs first in Canada and then releases globally (excluding Canada) on Netflix soon after the final episode drops on normal television. It tells the story of several
The promotion for season 2 has been deafening at least from Netflix where it distributes the series internationally. All eyes were on Bright, the new movie starring Will Smith which released on the same day. With that said, season 2 easily was the better of the two seasons so far upping the ante literally on every level. Many fans have left satisfied even if Netflix isn't making any particular effort to garner new fans.
Article Continues Below...
Here's been the release schedule for Travelers so far:
Season 1 aired in Canada in October 2016 arrived on Netflix elsewhere in December 2016
Season 2 aired in Canada in October 2017 and arrived on Netflix December 2017
https://www.youtube.com/watch?v=4zLfK6LFoik
Season 3 Renewal Status
Official Renewal Status: Not Yet Renewed
The show has yet to be renewed and the decision will likely mostly come down to that of Showcase even though it's a co-production. We've seen several co-productions end after the first and second season so we hope that isn't the case with Travelers too.
Last year, we heard about the renewal in February so you can expect a similar time schedule for season 3 too. We'll update this post in February 2018 regardless of any update.
Season 3 Netflix Release Date
Given how the series is releasing on a major network in Canada, you can put money on it following the exact same release schedule as the year previous. That means you'd expect season 3 to start airing in Canada in October 2018 and then arrive on Netflix in December 2018. Again, this is completely dependent on the renewal status.
Do you want to see Travelers back for a third season? Let us know in the comments down below.
Last Updated: 12/28/2017