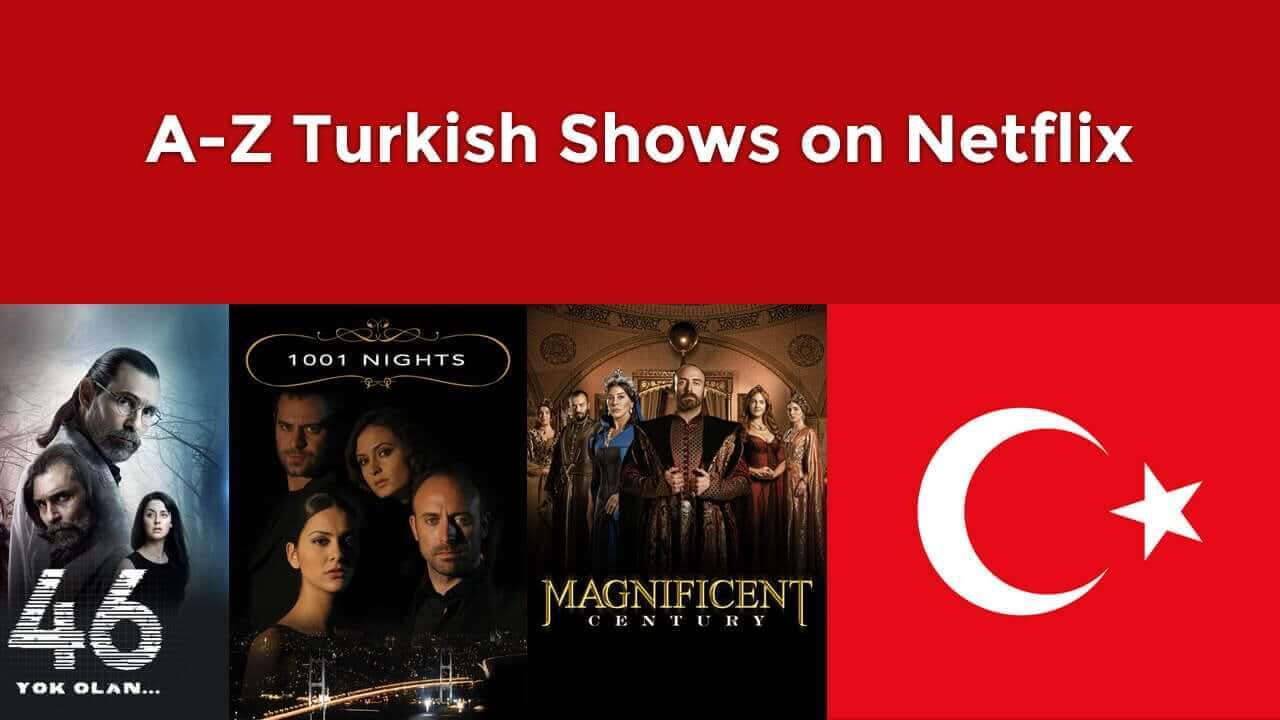 Turkey is a fantastic vacation spot but it's also produced some fantastic TV and movies over the years. Thanks to the growth of Netflix, you now have access to some of the best titles that the country has outputted. Here's a comprehensive list of every Turkish TV series and movie currently streaming on Netflix.
Why watch Turkish series when there are so many other shows to watch on Netflix? Great question. Variety is the spice of life as the saying goes and the Turks have a way of creating fantastic dramas. Of course, most of these titles are only now available because the shows come with subtitles.
We'll be back later on What's on Netflix with the definitive top 5 list of Turkish shows that everyone should watch.
---
Complete List of Turkish Series on Netflix
Below, we've included a list of the 27 Turkish series currently streaming on Netflix including how many seasons they have, how many episodes, its original Turkish name, and its IMDb score.
| | Name of Series | Turkish Name | Seasons Available | IMDb Score |
| --- | --- | --- | --- | --- |
| | 46 | | 1 – 13 episodes | 6.2 |
| | 1001 Nights | Binbir Gece | 1 – 49 episodes | 5.3 |
| | 20 Minutes | 20 Dakika | 1 – 59 episodes | – |
| | Behzat C | Behzat Ç.: Bir Ankara Polisiyesi | 1 – 96 episodes | 8.7 |
| – | Burned Cocoon | – | 1 – 105 episodes | – |
| | Can't Run From Love | Asktan Kaçilmaz | 1 – 24 episodes | 6.1 |
| | Ezel | – | 1 – 72 episodes | 8.5 |
| | Filinta | – | 2 – 149 episodes | 6.6 |
| | Gonul | Gönül Isleri | 1 – 38 episodes | 5.9 |
| | Intersection | Kördügüm | 3 – 31 episodes | 6.4 |
| | Kacak | Kaçak | 1 – 50 episodes | 6.8 |
| | Karadayı | Karadayı | 1 – 93 episodes | 7.5 |
| | Kurt Seyit ve Sura | Kurt Seyit ve Sura | 1 – 46 episodes | 6.6 |
| | Love and Punishment | Ask ve ceza | 1 – 43 episodes | 5.8 |
| | Love Bird | – | 1 – 72 episodes | 8.2 |
| | Love Is in the Air | Amour & turbulences | 1 – 102 episodes | 6.4 |
| | Love Me As I Am | – | 3 – 89 episodes | – |
| | Magnificent Century | Muhtesem Yüzyil | 1 – 48 episodes | 6.6 |
| | Mahmut & Meryem | – | 1 – 4 episodes | 5.9 |
| | Resurrection: Erugrul | Dirilis: Ertugrul | 2 – 179 episodes | 7.1 |
| | Subat | – | 1 – 32 episodes | 7.9 |
| | The End | Fin | 1 – 49 episodes | 4.9 |
| | The Girl I Loved | – | 1 – 79 episodes | – |
| | What Happens to My Family | Gajokggiri Wae Irae | 1 – 41 episodes | 7.8 |
| | Winter Sun | Kis Günesi | 1 – 50 episodes | 7.4 |
| | Yunus Emre | | 2 – 45 episodes | 7.1 |