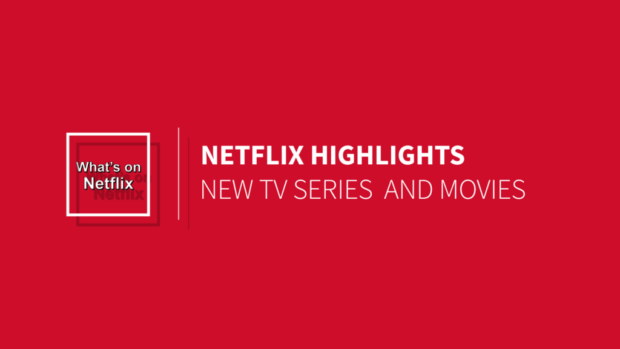 New week, new titles. Did you survive Valentine's Day? It's always great when it falls on a weekday like that, isn't it? Not only do you have to work, but then you have to spend your evening in an overpacked restaurant, paying too much for a meal you probably didn't want in the first place. Double the fun! Know who doesn't care if you take them to dinner? Netflix. That's who. Always there for you. No weaponized flying baby required.
Katherine Ryan: In Trouble 
Netflix Original
I've made no secret of the fact that I applaud Netflix's newfound devotion to stand-up comedy. The streak of great specials continues with this one. It feels a little more like a comedy club than a polished special. It's more informal. She does a lot of audience work. She has one joke about the election that really hits the nail on the head, but I'll just let you wonder what it is. She's mentions during her hour that "a lot of young women really respond to [her] style." I can see why. She's quite entertaining.
---
Operator
We seem to be getting more and more movies about how technology continues to slowly erode our culture and alienate us from other people. (Wonder why?) Martin Starr (Freaks and Geeks) plays Joe, the lead coder on a team delivering a computer operator service for the help line of a health-insurance company. Joe is one of those quantified-self champions, whose entire life revolves around analyzing everything. But by compiling the data he's missing what's really there. It's beautiful and moving, without the saccharin that ruins a lot of love stories. The best surprise here is the glimpse of what a great actor Mae Whitman has grown into. Her scenes where she's on stage acting out her mini-plays are fantastic. Even more than her great turn in Arrested Development. Operator plays out a bit like a long episode of Black Mirror. You should definitely add it to the queue.
Article Continues Below...
---
Girlfriend's Day 
Netflix Original 
Bob Odenkirk is a man who used to be revered in the card business. Now, not so much. In an effort to recapture some of the magic that made him so good to begin with, he gets he gets entangled in a web of murder and deceit as writers vie to create the perfect card for a newly created holiday: Girlfriend's Day. This movie made me so happy. It's a sign that Netflix is finally starting to value quality over quantity when it comes to their Original movies. And finally someone one-ups the mystery in Lost In Translation. But you're just going to have to see that for yourself.
---
The Seven Deadly Sins: Season 2  

Netflix Exclusive
This Netflix Original Series is based on a highly rated manga series. Taking place in a time not unlike the Middle Ages, feared and celebrated Holy Knights have ravaged the kingdom, overthrowing the royal family, and massing vast armies in the name of war. In the hopes of stopping the destruction, a princess reunites a group of banished knights, each one of them representing the seven deadly sins.
---
Chef's Table: Season 3 
Netflix Original
Your favorite food series is back with new episodes and it's as gorgeous as ever. This show truly exemplifies how food is not only a treat for your stomach, but a feast for the eyes as well. Remember with this series you may consume it in any order. (Full disclosure: the first episode is so soothing and beautiful I feel asleep. It's an episode with monks chanting, people. It doesn't get much more calming than that.) Each story has its own style and flavor. Much like the meals they are serving. Enjoy.
Happy weekend and happy streaming!