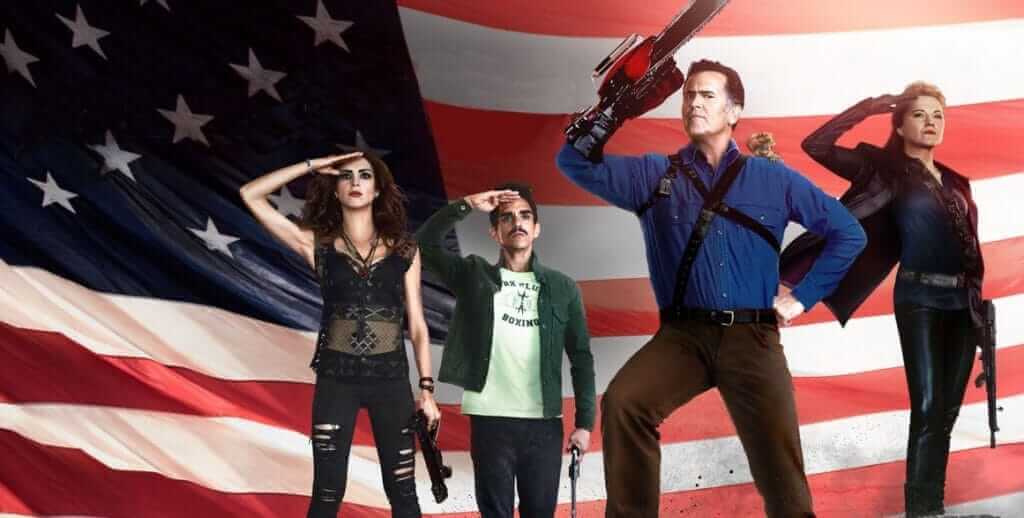 For many, Netflix became the place to watch Ash vs Evil Dead when it arrived earlier this year with seasons 1 and 2. If you're caught up, you'll be wanting to know when season 3 comes to Netflix. We've got everything you need to know about the possible season 3 release date below.
Set in the world of the Evil Dead franchise, this comedy horror series from Starz has been widely praised since the first season aired in 2015. The main character is played by Bruce Campbell who is no stranger to the Evil Dead franchise. He reprises his role as Ash Williams and is set 30 years after the Evil Dead trilogy and serves as a sequel. With that said, it's also easily accessible to newbies of the franchise.
Here's the most important news, Starz has renewed Ash Vs The Evil Dead and it's due to start airing in the US on February 25th, 2018. Once again you can expect 10 episodes to land but it's worth noting that we're getting season 3 on an unregular timetable. Both seasons 1 and 2 landed a year apart from each other and also aired in October. This may have an influence on the Netflix release as we'll discuss below.
Seasons 1 & 2 of Ash Vs Evil Dead came to Netflix on December 11th.
Netflix US Release Date
Although Netflix hasn't got an official release schedule for season 3 of the show we can make a few educated guesses. Given Netflix has picked up the first two seasons, it's almost certain they'll be acquiring season 3 and all future seasons too.
Given that the first two seasons arrived in December, at the very earliest we suspect it could come to Netflix in December. However, given most networks tendency to add titles just before new seasons arrive, we could expect it to come as late as January/February 2019 when a fourth season would air.
Netflix Expected Release: After December 2018, before February 2019
Of course, keep an eye out for all the titles coming soon to Netflix as we keep track of what's coming.
Other Regions
Netflix Canada and Netflix Netherlands also carry the show and while we think the Netherlands will follow the same path as the US, Canada is a little harder to predict. Like the US, Canada got a dump of episodes in December 2017 but only season 1. That means they'll likely now have to wait for season 2 in 2018 and then a year later for season 3.