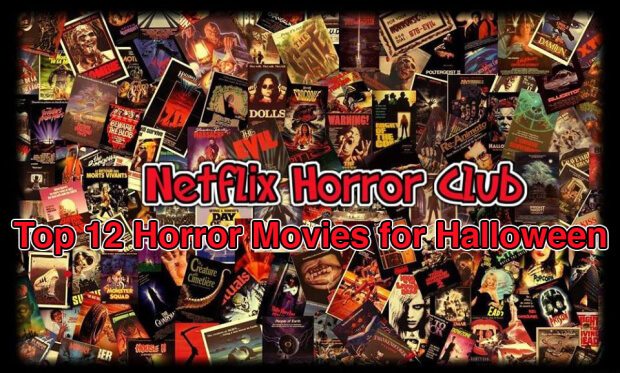 We teamed up with the guys over at the Netflix Horror Club fan page on Facebook. We tasked the community with ploughing through the Netflix Instant library to find some of the best horror movies specifically streaming on Netflix in the USA. Expect genuine scares as well as some of the movies which bought the genre to the masses including Scream which redefined and laid down the rules on typical horror movies. Vampires, psychopaths and ghosts are all here and are all streaming as part of your Netflix subscription. There was so many movies to include on the list that there was also two additional honourable mentions which are well worth a look.
American Mary (2012)

A relatively new horror movie that's currently available to stream is American Mary. While it received fairly average reviews it does provide some fairly decent scares. Mary Mason a young medical student goes into the underground world of illegal surgeries who ends up mutilating patients while also leaving a ton of marks on herself. The movie is directed and written by Jen Soska and Sylvia Soska.
American Psycho (2000)

Chilling and quite possibly even more defining than Christian Bales portrayal than the Dark Knight in the Batman remakes. American Psycho who plays a rich playboy type who instead of saving citizens murders them with complete freedom and unchallenged. The thrilling movie will keep you hooked and at times absolutely disgusted with Patrick Bateman's hatchet kills, butcher knife kills and of course good old chainsaw kills.
Creepshow 2 (1987)

Heading back to the late 80's now and we get the follow-up to the original and critically praised Creepshow 1. While Creepshow 2 wasn't as good as the original it does provide Netflix fans a look into the movies directed by Michael Gornick. The movie is performed half live-action and half animated which at the time, was something quite different. It gives us three more tales. The movie managed to get another movie in after the second but ended there.
Fright Night (1985)
Also in the 80's is Fright Night. The 1 hour and 46 minute movie directed by Tom Holland involves a teenager learns the next door neighbour who just moved in is a vampire and nobody in the town believes him. Except for Peter Vincent who is famed for portraying a ghoul hunter.
From Dusk till Dawn (1996)

Netflix is a great place to be if you're a fan of From Dusk Till Dawn. The 1996 is available in full on Netflix which is great and by far the most superior From Dusk Till Dawn title but you're also treated to the two follow up movies and the brand new series which launched earlier this year. The original 1996 is focussed on two robbers who hang out at a vampire haven unknowingly.
Leprechaun (1993)

While we believe that the poor rating on Netflix which currently stands at two is down to the appearance of a young Jennifer Aniston and even that it's rather comical it's still worth a watch. Warwick Davis stars as a little Leprechaun who's haunting a house which a father and daughter just moved into.
Scream (1996)
Defining many typical horror traits in movies for years to come is Scream which is streaming on Netflix along with Scream 2 and Scream 3. Starring Neve Campbell, David Arquette and Courtney Cox features a crazed killer absolutely intent on terrorising and killing a young high school student.
The Cabin in the Woods (2011)

Loved by many the 2011 movie saw five friends arrive at a cabin in the woods they are giving a set of rules which they have to abide by during their stay. Of course like any Pandora's Box type story they disobey these rules and ultimately gets punished but from what?
Watch The Cabin in the Woods >
The Woman (2011)
The second movie from 2011 is The Woman and is directed by Lucky McKee is about a lawyer who brings home a young woman, locks her in his shed and gets family members to participate in her civilisation. It stars a mostly unknown cast including Pollyanna McIntosh, Sean Bridgers, Angela Bettis and Lauren Ashley Carter.
You're Next (2011)

The third movie from 2011 and final movie on this top horror movie list is You're Next. Twisting the role of the victims this movie focusses on a family which fights back after a group of robbers hijack their family getaway. Streaming on Netflix, Adam Wingard directs this thriller and has many young and upcoming actors to look out for.
Honorable Mentions
V/H/S 1 (2012) :When a group of petty crooks goes in search of a rare VHS tape, they come upon a corpse surrounded by stacks of horrific and bizarre videos.
V/H/S 2 (2013) : Two private eyes investigating the disappearance of a student discover horrific content on a collection of evil VHS tapes in his home.
So there you have it 12 of the best horror movies which are currently streaming at length on Netflix US. Travis P who is the owner and compiled this list from the Netflix Horror Club added that 'I hope you enjoy some of these yourself. I hope to see you on the Netflix Horror Club group'.
Did you favourite horror movie make it on our list? Keep an eye out on What's on Netflix in the coming days for our picks of the best horror TV series that are streaming on Netflix.