Oh, how things have changed. When we last wrote about westerns streaming on Netflix, on our list of ten every movie was a classic. Furthermore, the average age of the ten was over 50 years. The baby was Hannie Caulder at a tender 44 and the grand-daddy was High Noon at a ripe old 63. The sad thing is that not one of the great movies we listed way back ten (2015) is available to stream now.
Anyway, interest in the genre remains (even though Netflix no longer list it as a genre). We thought we would revisit the idea and pick out the best Westerns that you might want to watch. They have an average age of 3.5 years which clearly shows that the movie industry is still in love with the genre. And why not? It's such an important part of American history. In deference to that point, we have chosen not to include any comedies. See what you think.
10. Traded – 2016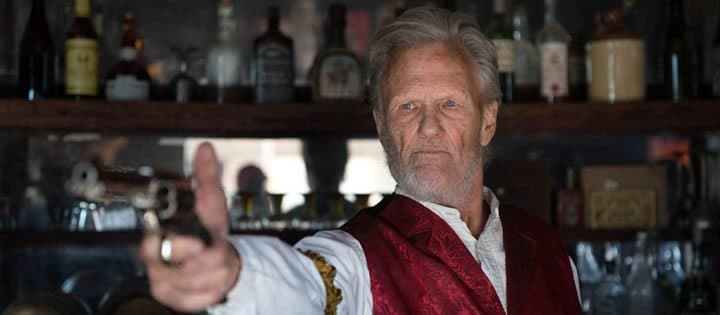 Directed by: Timothy Woodward Jr.
Starring: Kris Kristofferson, Trace Adkins, Michael Paré
Running time: 1hr 38mins
We are in Kansas in 1880 where the fastest gun in the west sets out to rescue his kidnapped daughter. That's about it for the storyline so the movie has a lot of filler material. Frankly, Traded deserves its place at no. 10 on our list. Sure there's guns and shooting and it's set in the wild west but the acting and dialogue are, at best, mediocre. This is one fans of the genre rather than people in search of great movie making.
9. Hickok – 2017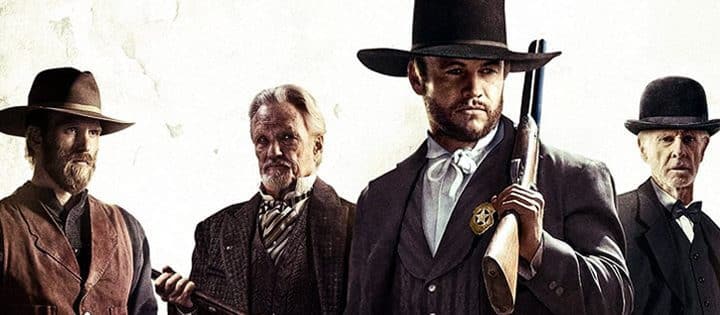 Directed by: Timothy Woodward Jr.
Starring: Luke Hemsworth, Kris Kristofferson, Trace Adkins
Running time: 1hr 28mins
The legend of Wild Bill Hickok has been told many times and in many ways. The gun-slinging, whiskey toting lawman was another fastest gun in the west (we wonder how many fastest guns there actually were). Given that Hickok was a real and well-documented man, this movie does little to advance our knowledge of him. Frankly, Wyatt Earp was a more interesting character.
8. 6 Guns – 2010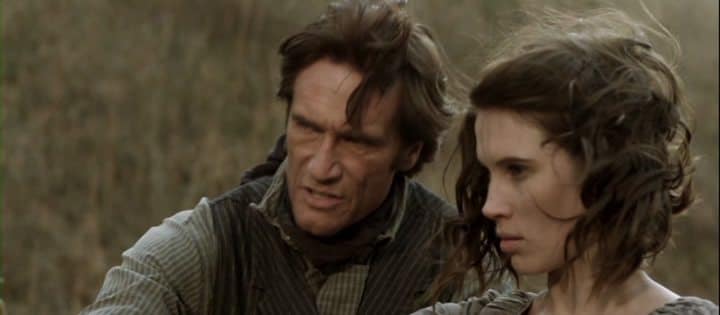 Directed by: Shane Van Dyke
Starring: Barry Van Dyke, Sage Mears, Greg Evigan
Running time: 1hr 35mins
This is, to all intents and purposes, a remake of Hannie Caulder. A woman who's family has been killed seeks the help of a bounty hunter to learn to shoot and to extract revenge. This is a low budget movie that went straight to DVD but doesn't pretend to be anything else. The story is clichéd but that doesn't matter. The good guys are likeable and the bad guys are very bad. Do not expect an epic western but do expect do expect a simple story told passably.
7. Kill or Be Killed – 2015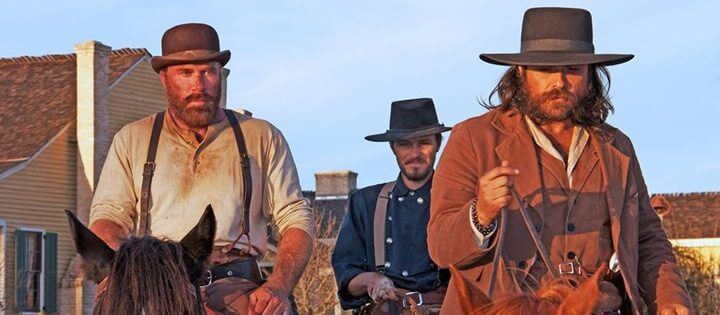 Directed by: Duane Graves, Justin Meeks
Starring: Justin Meeks, Paul McCarthy-Boyington, Gregory Kelly
Running time: 1hr 43mins
Thankfully we have a western that is more than a western Kill or Be Killed is very nearly a parody but not quite, very nearly a comedy but not quite; but it's definitely tongue-in-cheek. Written by, directed by and starring Justin Meeks the movies strength is its dialogue. It has the feel of the old spaghetti westerns and is something very different form the current crop in the genre. Well worth a watch.
6. Stagecoach: The Texas Jack Story – 2016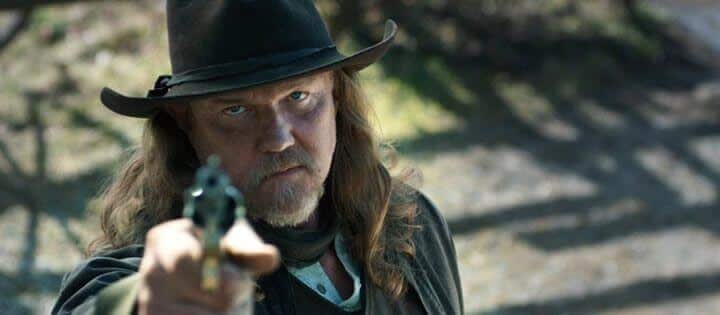 Directed by: Terry Miles
Starring: Trace Adkins, Kim Coates, Judd Nelson
Running time: 1hr 36mins
Here we go with yet another revenge movie. And yet another low budget movie to boot. With the most unimaginative title in our list, Stagecoach (that's enough) is better than expected. The acting is good and the time jumping keeps your attention. Trace Adkins is not a natural actor – he's a country music singer – but does a passable job in what purports to be a true story. In truth, Helena Marie steals the show as his trigger happy sidekick.
5. The Timber – 2015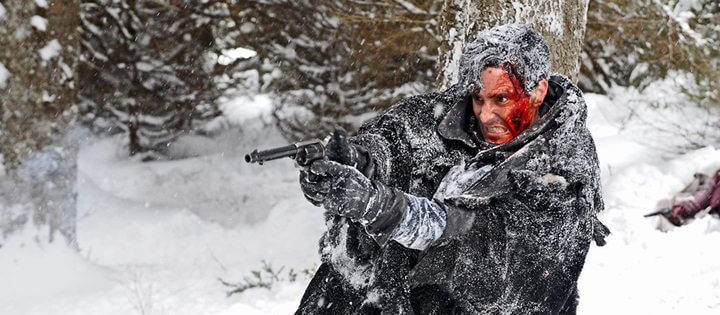 Directed by: Anthony O'Brien
Starring: James Ransone, Elisa Lasowski, Mark Caven
Running time: 1hr 21mins
The Timber is a delightfully out of the ordinary western that almost certainly portrays what life was like at the time. Well directed, photographed and acted the movie has plenty of suspense and is completely unpredictable. There's violence but not lashings of it and the women characters have a strength that is usually missing in westerns. This is a thinking persons film that is a cut above the rest released around that time.
4. The Salvation – 2014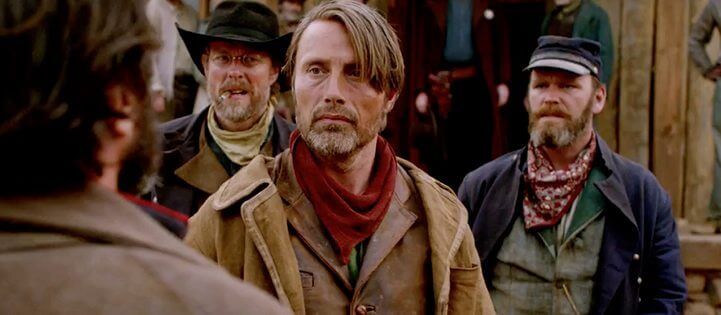 Directed by: Kristian Levring
Starring: Mads Mikkelsen, Eva Green, Jeffrey Dean Morgan
Running time: 1hr 32mins
Here's an unusual thing. A Danish western. And it's a brave effort. The story, as usual, is pretty hackneyed; a guy wants revenge for the killing of his family. Let's face it, it was called the wild west because it was pretty lawless. The acting is good and the dialogue well written; to western atmosphere has also been nicely captured. This is a dark and bleak film and not for the squeamish but fans of the genre will enjoy it.
3. The Homesman – 2014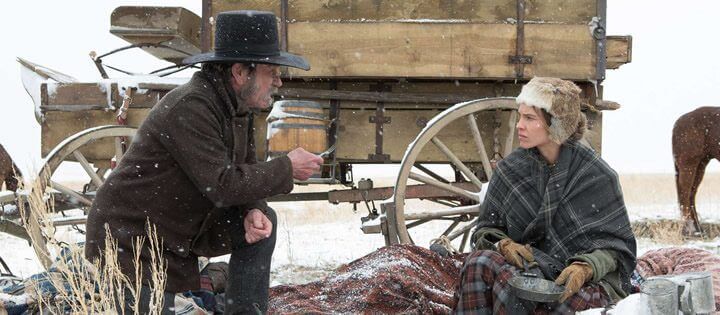 Directed by: Tommy Lee Jones
Starring: Tommy Lee Jones, Hilary Swank, Grace Gummer
Running time: 2hrs 2mins
The Homesman is a dark and dirty western written by, directed by and starring Tommy Lee Jones doing what he does best – glowering and simmering. The cast of cameos is spectacular and it is, perhaps, a shame that they are merely cameos: James Spader, Tim Blake Nelson, John Lithgow, William Fichtner, Meryl Streep and Hailee Steinfeld to name but a few. This is a good solid western that deserved more attention from the awards than it got.
2. Jane Got A Gun – 2016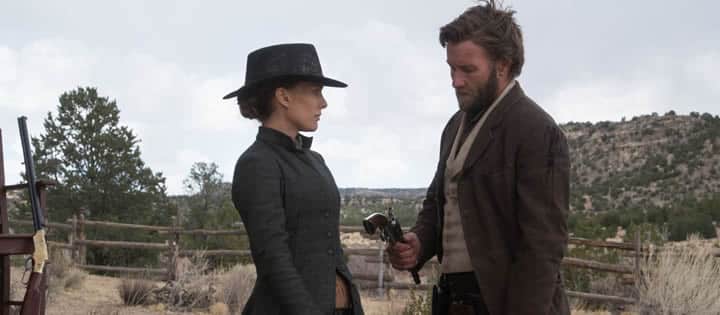 Directed by: Gavin O'Connor
Starring: Natalie Portman, Joel Edgerton, Ewan McGregor
Running time: 1hr 38mins
Given some of the turkeys in Natalie Portmans portfolio, Jane Got A Gun is a very fine piece of work. The storyline is not quite as formulaic as most westerns given the various and complicated relationships between the goodies and the baddies. It builds to a great climax and the typical western conceit of people pulling guns on each other at the drop of a hat doesn't seem to matter. The flashbacks are tedious but otherwise this is a nice piece of work.
1. The Hateful Eight – 2015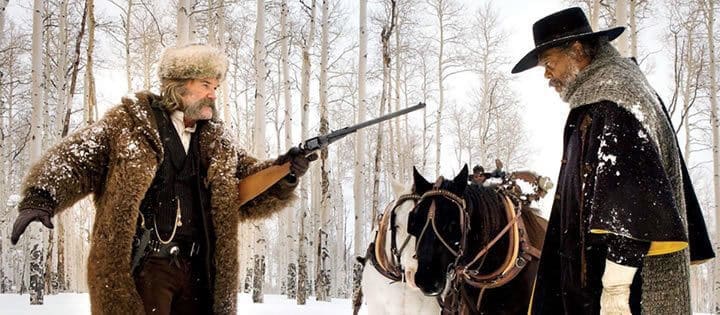 Directed by: Quentin Tarantino
Starring: Samuel L. Jackson, Kurt Russell, Jennifer Jason Leigh
Running time: 3hrs 7mins
The Hateful Eight takes over 3 hours to earn its Oscar and that was for the music. As Tarantino movies go, there's plenty of gore and violence but the dialogue really isn't up to his usual standard. Also, the story is virtually non-existent; its just people killing other people. The movie was much hyped before its release and the script was leaked adding to the hype. If you're a Tarantino fan, give it a go. If you're a western fan, don't expect a lot of glorious scenery.