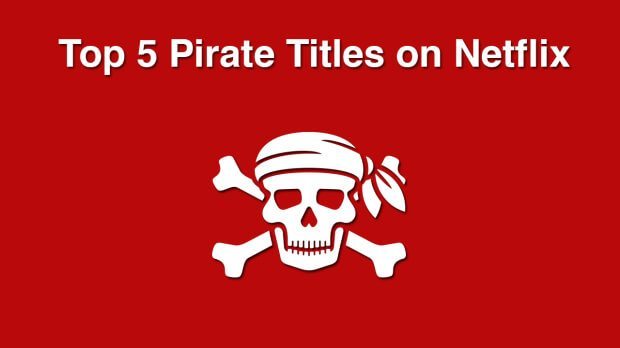 The passing of Talk Like a Pirate Day which saw millions around the world speak exactly like pirates for 24 hours. What a time to be alive. After we at What's on Netflix began talking like pirates we began pondering what the best pirate titles were that you can happen to find across Netflix. There's some obvious ones in here as well as some modern adaptations which you might not necessarily associate with the regular pirates you're used to. So without further ado here's your top 5 pirate titles streaming on Netflix US.
5. Hook (1991)

First up and streaming on Netflix US as well as a host of other region is Robin Williams Hook. The hit children's movie directed by Steven Spielberg involves a much older Peter Pan having to return to Neverland defeat captain hook and regain his youthful spirit lost in the big world. A young Julia Roberts takes the role of Tinkerbell and Dustin Hoffman as Captain Hook. While it hasn't aged terribly well you may still get enjoyment a kick out of this to see one of Robin Williams older works.
4. Muppet Treasure Island (1996)

The Muppets continued their global domination of literally redoing some of the greatest movies known to man which of course includes their rendition of A Christmas Carol. With new voices joining the roster for a one off including Billy Connolly, Kevin Bishop, Tim Curry and Jennifer Saunders. Telling the story of Treasure Island with of course a strange muppet twist added it's not the best rated Muppet movie especially when compared against newer Muppet movies but well worth a watch.
3. Somali Pirate Takedown: The Real Story (2009)

We couldn't mention pirates without referencing modern day pirates which plague the seas of Somalia. With the absense of recently released Captain Phillips which was a more cinematic dramatic telling the story of Captain Phillips this documentary feature tells the true story of what happened to the Maersk Alabama. Of course it stirs much controversy because of the details of the story but all in all is a good enactment of what went down.
2. Treasure Planet (2002)

Disney's first entry on this list comes with the futuristic spin on the classic pirates where a space cabin boy comes into possession of a treasure map to gain riches beyond his imagination. He goes up against characters similar to that of Treasure Island and battles against supernovas and space storms. It's beautifully animated and many consider it to be one of Disney animations best modern movies.
1. Pirates of the Caribbean : Curse of the Black Pearl (2003)

The second Disney entry comes in at number one and while there are better movies within the Pirates of the Caribbean set but this one kicked off the Pirate genre back into mainstream media again.  With an iconic performance from Johnny Depp starring as Captain Jack Sparrow he travels the seas in the black pearl to gain treasures. The first movie contained the largest amount of stars including Orlando Bloom as Will Turner, Keira Knightley as Elizabeth Swann and Geoffrey Rush as Barbossa.