Welcome to the top 50 Action Movies on Netflix for February 2018. Here we'll pick the best movies yet to get your heart-pounding with explosions, fighting and well… action. We've included the very best that the Netflix US has to offer, so hold on tight.
Here's our definitive list of the Top 50 Action Movies on Netflix.
50. Next (2007)
Directed by Lee Tanahori
Starring:  Nicolas Cage, Julianne Moore, Jessica Biel
Running time: 1h 36min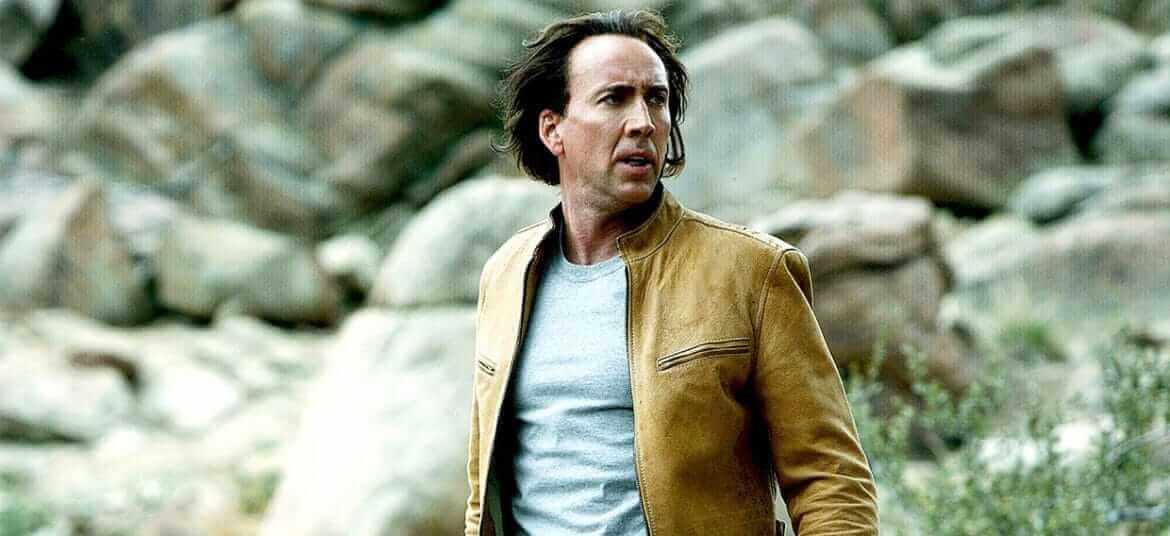 Nicolas Cage plays a Las Vagas showroom magician who can see five minutes into the future. This is a valuable skill that the FBI wants in order to prevent a nuclear terrorist attack. Cris has been lying low ever since he was experimented on as a kid by the government, but will this terrorist plot draw him back into the open? This action, sci-fi, thriller is perfect for any action or Nicolas Cage fan.
---
49. Alien Arrival (Arrowhead) (2016)
Directed by Jesse O'Brien
Starring:  Dan Mor, Aleisha Rose, Shaun Micallef
Running time: 1h 35min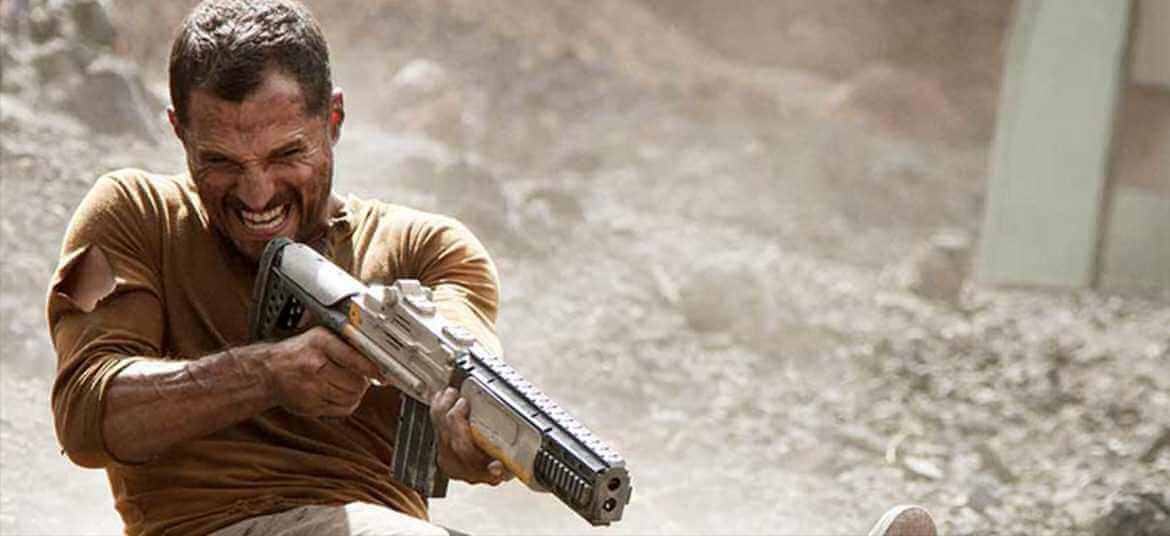 Also known as 'Arrowhead' this Sci-Fi action is based around an interstellar survivalist. After being sent on his last mission in order to redeem himself, he becomes stranded on a seemingly deserted moon. What he finds on this moon will change his outlook on the universe forever. If you enjoy low-budget sci-fi movies with interesting concepts, definitely dedicate some time to this.
---
48. Defiance (2008)
Directed by Edward Zwick
Starring: Daniel Craig, Liev Schreiber, Jamie Bell
Running time: 2h 17min

Article continues below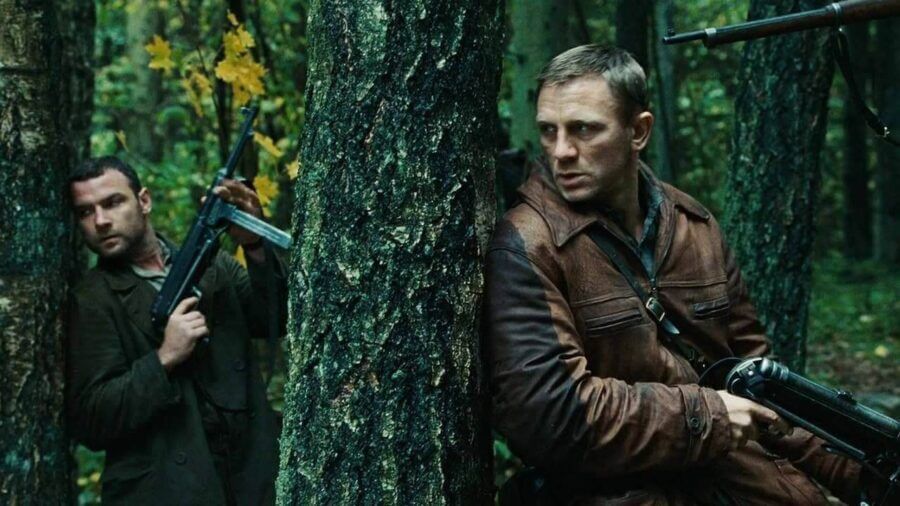 Based on a true and inspiring story of three Jewish brothers living in Nazi-occupied Eastern Europe following the annexation of Poland. The brothers, along with hundreds of Polish Jews decide to escape to the Belarussian forests in order to scavenge and arm themselves against the possible discovery by the Germans. The film stars Daniel Craig, Liev Schreiber and Jamie Bell and was met very positively after it's premiere in 2008, even being nominated for an Oscar.
---
47. Survivor (2015)
Directed by James McTeigue
Starring: Paddy Wallace, Parker Sawyers, Bashar Rahal
Running time: 1h 36min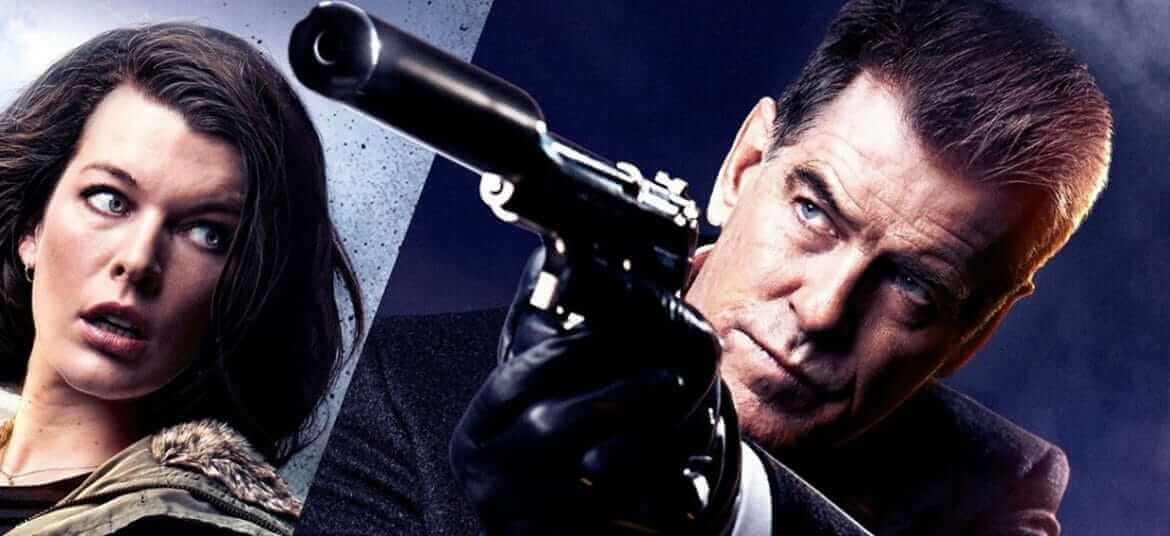 A highly skilled and infamous assassin known as 'The Watchmaker' (Pierce Brosnan) is set against an American State Department employee after she is tasked with stopping terrorists from getting into the US. After a failed attempt on her life, she has no option to go on the run and try to stop a large-scale terrorist attack aimed at Times Square. If that sounds like your kind of action movie, then you can't go far wrong with 'Survivor'.
---
46. Johnny English: Reborn (2011)
Directed by Oliver Parker
Starring:  Rowan Atkinson, Rosamund Pike, Dominic West
Running time: 1h 41min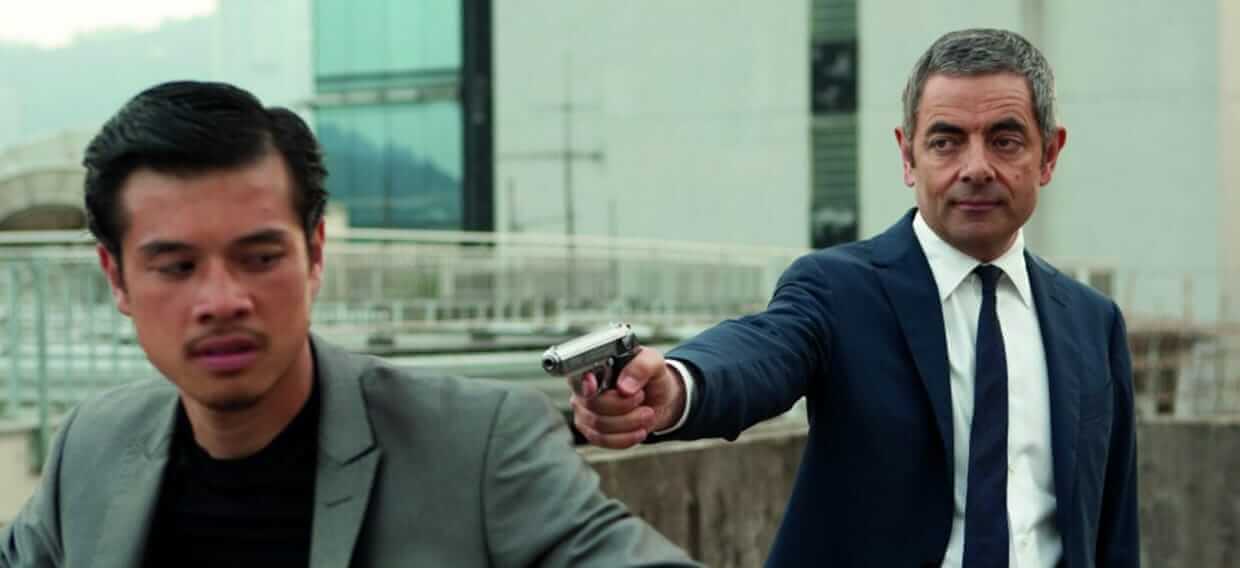 Rowan Atkins is back as one of our favourite spoof spies after a significant security disaster that resulted in his knighthood being revoked. Eight years later Johnny is nearing the end of his training with Tibetan monks when Mi7 calls him back in to help uncover an assassination plot. But Johnny finds much more, including a secret agency that he has to find and stop. This is the first modern comedy/action film on this list (and not the last) so it's much more family friendly that some of the pure action movies that we've chosen
---
45. Seeking Justice (2011)
Directed by Roger Donaldson
Starring:  Nicolas Cage, January Jones, Guy Pearce
Running time: 1h 45min


Nicolas Cage plays Will Gerard, an average high school teacher. After his wife is assaulted and put into the hospital, a mysterious stranger tells Will that they can 'deal' with the criminal, but only if Will agrees to carry out a favor in the future. Six months later, they ask just that of him. Trying to escape will bring the whole force of this secret organization down on him.
---
44.V for Vendetta (2005)
Directed by James McTeigue
Starring:  Hugo Weaving, Natalie Portman, Rupert Graves
Running time: 2h 12min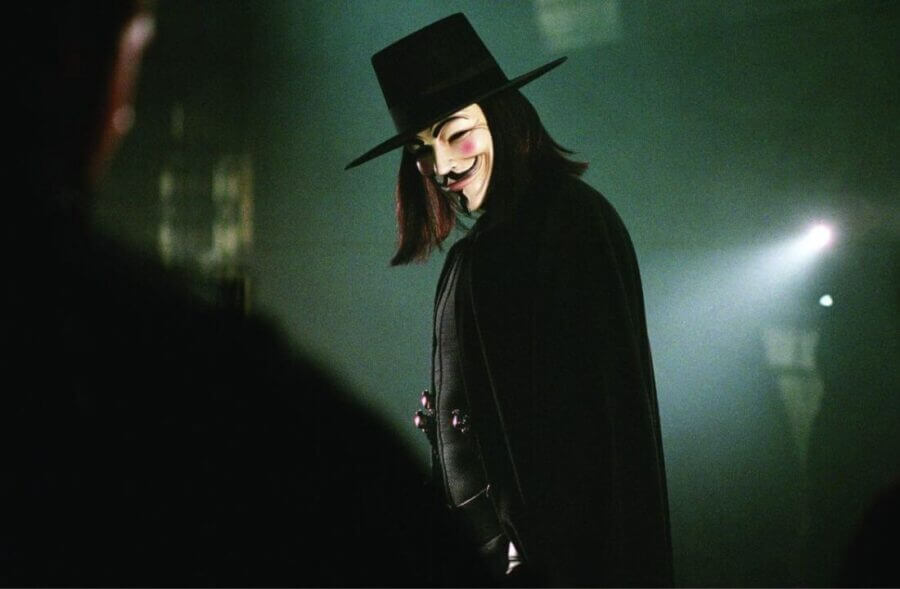 V for Vendetta is an action, drama following the actions of "V" (Hugo Weaving) as he attempts to overthrow the fascist government that has taken over the Britsh Empire. After 'V' saves the life of Evey Hammond (Natalie Portman), she becomes a pivotal part of the revolution. If you've never watched V for Vendetta you should still recognise his now iconic Guy Faux mask that has been adopted by the well-known hacker group anonymous. This is defiantly one that should be on your watch list.
---
43. The Cold Light of Day (2012)
Directed by Mabrouk El Mechri
Starring: Henry Cavill, Bruce Willis, Sigourney Weaver
Running time: 1h 33min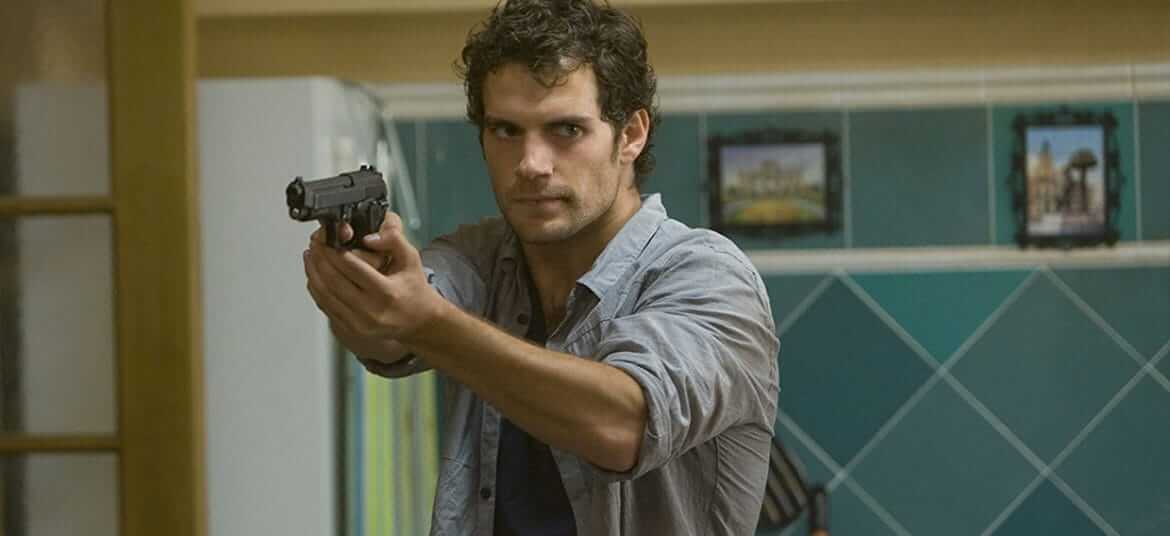 This Action, Thriller stars Henry Cavill, Bruce Willis and Sigourney Weaver. The film follows Will (Cavill) after his family mysteriously go missing in Spain. He soon finds out that his dad wasn't who he thought he was, and that they are all in the deadly sights of an intelligence agency. Now, Will must fight for his life with his instincts as his greatest weapon.
---
42. Jane Got a Gun (2016)
Directed by Gavin O'Connor
Starring:  Natalie Portman, Joel Edgerton, Ewan McGregor
Running time: 1h 38min


A western action film based around Jane Hammond and her vicious battle with the infamous outlaw gang the Bihsop Boys. After trying to rebuild her life with her husband Bill "Ham" Hammond she is tossed back into the world of outlaws. She has to call on her old fiance Dan Frost to help protect her home and her child in an all-out battle for their lives, and Revenge.
---
41. Security (2017)
Directed by Alain Desrochers
Starring:  Antonio Banderas, Ben Kingsley, Liam McIntyre
Running time: 1h 28min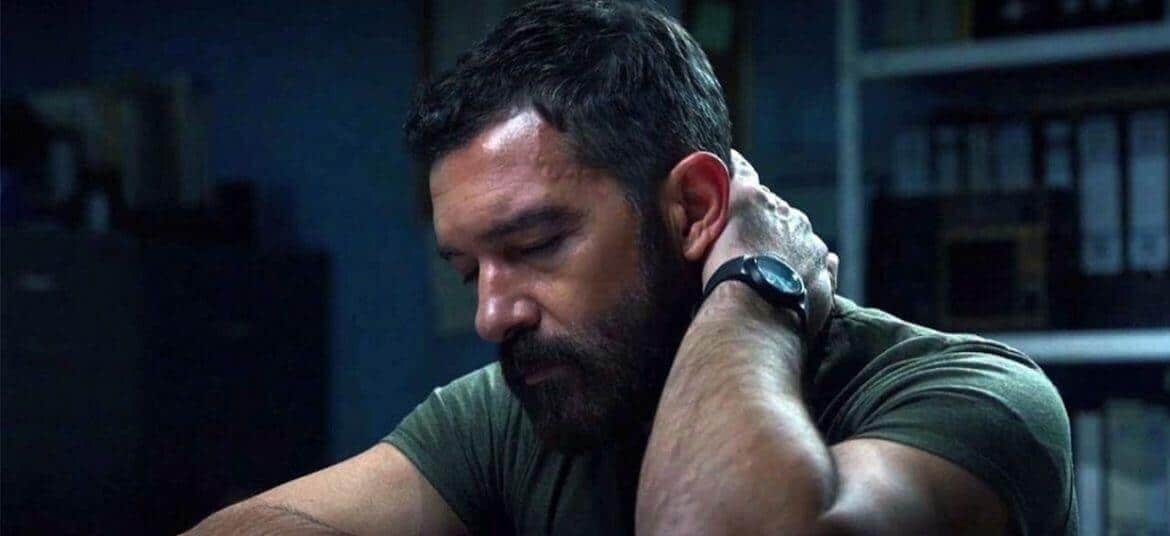 This brand-new action, thriller features Antonio Banderas as a special forces veteran desperate for work. After taking a job as a minimum-wage security guard he quickly finds himself under-siege from a powerful psychopath (Ben Kingsley), who is after a young girl being sheltered in the Mall. The film has a Die Hard feeling (Not a bad thing) and is worth a sitting.
---
40. Gridlocked (2015)
Directed by Allan Ungar
Starring:  Dominic Purcell, Cody Hackman, Stephen Lang
Running time: 1h 50min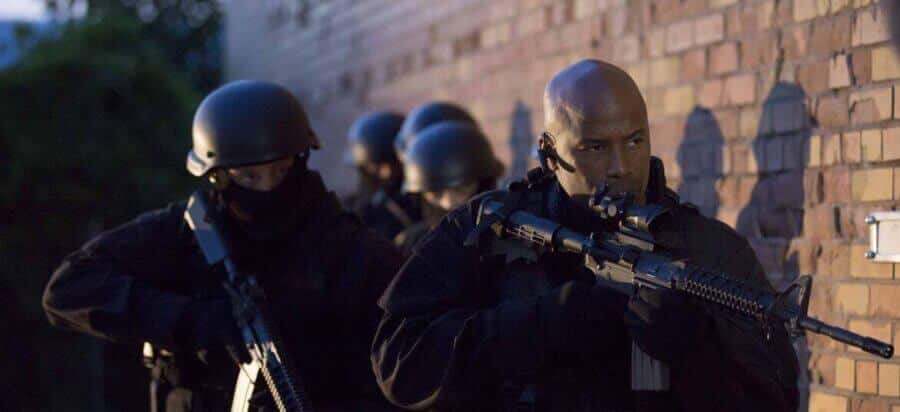 Gridlocked is a throwback to an old 90's style action movie set in New York. David Hendrix is a former SWAT commander who's been reduced to just running tasks for the NYPD after he took a bullet in the SWAT. To humiliate him further he has been given the task of giving a hard-partying selfish and irritating celebrity Brody Walker a ride along, as a part of his probation. But when a gang of mercenaries attacks a police training facility, Hendrix must make the best of what he has and fight back. it has all the hallmarks of a good action film, and that's what it is, a pure action flick.
---
39.  Troy (2004)
Directed by Wolfgang Peterson
Starring:  Brad Pitt, Eric Bana, Orlando Bloom
Running time: 2h 43min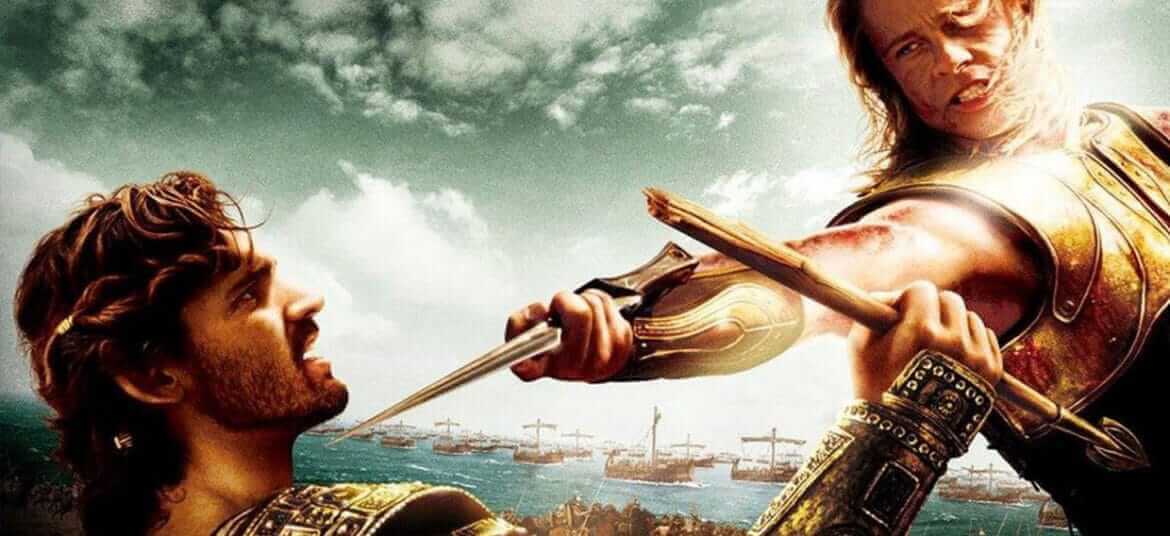 This epic period war film stars Brad Pitt, Eric Bana, and Orlando Bloom. The film is somewhat loosely based on Homer's Song of llion, an ancient Greek poem set during the Trojan War and the 10-year siege of Troy. The film follows the fates of many great legends, such as the warrior Achilles. The movie made a staggering $497 million worldwide and at the time was at number #60 in the list of top box office hits of all time.
---
38.  Gold (2016)
Directed by Stephen Gaghan
Starring: Matthew McConaughey, Edgar Ramírez, Bryce Dallas Howard
Running time: 2h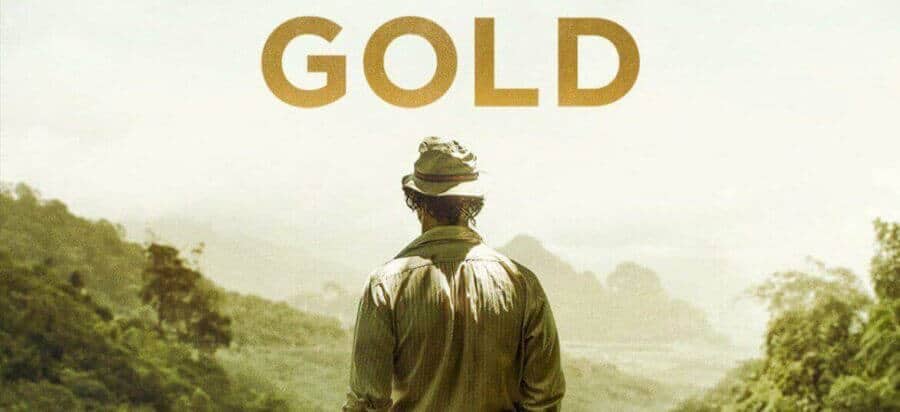 After the family mining business begins to dry up after the death of Kenny's dad, he loses everything, his home, his business and his wife. But after he has a "vivid dream" of an Indonesian jungle, he is filled with a new sense of determination to find pure gold, hidden in the mountains. Accompanied by an equally unsuccessful geologist they venture out to discover their fortune. The film is based on a true story and is filled with an inspiring story full of ups and downs.
---
37. Bushwick (2017)
Directed by Cary Murnion and Jonathan Milott
Starring:  Dave Bautista, Brittany Snow, Arturo Castro
Running time: 1h 34min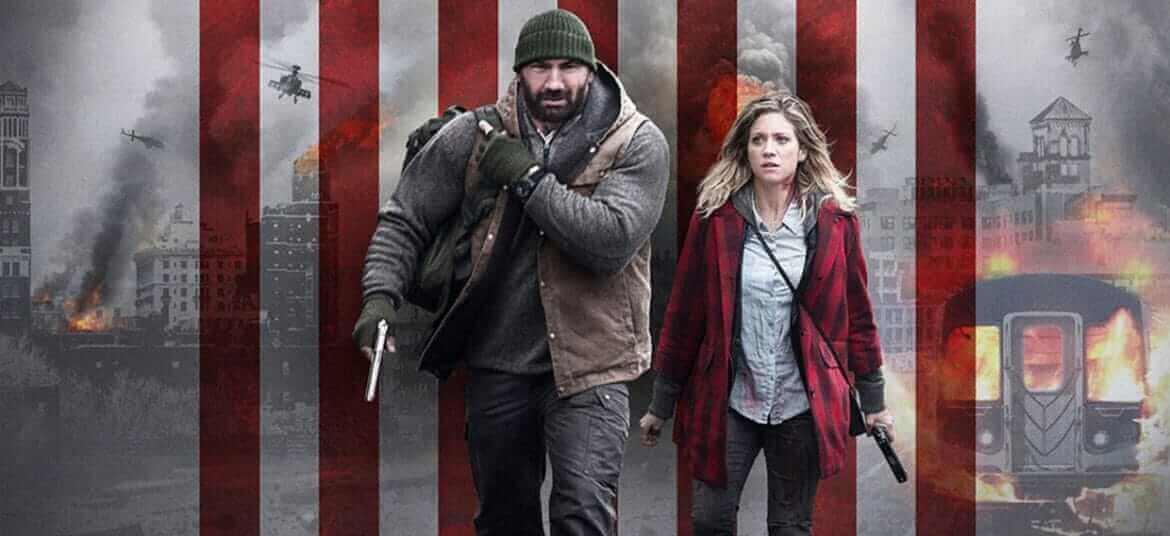 The US has declared martial law as the state of Texas attempts to secede from the rest of the county. The film follows Lucy (Brittany Snow), a 20-year-old living in the Brooklyn area of Bushwick, and Stupe (Dave Bautista) a war veteran, who both get caught up in the brutal military invasion of New York, at the hands of Texas. In order to reach safety, they much cross five blocks, with many looters and armed invaders standing in their way. The film has an interesting plot and is full of plenty of action to keep you interested.
---
36. Sahara (2005)
Directed by Breck Eisner
Starring:  Matthew McConaughey, Penélope Cruz, Steve Zahn
Running time: 2h 4min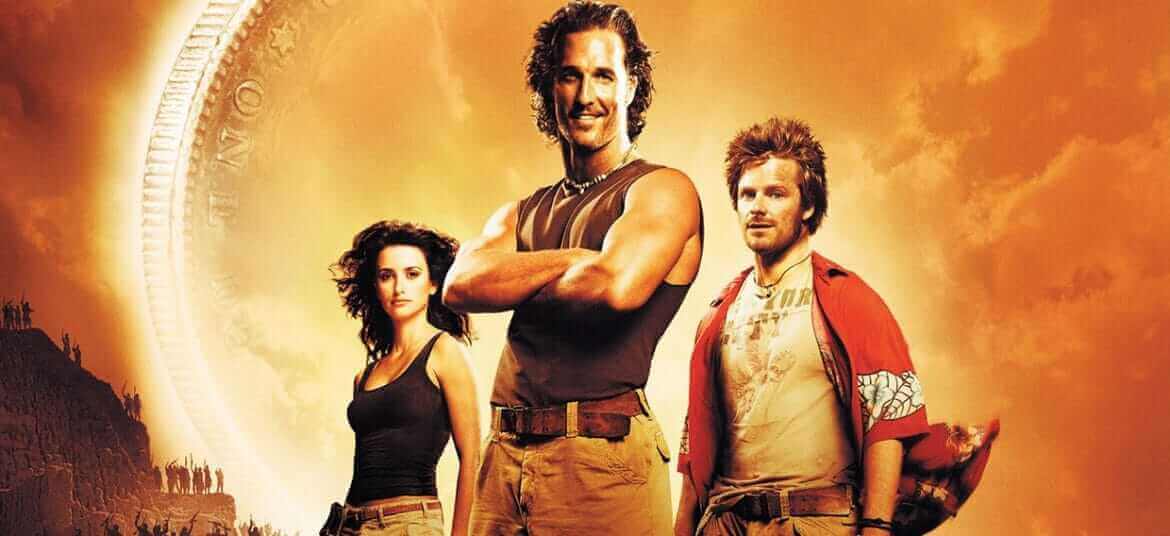 Starring Matthew McConaughey, Steve Zahn and Penélope Cruz, Sahara follows the Master explorer Dirk Pitt as he ventures on the treacherous journey to find the lost Civil-war ship the "Ship of Death", which is said to hold a vast treasure somewhere in West Africa. As they close in on the ship they start to suspect that the treasure may be connected to a larger and more deadly issue, as a ruthless African dictator starts to get involved. The film is just a highly enjoyable action movie that will satisfy most action fans.
---
35. Bright (2017) 
Netflix Original
Directed by David Ayer
Starring:  Will Smith, Joel Edgerton, Noomi Rapace
Running time: 1h 57min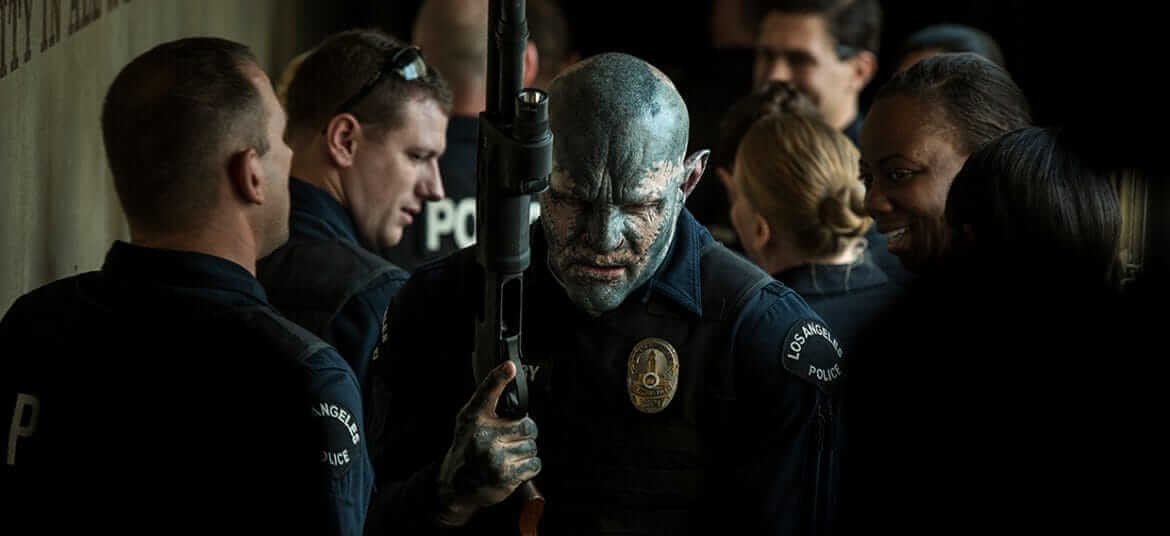 This Netflix Original stars both Will Smith and Joel Edgerton and follows a very unique and original story. In a half modern, half fantasy world, Humans, Orcs and Elves live in relative peace. Edgerton plays the first ever Orc recruited into the police force and is paired up with Smith's character. After responding to a call the pair stumble across a dark cult who are attempting to use a magic want to resurrect the "Dark Lord". The film definitely included many interesting ideas and has already been slated for a sequel in 2018.
---
34. Tropic Thunder (2008)
Directed by Ben Stiller
Starring:  Ben Stiller, Jack Black, Robert Downey Jr.
Running time: 1h 47min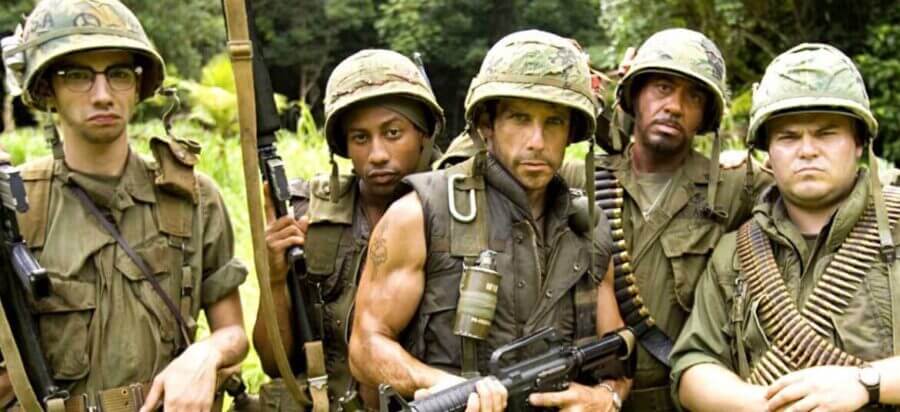 Tropic Thunder is an Action, Comedy that follows five actors all from different movie backgrounds attempting to record a serious Vietnam film. Damien Cockburn, the bumbling and somewhat incompetent British director decides in a last-ditch attempt to save the film from disaster to drop the uncooperative actors into a real thick Vietnam forest in order to capture "real fear in their eyes" with cameras set up in the trees. Due to circumstances the group somehow wander confidently into real-life drug lord territory and come under fire from real gorilla soldiers intending to kill them. This film is nowhere near a mindless action flick, but a very clever Hollywood parody. Some of the cast includes Ben Stiller, Jack Black, Robert Downey Jr and Tom Cruise, who all give great performances.
---
33. The Gunman (2015)
Directed by Pierre Morel
Starring:  Sean Penn, Idris Elba, Jasmine Trinca
Running time: 1h 55min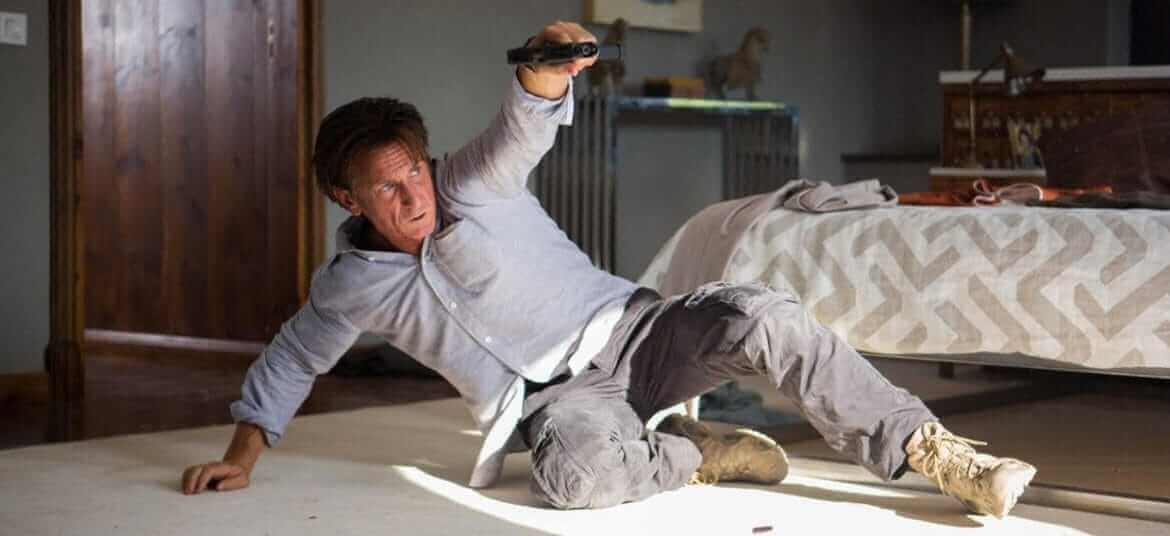 After a mercenary sniper kills a minister in the Congo, he is forced into hiding and eventually clashes with a ruthless kill squad who will do anything to kill him. Now Terrier (Sean Penn) must hunt down the man who has put a hefty price on his head, and in doing so discovers his old team and the girlfriend that he was forced to leave behind. If you are looking for a bit more of a realistic action film with believable conflict than you should enjoy The Gunman.
---
32. Assassination (2015)
Directed by Dong-hoon Choi
Starring:  Ji-hyun Jun, Jung-jae Lee, Jung-woo Ha
Running time: 2h 20min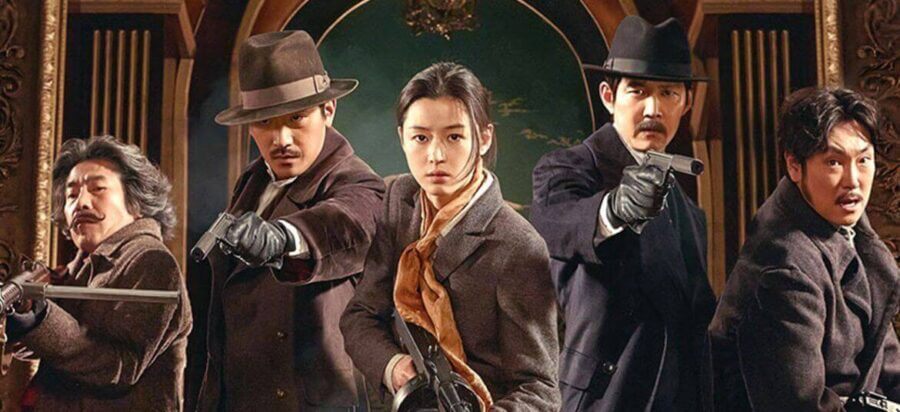 Set in 1933 'Assassination' is about resistant fighters in Korea under Japanese occupation. They are under constant threat of being caught by the authorities and they have to plan an elaborate assassination of a high commander in the Japanese army. This is an engaging Action War Drama full of twists and turns that will keep you on the edge of your seat as they try and free their nation from this unwanted foreign power.
---
31. The Suspect (2013)
Directed by Shin-yeon Won
Starring:  Yoo Gong, Jae-yoon Jo, Sung-ha Jo
Running time: 2h 17min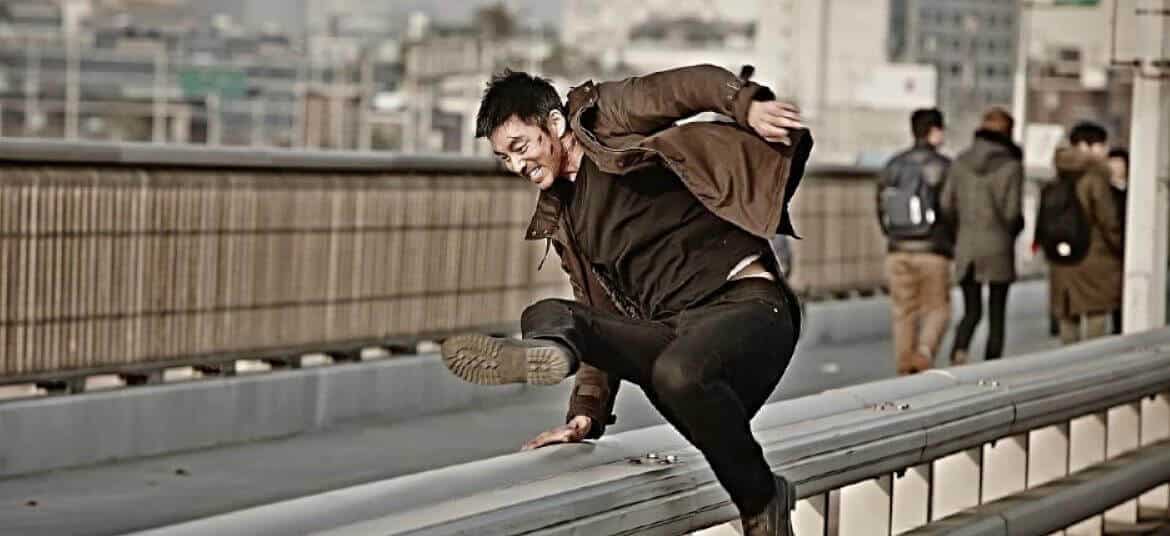 After his family is brutally murdered, North Korea's best field agent Dong-Chul is betrayed and on the run. With only Vengeance and survival on his mind, he must escape the forces chasing him. After uncovering some deep national secrets he is accused of murdering a powerful CEO and pursued relentlessly, whilst trying to desperately uncover the truth.
---
30.  The Ridiculous 6 (2015) 
Netflix Original
Directed by Frank Coraci
Starring:  Adam Sandler, Terry Crews, Jorge Garcia
Running time: 1h 59min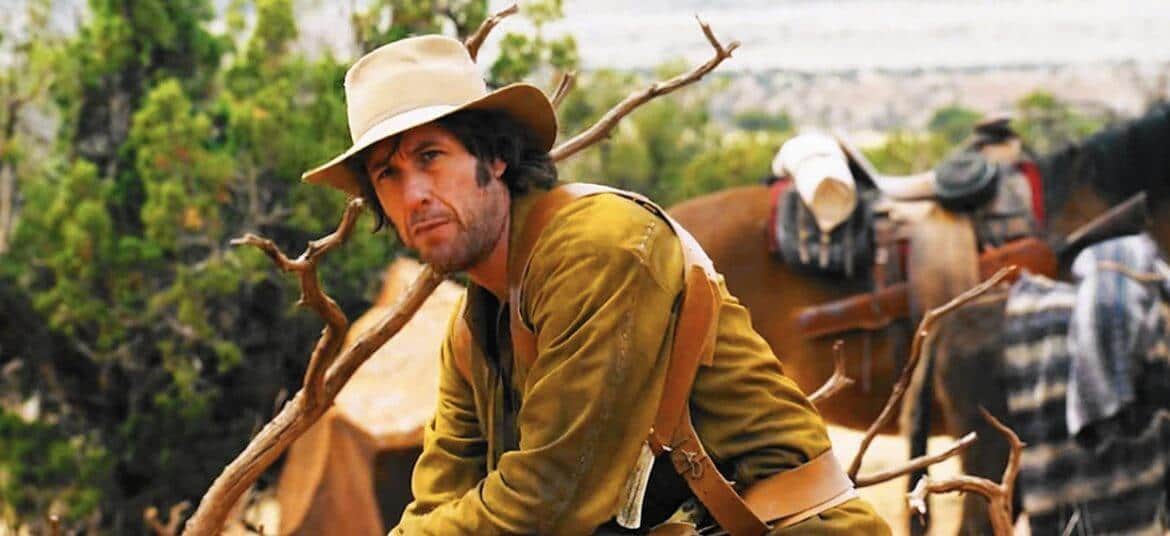 The Ridiculous 6 is one of the three films that is included in the deal that Adam Sandler has with Netflix. An outlaw raised by Native Americans discovers that he has 5 other brothers and that in order to save their father from certain death they must somehow acquire $50,000 (equivalent to $1,078,718 in 2017). The strangers must now unite as brothers and do all they can to save their father. The film got mixed reviews but if you are a western spoof or Sandler fan you should definitely give his Netflix original a watch.
---
29. True Memoirs of an International Assassin (2016) 
Netflix Original
Directed by Jeff Wadlow
Starring: Kevin James, Kim Coates, Maurice Compte
Running time: 1h 38min

Our number 29 spot goes to the Netflix Original starring Kevin James, (Paul Blart: Mall Cop) who plays a lonely amateur novelist who is writing a fiction book 'Memoirs of an International Assassin'. After a mistake with his publisher, the book is released as a non-fiction and is suddenly met with extreme success. Because of the story, he attracts the attention of a terrorist organization and the government who clash somewhat violently over this fictional assassin.
---
28. The Way Back (2010)
Directed by Peter Weir
Starring:  Jim Sturgess, Ed Harris, Colin Farrell
Running time: 2h 13min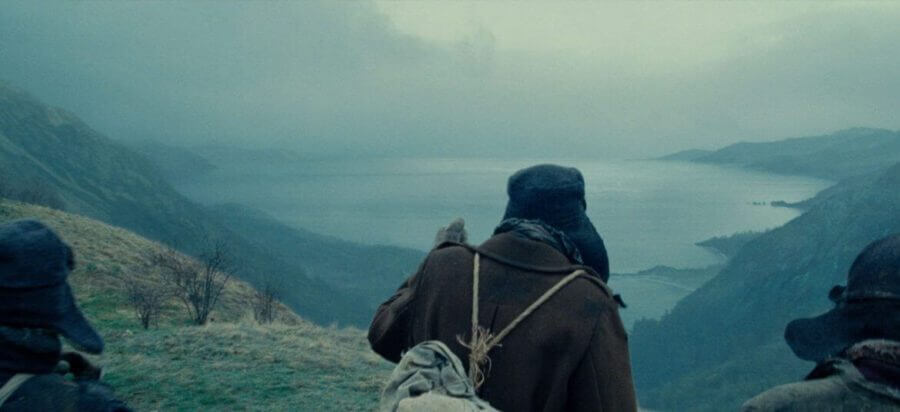 An inspirational story based on true events about several men who attempt to escape from a Russian gulag somewhere in Siberia in 1941. They embark on a 4,000-mile journey on foot through many dangerous situations, including freezing nights, lack of both food and water, endless desert and the perilous task of crossing over the Himalayas, all to get to freedom in India. They face many ethical and moral problems that they have to overcome during their journey. It's been praised for its immense cinematography and character development that makes you really start to feel something for the characters.
---
27. Blood Diamond (2006)
Directed by Edward Zwick
Starring:  Leonardo DiCaprio, Djimon Hounsou, Jennifer Connelly
Running time: 2h 23min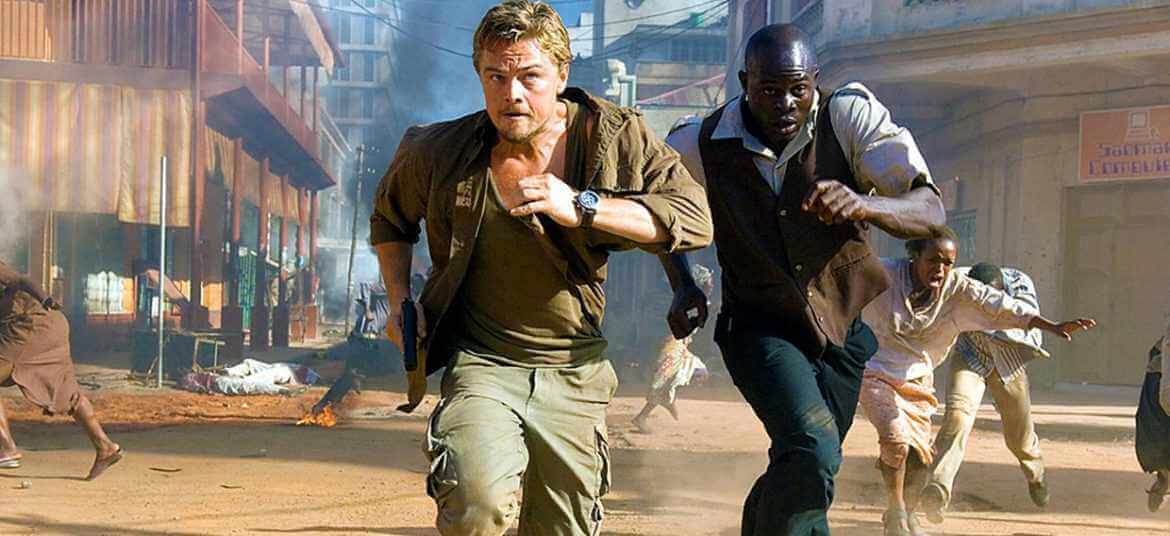 Starting Leonardo DiCaprio and Djimon Hounsou, Blood Diamon is an Action, Thriller taking place in Sierra Leone during political unrest. Archer, played by Leo is wound up in the blood diamond trade, but after meeting Soloman (Djimon) is eager to make peace and get out of this brutal war. The film was nominated for 5 Oscars and along with some great performances makes a fantastic action watch.
---
26. No Escape (2015)
Directed by John Erick Dowdle
Starring:  Lake Bell, Pierce Brosnan, Owen Wilson
Running time: 1h 43min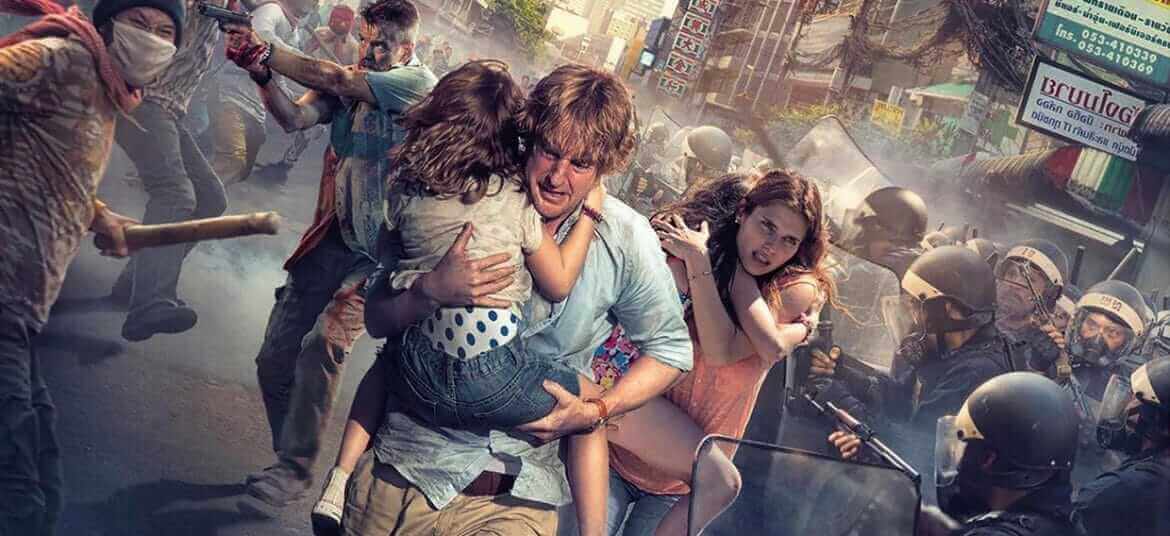 No Escape is one of Owen Wilson's more series roles as he plays a father who takes a job opportunity in Southeast Asia and moves his family over with him. Initially, they expect a lovely exotic experience but things quickly spiral out of control and the family finds themselves caught in the middle of a violent rebellion. Now with the help of a British 'tourist' (Pierce Brosnan), they must get to safety. This intense action movie keeps you watching and should definitely be put on your 'to watch' list.
---
25. War Machine (2017) 
Netflix Original
Directed by David Michod
Starring: Brad Pitt, Daniel Betts, John Magaro
Running time: 2h 2min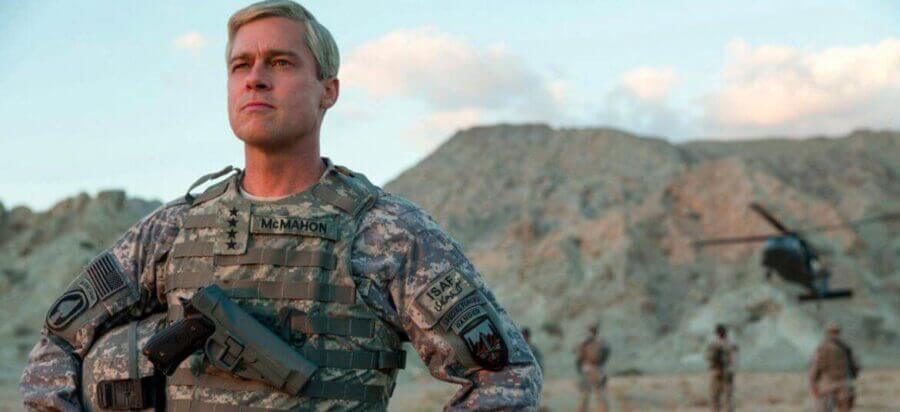 Brad Pitt's first Netflix Original has just released and is set during the Afghanistan war and loosely based on real events. General Glen McMahon is an overconfident leader who is tasked to command NATO forces. He jumps in head first and seems to be the only one who thinks he can actually win this war. The film is half serious and half a brutal parody of the real U.S. General Stanley McChrystal and his firing from the United States Army.
---
24. The Tiger: An Old Hunter's Tale (2015)
Directed by Hoon-jung Park
Starring:  Min-sik Choi, Man-sik Jeong, Seok-won Jeong
Running time: 2h 19min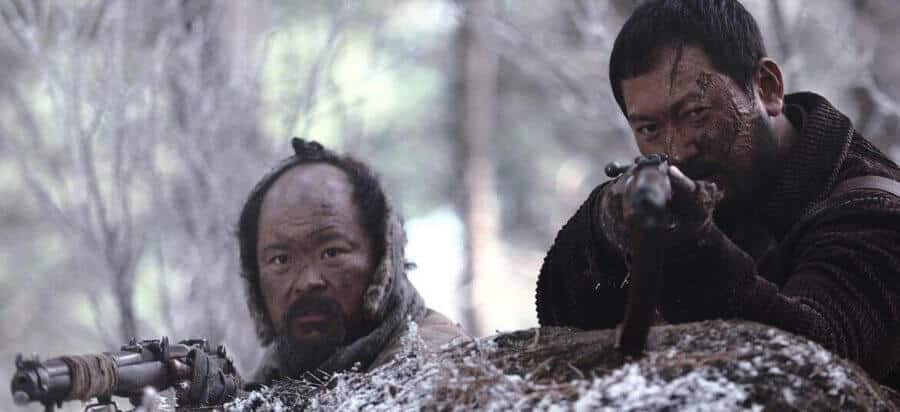 Set in Korea during the Japanese occupation, the story follows an old and seasoned hunter on a quest to track down tigers in the extreme cold. The film includes incredible CGI that immerses you into the horrific wilderness that is being endured. The old hunter Chun Man-duk is living with his 16-year-old son, and the father-son element is portrayed very well throughout the movie. The cinematography has been praised, along with its directing and atmosphere.
---
23. 13 Assassins (2010)
Directed by Takashi Miike
Starring:  Kôji Yakusho, Takayuki Yamada, Yûsuke Iseya
Running time: 2h 21min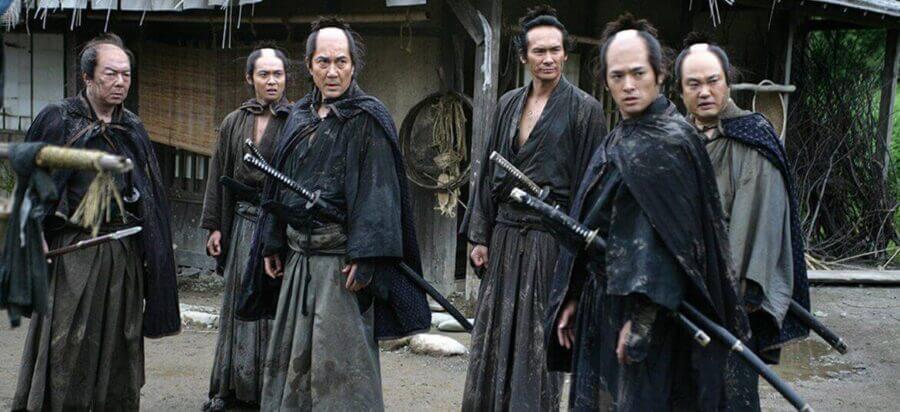 Set in 1844, 13 Assassins have come together to overthrow a cruel and evil lord Naritsugu Matsudaira who is quickly rising politically. The leader of the assassins swears to destroy the lord after seeing what horror he has caused on innocent people. They plan to ambush the lord and his 200 samurais in a suicide mission for justice. Anyone who loves suspenseful Samurai action movies will be satisfied with this production.
---
22. The Do-Over (2016) 
Netflix Original
Directed by Steven Brill
Starring:  Adam Sandler, David Spade, Paula Patton
Running time: 1h 48min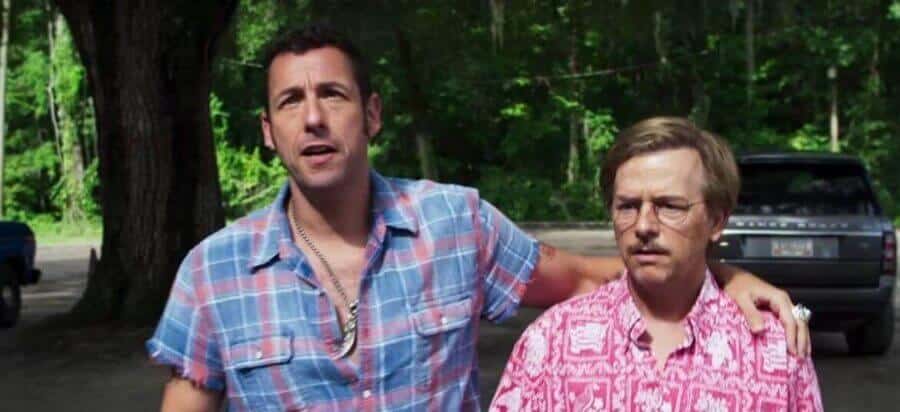 The second movie in a four-film deal between Adam Sandler and Netflix. This Netflix Original stars David Spade and Adam Sandler after they fake their deaths and adopt new identities, with the aim of starting a new life. Unfortunately, the identities they have taken on has caused some unwanted consequences, and they are pursued by a number of trained assassins. They suddenly find themselves wrapped up in criminal activities, and now they must somehow survive with their minimal experience in a world they are very new to. Some of Sandler's fans see this action flick as a step in the right direction and that this more plot-driven film is proof that he can still perform.
---
21. Ip Man (2008)
Directed by Wilson Yip
Starring:   Donnie Yen, Simon Yam, Siu-Wong Fan
Running time: 1h 46min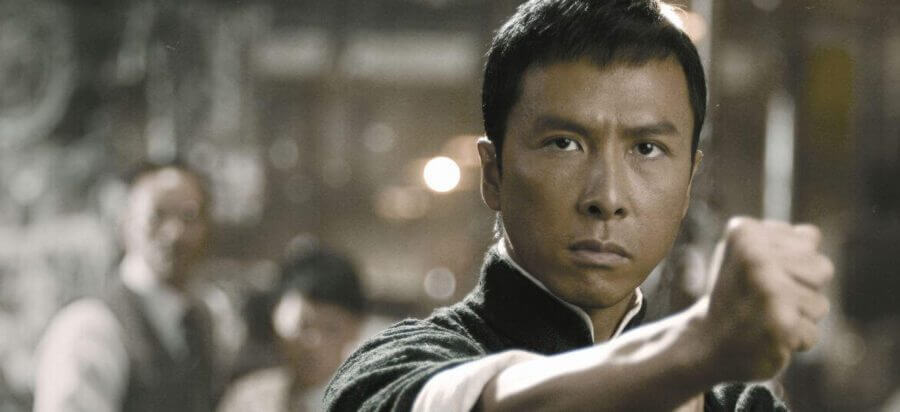 Donnie Yen plays Ip Man, a martial arts master oppressed during the Japanese occupation of China in 1937. Based on a true story he must begin training others in the art of self-defence, and is actually the teacher and master of the legend Bruce Lee. The fighting choreography has been highly praised and action fans won't be disappointed. Saying that, the film still does include a significant story aspect, seeing as it is following the events of a real Wing Chun martial arts master.
---
20. Lethal Weapon 1, 2, 3 and 4 (1987-98)
Directed by Richard Donner
Starring:  Mel Gibson, Danny Glover, Gary Busey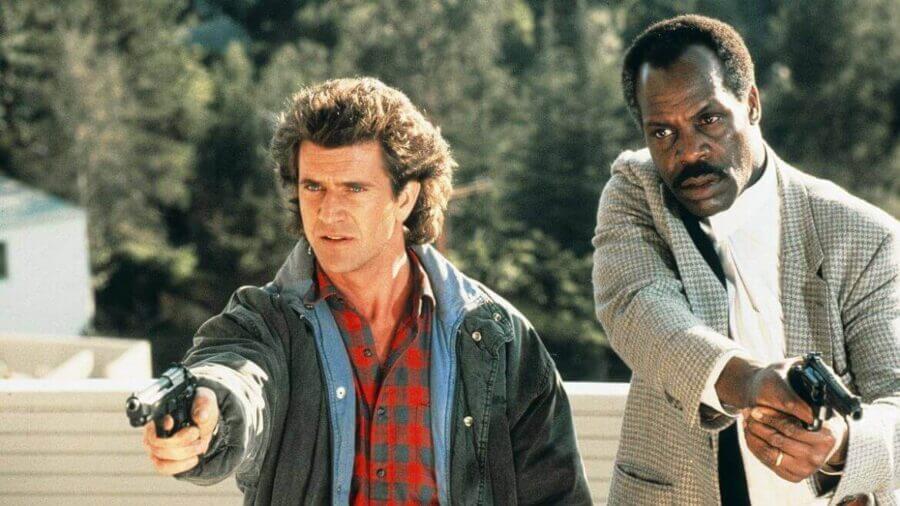 Action fans should be pleased to see that all 4 of the original Lethal Weapon films are available to stream on Netflix. The film series started back in 1987 and stars Mel Gibson and Danny Glover as two L.A cops for are forced to become partners despite both preferring to work alone. They have to learn to work together quickly as a massive and dangerous drug-smuggling operation emergers in L.A and they have to take it down. If you're an 80's action fan and haven't watched the Lethal Weapon films yet, now's the perfect opportunity.
---
19. Inglorious Basterds (2009)
Directed by Quentin Tarantino
Starring:  Brad Pitt, Diane Kruger, Eli Roth
Running time: 2h 33min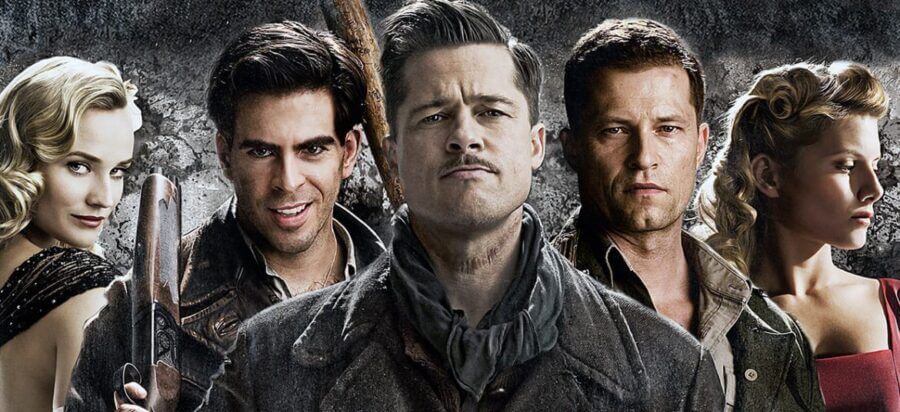 Quentin Tarantino is well known for gory and unique films, and Inglourious Basterds is not an exception. Set in Nazi-occupied France, the film follows a group of American Jews led by the bloodthirsty Lt. Aldo Raine (Brad Pitt) as they set about murdering as many Nazis possible. Christoph Waltz plays a vicious Nazi who's specific job is to hunt down Jews and does an excellent job playing a suspenseful villain, which really put Waltz on the map for larger projects. The title won an Oscar along with another 129 awards.
---
18. Kill Bill: Vol. 1 + 2 (2003-4)
Directed by Quentin Tarantino
Starring: Uma Thurman, David Carradine, Daryl Hannah
Running time: 1h 51min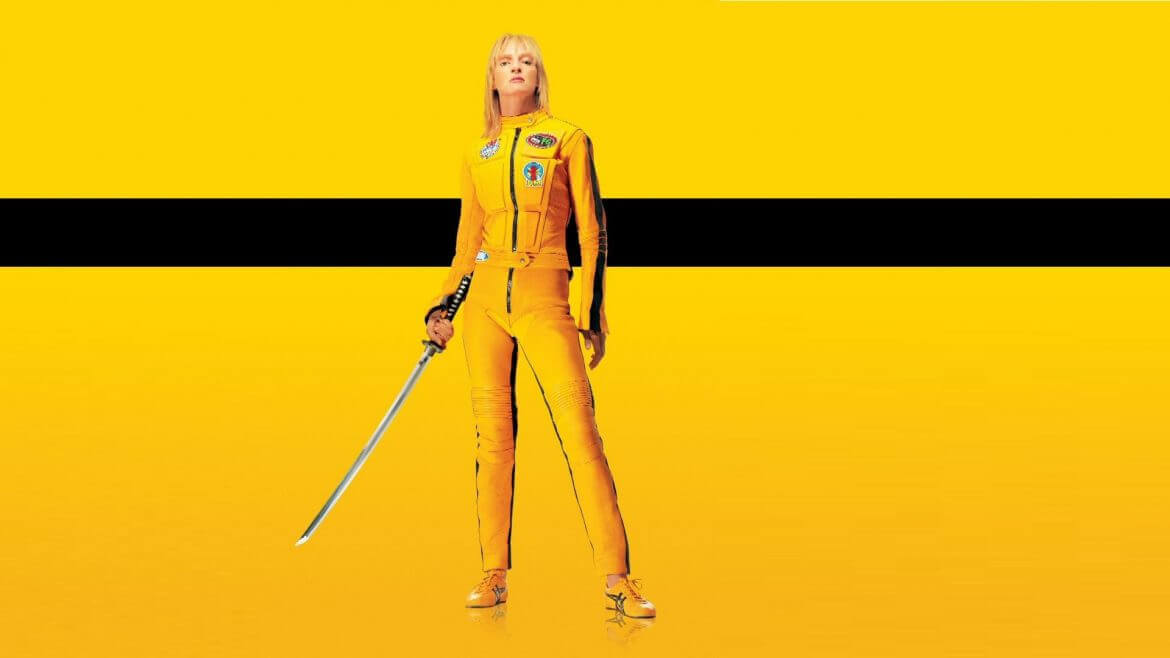 One of Tarantino's better know classics is defiantly Kill Bill. First released in 2003 this bloody action, thriller follows "The Bride" (Uma Thurman) after waking from a four-year coma. The assassin group named "The Deadly Viper Assassination Squad' led by her former lover 'Bill' attempted to kill her as she left her life as a killer to get married. Now with vengeance on her mind, she decides to hunt down her former team and most importantly, Bill. Any Tarantino fan will be pleased to see both volume 1 and 2 are available to stream on Netflix.
---
17. Chappie (2015)
Directed by Neill Blomkamp
Starring:  Sharlto Copley, Dev Patel, Hugh Jackman
Running time: 2h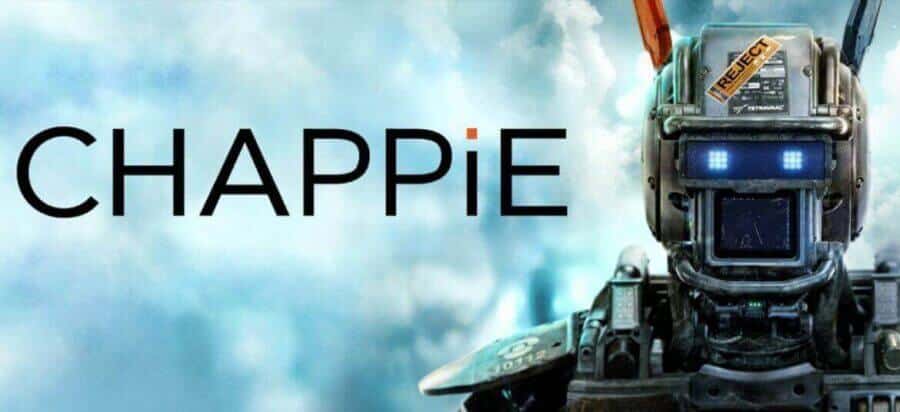 Set in the near future, the law is enforced by a mechanical police force. One scientist is adamant on creating real artificial intelligence to enhance the robots policing skills. Despite the project being ordered to be scrapped, one robot is injected with the ability to feel and think for himself. Although the film received some negative reviews from official critics, the overall consensus by filmgoers was surprisingly positive.
---
16. xXx (2002)
Directed by Rob Cohen
Starring:  Vin Diesel, Asia Argento, Marton Csokas
Running time: 2h 4min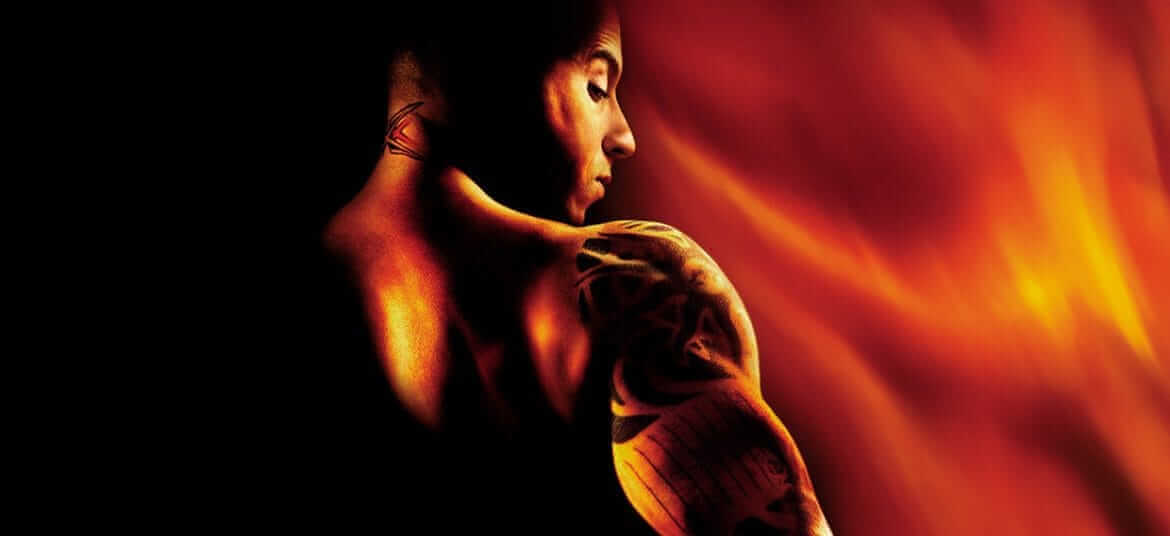 Along with the Fast and Furious Franchise, Vin Diesel is also well known for playing Xander Cage in the xXx movies. xXx (or Triple X) is a high octane action thriller that follows the adrenaline junkie Xander Cage who is deemed untouchable by the law after he agrees to cooperate with the government in order to infiltrate a Russian crime ring. The Russian Gang attempt to target the city of Prague with a deadly weapon and Xander must stop them. A causal action fan will find everything they need to satisfy them in this 2-hour flick that has spawned 2 sequels (maybe more in the future).
---
15. Pirates of the Caribbean: Dead Men Tell No Tales (2017)
Directed by Joachim Ronning and Espen Sandberg
Starring:  Johnny Depp, Geoffrey Rush, Javier Bardem
Running time: 2h 9min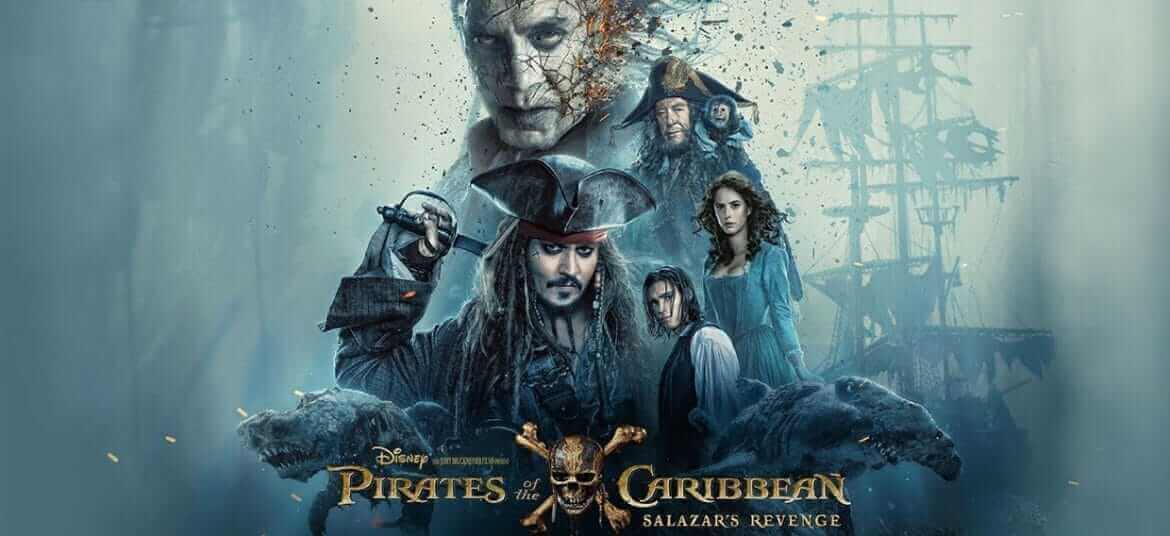 The fifth film in the Pirates franchise has got an early release on Netflix due to a deal with Disney. Dead Men Tell No Tales continues to follow the staggering footsteps of Captain Jack Sparrow (Johnny Depp) as he attempts to find the trident of Poseidon while being chased by an undead pirate hunter and his crew. The film reveals more about Jack's backstory and does revisit the Will Turner – Elizabeth Swann story.
---
14. Armageddon (1998)
Directed by Michael Bay
Starring:  Bruce Willis, Billy Bob Thornton, Ben Affleck
Running time: 2h 31min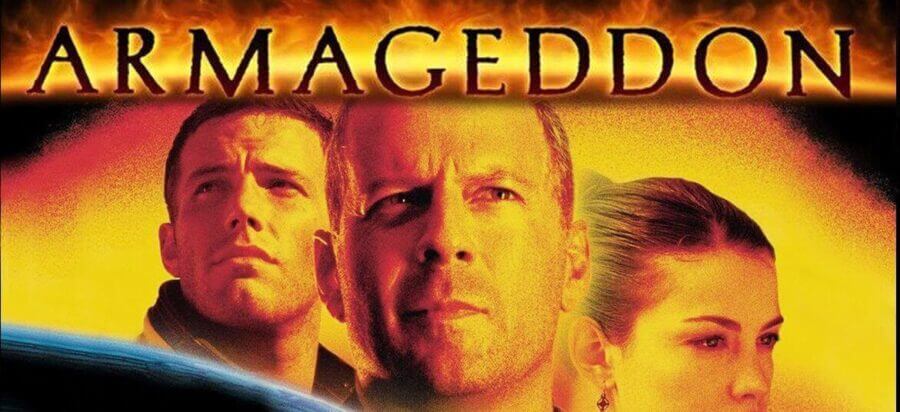 Starring Bruce Willis, Liv Tyler and Ben Affleck in the 1998 Action classic Armageddon. After an orbiting shuttle is suddenly destroyed by a series of asteroids and subsequently a large area of New York, the Human race is made aware of an asteroid roughly the size of Texas, classed as a 'planet destroyer' hurling towards the Earth. The planet now has 18 days before the rock will collide and destroy all life. Now hope rests in the hands of Harry Stamper (Bruce Willis) and his team of oil drillers and geologists. The only plan they have is to plant a nuclear warhead inside the asteroid while it's approaching, by hand. They only have two and a half weeks to train and prepare to launch and intercept certain death.
---
13. What Happened to Monday (2017) 
Netflix Original
Directed by Tommy Wirkola
Starring: Noomi Rapace, Glenn Close, Willem Dafoe
Running time: 2h 3min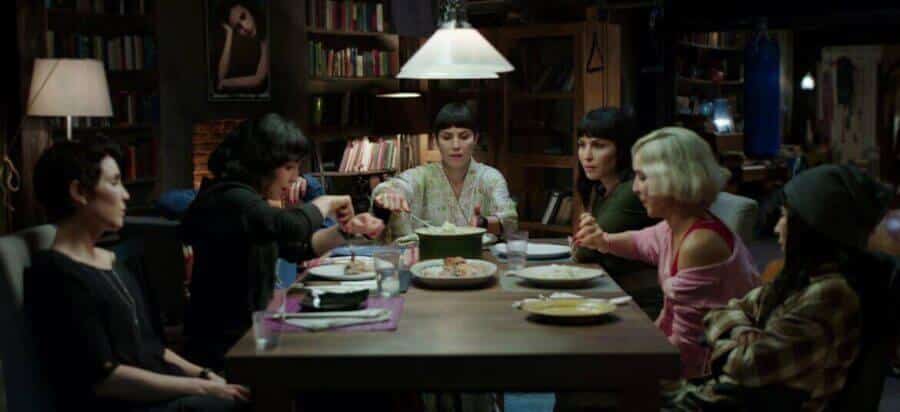 In a future world where overpopulation has drawn humanity to desperation, a strict one-child policy is in place. The film follows seven identical twins who all take the identity of a single woman but take it in turns; one for each day of the week. After 'Monday' goes missing, panic ensues among the sisters. If the government finds them then they will be cryogenically frozen until the world sees better times. This Crime Action keeps you on the edge of your seat and is worth a watch.
---
12. Wheelman (2017) 
Netflix Original
Directed by Jeremy Rush
Starring: Frank Grillo, Caitlin Carmichael, Garret Dillahunt
Running time: 1h 22min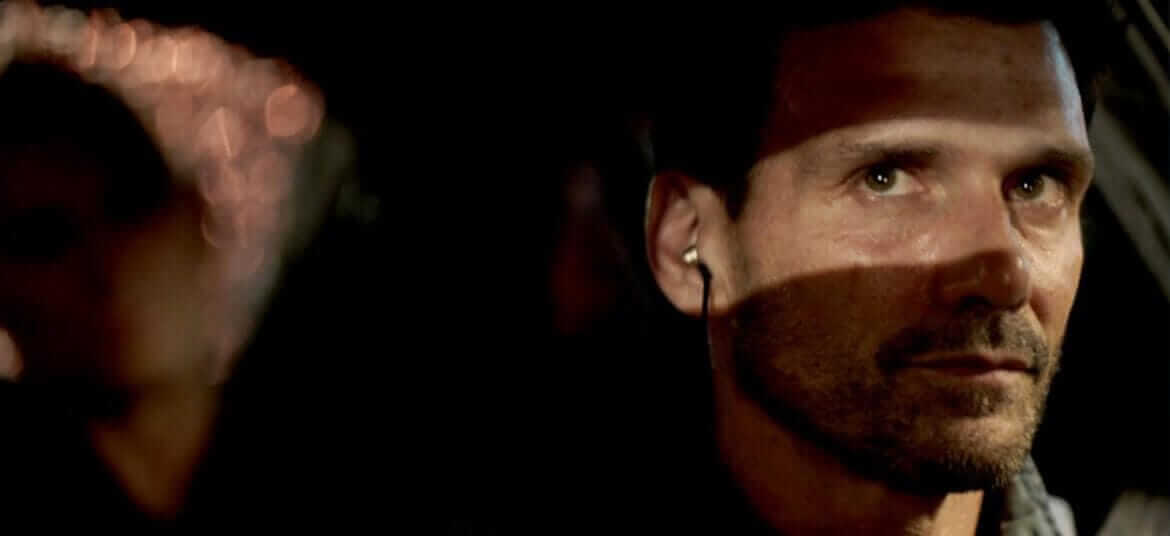 Wheelman is a new Netflix original starring Frank Grillo as a getaway driver who's just trying to supply for his family. After spending 3 years in prison, Frank has built up a substantial debt to the Mafia, who protected his family while he was away. Now he must run numerous getaway jobs, until one fateful night, when he is double-crossed. If you enjoyed films like The Transporter, Drive, and Bullit this will be a pleasant action, car film that you can enjoy for an hour and a half.
---
11. Sand Castle (2017) 
Netflix Original
Directed by Fernando Coimbra
Starring:  Nicholas Hoult, Logan Marshall-Green, Henry Cavill
Running time: 1h 53min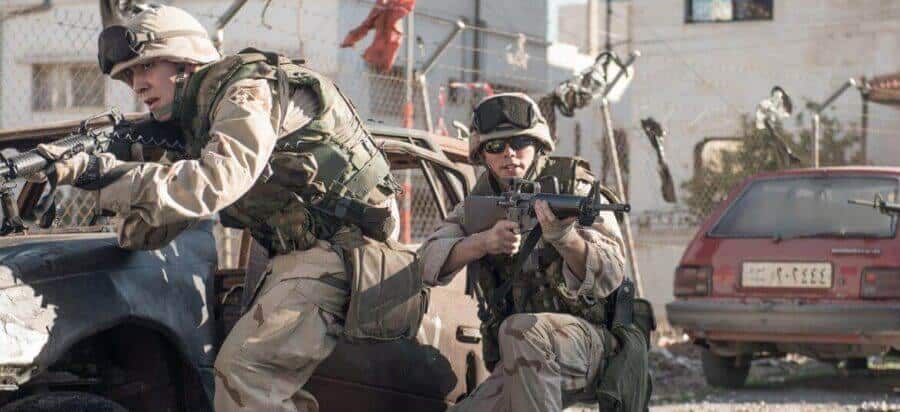 Set during the US occupation of Iraq, a small group of soldiers is tasked to defend and repair a broken water line in an isolated Iraq village. The film mostly follows Pvt. Matt Ocre's (Nickolas Hoult) personal experience in the U.S Army, which he joined not because he wanted to fight, but just for some extra money. It's not long before they become under fire from the same people they are trying to help. It soon becomes evident that they have drawn attention and they are not welcome, even if they are just trying to help fix a problem… that they caused in the first place. It's a good war drama that does not rely on Hollywood cliché that are often found in some war action films.
---
10. The Hateful Eight (2015)
Directed by Quentin Tarantino
Starring:  Samuel L. Jackson, Kurt Russell, Jennifer Jason Leigh
Running time: 3h 7min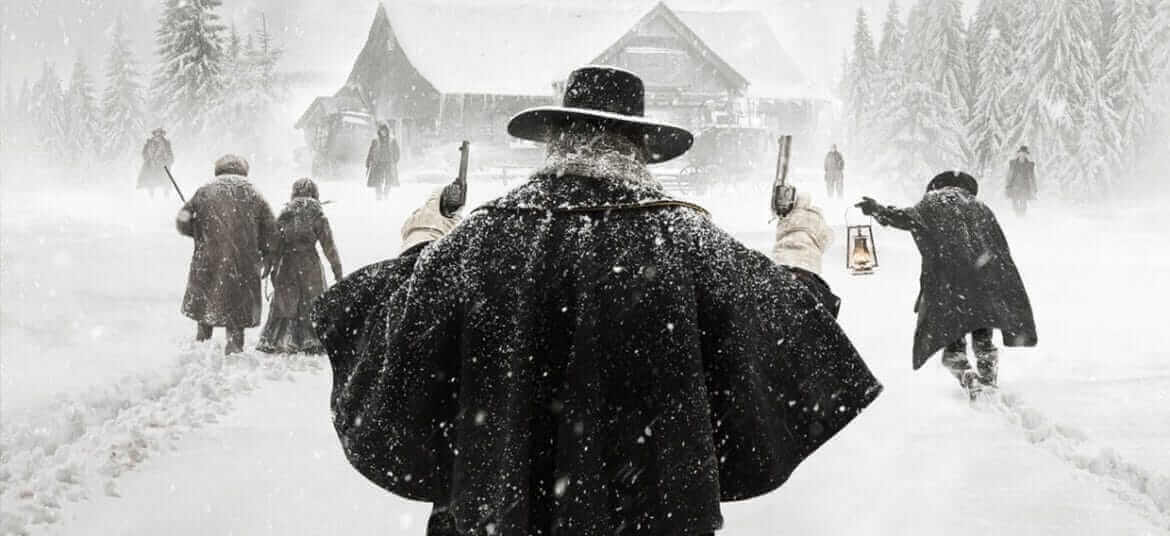 A recent film directed by the legendary Quentin Tarantino was 'The Hateful Eight' an action, western following eight individuals held up in a way station. The inhabitance includes two bounty hunters, a prisoner, and five more nefarious characters. The film won an Oscar and includes amazing performances from Samuel L Jackson, Kurt Russell, Tim Roth and many more. The tension that builds up throughout will keep you glued to the screen and is a great film to sit down to on an evening.
---
9. Spectral (2016) 
Netflix Original
Directed by Nic Mathieu
Starring:  James Badge Dale, Emily Mortimer, Bruce Greenwood
Running time: 1h 47min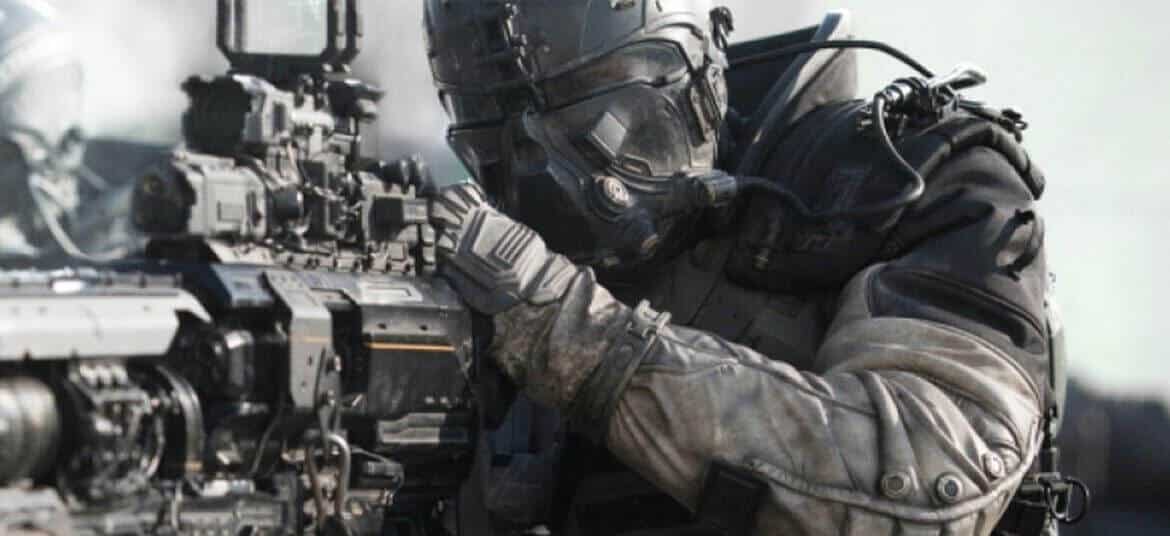 Spectral is a Sci-fi action film set in the country of Moldova which is currently in the middle of a Civil war. A new enemy is discovered, they seem to be a paranormal entity that is completely invisible to the naked eye, but has incredible strength and capability to destroy. An elite special force is deployed to combat these deadly creatures and stop them spreading any further.
---
8.  Doctor Strange (2016)
Directed by Scott Derrickson
Starring:  Benedict Cumberbatch, Chiwetel Ejiofor, Rachel McAdams
Running time: 1h 55min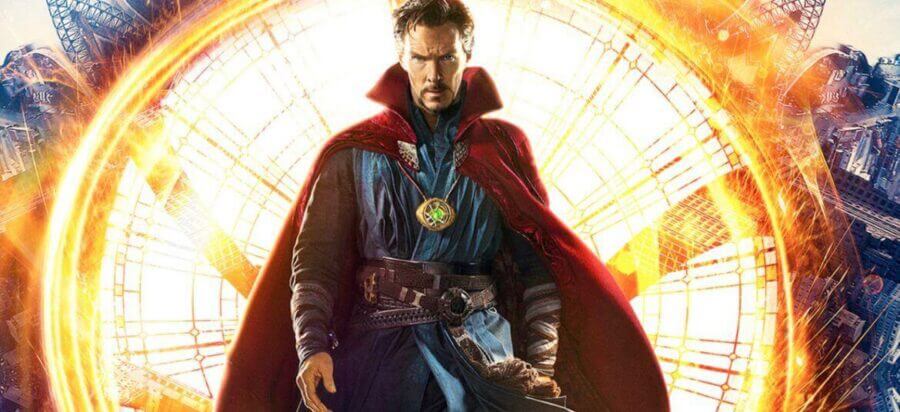 2016 welcomed the debut of another Marvel character into their cinematic universe, this time the mystical Doctor Strange, who has the ability to shape reality to his will. Benedict Cumberbatch plays the talented neurosurgeon with a large ego who after a nasty car crash seeks rehabilitation. He finds himself interacting with a hidden dimension after meeting 'The Ancient One' and gaining many metaphysical abilities and tools. This is one of the newer Marvel films and is a great addition to the MCU.
---
7. London Has Fallen (2016)
Directed by Babak Najafi
Starring:  Gerard Butler, Aaron Eckhart, Morgan Freeman
Running time: 1h 39min

After the Prime Minister of England sadly passes away, the world's leaders gather for his funeral in London. A perfect target for a terrorist organization, which American security agent Mike Banning is caught right in the middle of. He must save and protect the President and any leaders left alive after the brutal attack. The film is packed with fast-paced action and fight scenes that will keep you on the edge of your seat.
---
6. Guardians of the Galaxy Vol. 2 (2017)
Directed by James Gunn
Starring:  Chris Pratt, Zoe Saldana, Dave Bautista
Running time: 2h 16min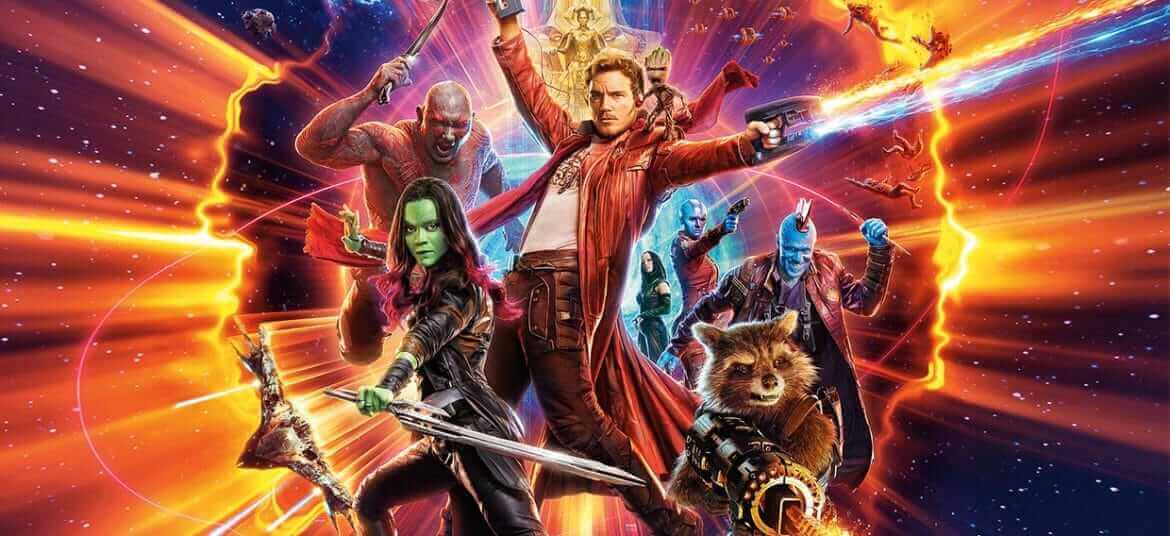 Following the incredible success of the first film back in 2014, it was only a matter of time before Marvel followed up Guardians of the Galaxy with a sequel. Volume 2 released back in April of this year and it definitely lived up to the hype for most. The film explores more about Peter's (Chris Pratt) parentage, and who his father truly is. Marvel has been bringing many great action titles to Netflix pretty soon after their theatrical release, and we're definitely not complaining.
---
5. Jaws (1975)
Directed by Steven Speilberg
Starring:  Roy Scheider, Robert Shaw, Richard Dreyfuss
Running time: 2h 4min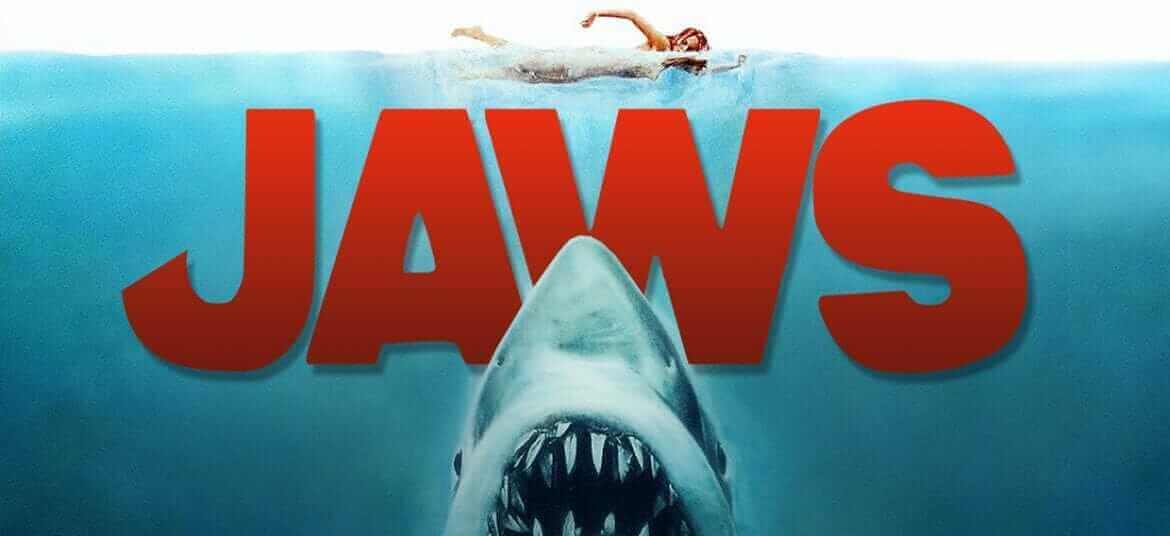 Our fifth spot goes to the classic Speilberg film Jaws. The 1975 action, thriller takes place on Amity Island, a small community that attracts many tourists to its spectacular beaches. After a couple of swimmers are brutally killed by a shark, the local Sheriff Martin Brody sets out with a fisherman to hunt the massive beast. The film won 3 Oscars and is often regarded as a cinematic masterpiece. Jaws 2, 3 and 4 are also available to stream.
---
4. Hot Fuzz (2007)
Directed by Edgar Wright
Starring:  Simon Pegg, Nick Frost, Martin Freeman
Running time: 2h 1min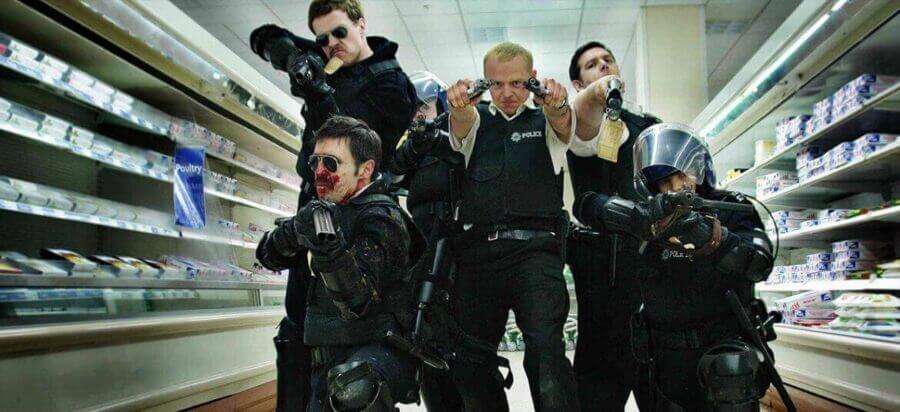 When an Exceptional London police officer shows up his bosses, he is sent to a small rural English village and assigned a clueless immature partner. After some suspicious deaths, Nicholas starts to suspect something is wrong, but what could probably be wrong in such a small "crime-free" quaint village? This film is a comedy and part of the 'Cornetto Trilogy' which stars Simon Pegg and Nick Frost.
---
3. Rogue One (2016)
Directed by Gareth Edwards
Starring:  Felicity Jones, Diego Luna, Alan Tudyk
Running time: 2h 13min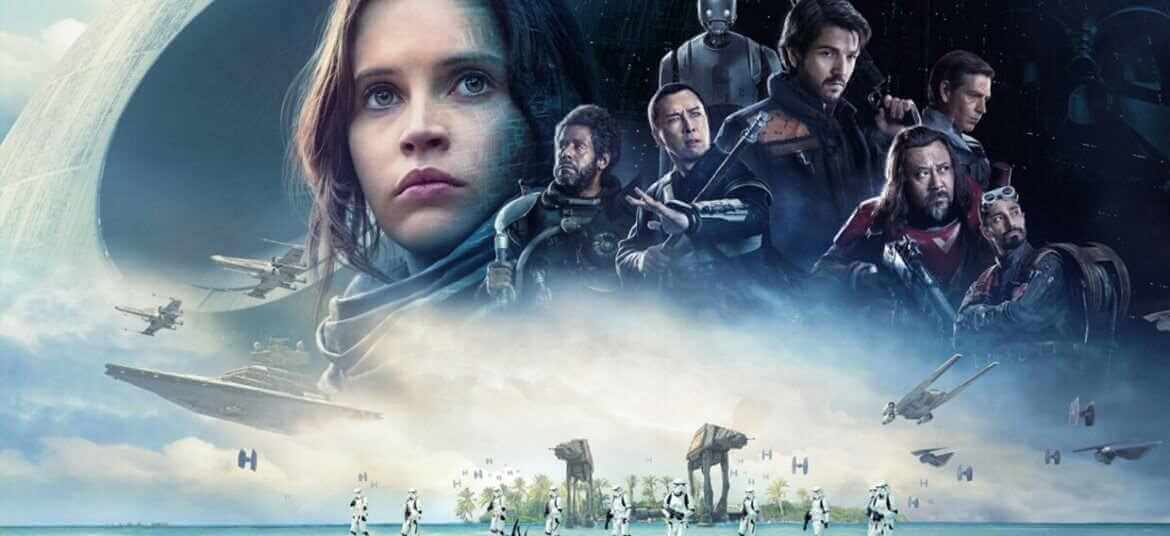 A stand-alone StarWars story set in between the events of the original three movies and the prequels. Rogue One follows the Rebel Alliance and their attempt to get their hands on the plans to the Death Star, a moon-sized superweapon capable of decimating entire planets. The film primarily follows Jyn Erso, the daughter of a key science officer who helped develop the Death Star. The fate of the entire galaxy now depends on whether the rebels can find the plans and expose the one weakness. Many have regarded Rogue one as an amazing stand-alone film and some have even said it's the prequel that Star Wars deserved. Why not find out yourself?
---
2. The Siege of Jadotville (2016) 
Netflix Original
Directed by Richie Smyth
Starring: Richard Lukunku, Danny Sapani, Andrew Stock
Running time: 1h 48min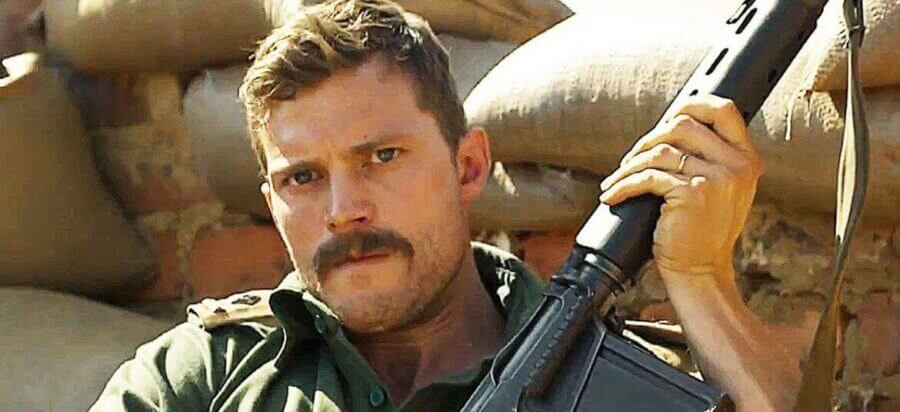 Our Second spot is taken by a Netflix Original Film starring Kevin Brodbin and Declan Power. The film is based on the second wave of Irish troops sent into Africa after the formation of the United Nations and meant to 'keep the peace.' Africa was in a Civil War in 1961, and the whole world was on the brink of another world war. This conflict was based on an actual event that occurred. The Katangese forces assaulted the lightly armed Irish forces for a whole six days, while Irish and Swedish military attempted to make their way to help the struggling Battalion of Peacekeepers. The Irish soldiers who had never been in a battle before felt betrayed and abandoned. This is a war movie that has been considered one of the best by fans.
---
1. Captain America: Civil War (2016)
Directed by Anthony Russo, Joe Russo
Starring:  Chris Evans, Robert Downey Jr, Scarlett Johansson
Running time: 2h 27min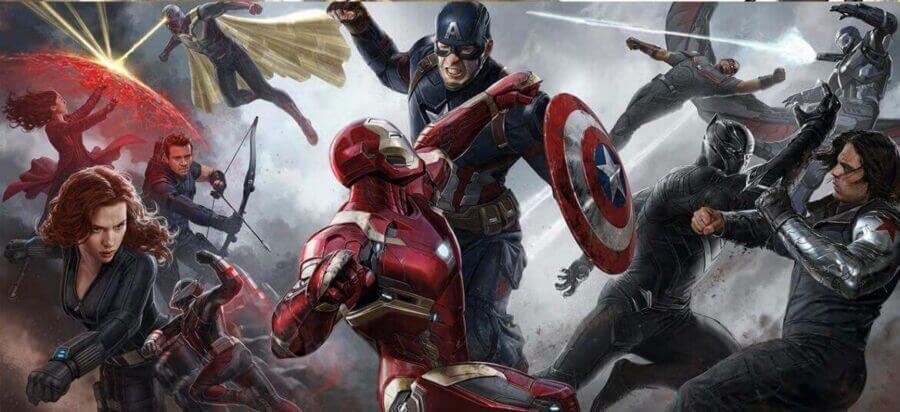 Our Number one spot is taken by the Third film in the 'Captain America' Franchise, Civil War takes place shortly after the events of 'The Avengers: Age of Ultron'. The consequences from the previous film cause the governments of the world to come together and sign an agreement to limit the Avengers' previously unlimited power, and ensure that they can only act once they are given official permission to. This creates a drastic split between the Avengers and serious conflict. The two sides are brutally pitted against each other and dark secrets emerge about the past that only seems to increase tensions.
Also on What's on Netflix