Comedy movies on Netflix have always had a strong lineup and here at What's on Netflix, we've picked out the best comedy movies on Netflix. These movies have only one goal, make us laugh and everyone on this list has been certified to do just that. We'll update this list every month of the year to account for the new comedy movies on Netflix and also those that have left.
Here are the top 50 comedy movies on Netflix:
50.  Sandy Wexler (2017)
Directed by Steven Brill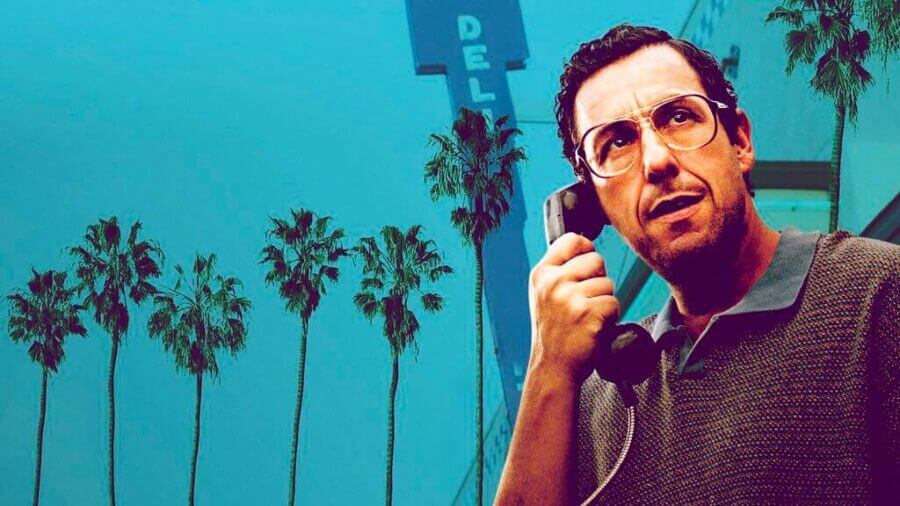 Sandy Wexler is the last film in Adam Sandler's three-part movie deal with Netflix. It follows a talent manager working in 1990's Hollywood who, along with his clients seem to be stuck in the past. But after he discovers an amazingly talented singer at an amusement park, he promptly falls in love with her and over a decade he attempts to hold his professional and personal life together. If you are a Sandler fan you won't be disappointed.
---
49. How to Steal a Million (1966)
Directed by William Wyler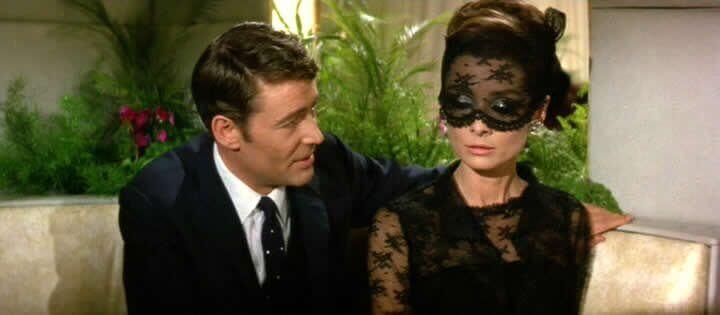 This is a gentle rom-com in true 1960s style. Audrey Hepburn and Peter O'Toole have to steal a million dollar statue in a crime to conceal a crime. This was one of Wyler 's last movies and he had worked with Hepburn before in his fine career. Peter O'Toole is the perfect foil for the glamorous Hepburn and the supporting cast does a great job. This film definitely requires the "seen it" box to be ticked.
---
48. Johnny English: Reborn (2011)
Directed by Oliver Parker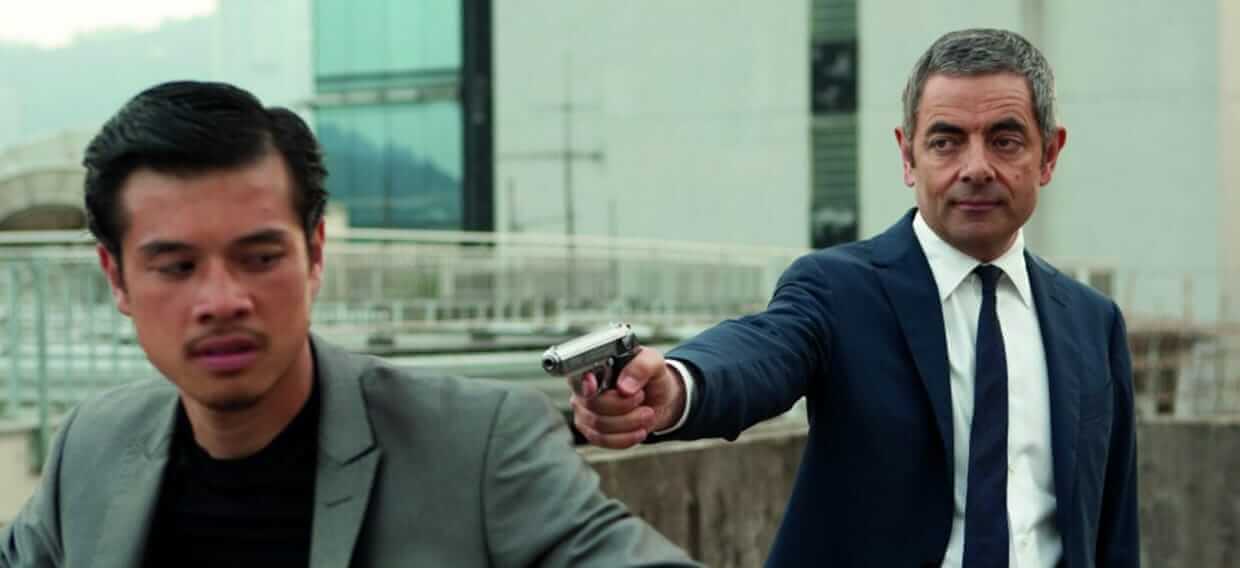 Rowan Atkins returns as one of our favourite spoof spy after a significant security disaster that resulted in his knighthood being revoked. Eight years later Johnny is nearing the end of his training with Tibetan monks when Mi7 calls him back in to help uncover an assassination plot. But Johnny finds much more, including a secret agency that he has to find and stop. This action, comedy keeps you entertained for the whole movie and is defiantly worthy of a spot on our list.
---
47. Bee Movie (2007)
Directed by Steve Hickner

Bee Movie had a massive resurgence in 2016 with it becoming a full-on verified meme. The 2007 movie stars Jerry Seinfeld who plays the role of a bee who discovers that humans are stealing their honey. He then plots a plan to get back at the humans. The animation is a bit spotty at time but the big comedy heavyweights featured throughout make this a film worth watching.
---
46. Around the World in 80 Days (2004)
Directed by Frank Coraci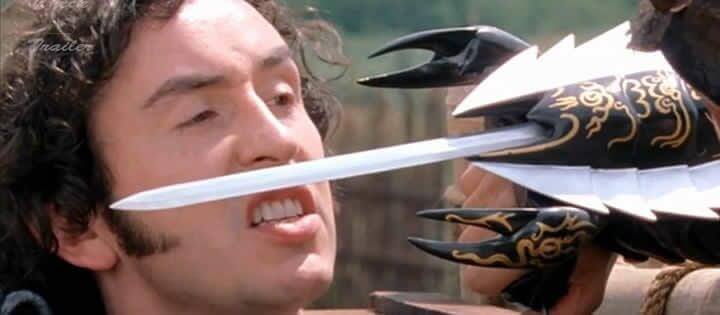 Based on the Jules Verne novel which was published in 1873, this story has had many incarnations. This is not so much a remake of the 1956 version, more a homage and the unlikely pairing of Steve Coogan and Jackie Chan works nicely. Although not a box office success when it was released, it's comedy value has endured and the quality of the movie leaves it completely valid today.
---
45. Smurfs: The Lost Village (2017)
Directed by Kelly Asbury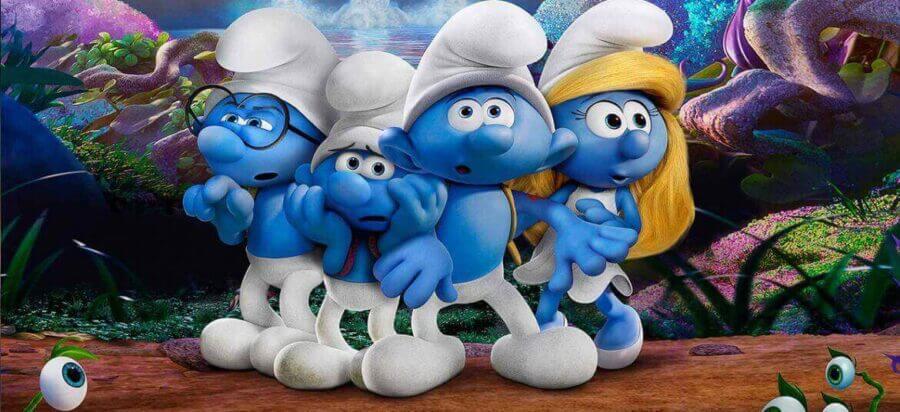 In recent years the Smurfs have been getting quite a lot of new films, some of them being part-live action, and others (including this one) being fully animated. The film follows the adventures of Smurfette and her best friends as they follow a mysterious map through the forbidden forest. They are racing against time to find a lost village of smurfs before the evil wizard Gargamel. If you have kids who love the Smurf franchise, they will be happy to hear this animation is now available to stream on Netflix.
---
44. Spy Hard (1996)
Directed by Rick Friedberg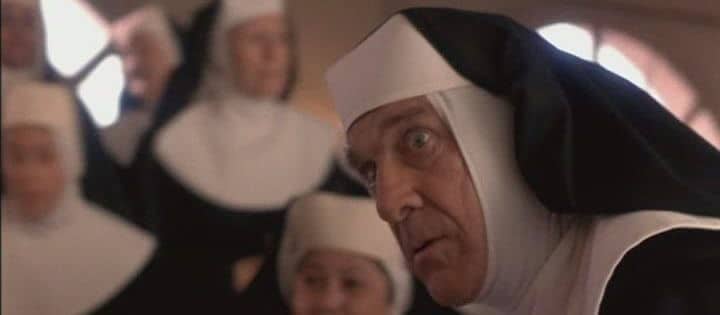 Spy Hard is another of the great Leslie Nielson spoof movies. Taking pot-shots at many movies, this is non-stop stupidity and is well up there with any of the "Naked Gun" series. Given that this is the world of secret agents, there are plenty of pretty girls (thank you James Bond) and cameo appearances. Sadly, this type of movie isn't really being made at the moment so this is a good one to watch to remind yourself.
---
43. Bridget Jones's Baby (2016)
Directed by Sharon Maguire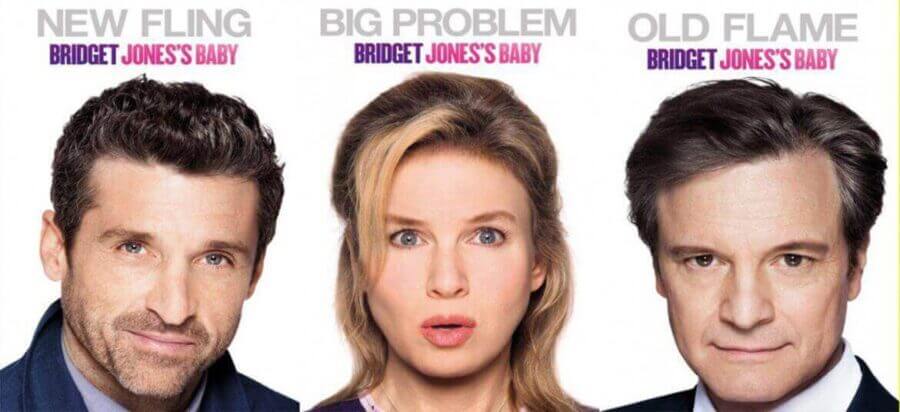 Originally based on the Novel by Helen Fielding of the same name, this film series has spanned across three films over three years. The film series has grossed over $751 million and have gained many fans as well. The third film follows Bridget Jones after she finds out she is pregnant, but two possibilities for the father. It's either her ex-true love Mark Darcy or an American named Jack Qwant. Her once simple, single life is uprooted and he must find a way through it.
---
42. Tenacious D in the Pick of Destiny (2006)
Directed by Liam Lynch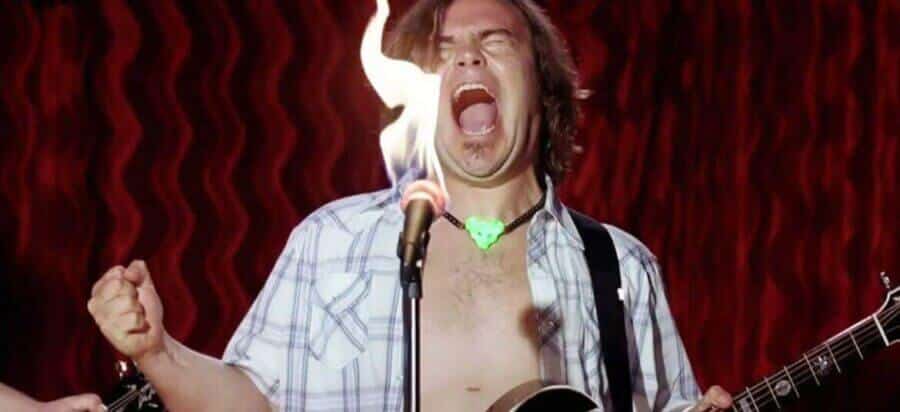 In order to make it big, two wannabe rock stars set out to steal the 'Pick of Destiny' a mystical tool that propels whoever uses it into stardom with incredible guitar playing skills. Jack Black and Kyle Gass play themselves as they debut their real-life rock band onto the big screen. Although this film may not be for everyone, it defiantly requires a certain music taste, to say the least.
---
41. The Benchwarmers (2006)
Directed by Dennis Dugan

The Benchwarmers is exactly the sort of movie you'd expect from Rob Schneider. It stars himself, David Spade and Jon Heder who are attempting to become serious players in the little league circuit. The three oddballs go on a journey to discover their potential and as the title suggests, they've got a lot to learn. It's a feel-good movie in the end but certainly requires a specific taste of comedy.
---
40. The Angry Birds Movie (2016)
Directed by Clay Kaytis and Fergal Reilly

The hit mobile game from a few years ago comes to the big screen arguably slightly after it should've, but still serves as a great movie with some great comedy aspects. It pulls together a massive cast including Jason Sudeikis, Josh Gad, Danny McBride, Peter Dinklage, Bill Hader, Maya Rudolph and Kate McKinnon. It expands on the game story where the birds are attempting to stop the pigs from invading their island.
---
39. Turner & Hooch (1989)
Directed by Roger Spottiswoode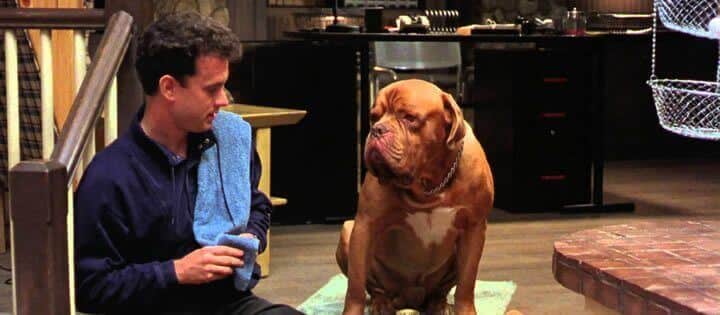 A young Tom Hanks (before he turned to more serious matters) is ably assisted by an amiable dog to solve a murder. Much of the comedy is slapstick as Turner is a spotlessly clean a tidy sort of chap and Hooch isn't. This is typical of the comedy movies coming out of the 1980s but is hardly formulaic. A cop/dog movies go, it's actually one of the better ones.
---
38. The Longest Yard (2005)
Directed by Peter Segal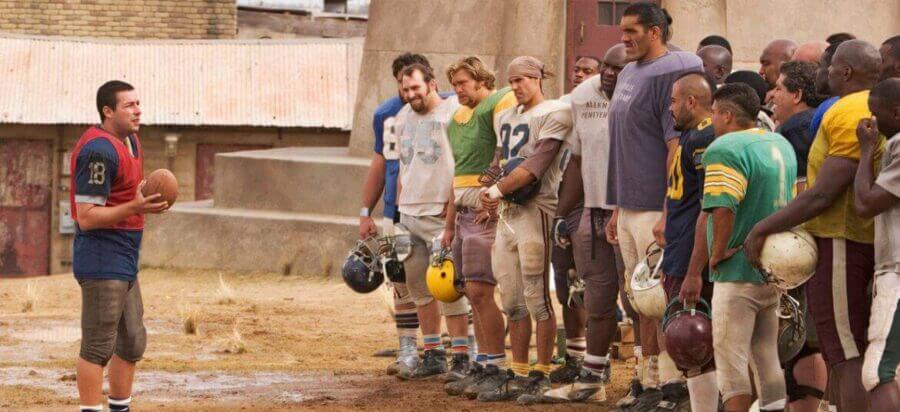 Adam Sandler plays the ex-pro footballer Paul "Wrecking" Crewe an infamous sportsman who after a police chance end up in prison. While inside the Prison Warden tasks Paul with putting together a football team to play against the brutal and sadistic Guards. With help from fellow inmates and old legend coaching them, the guards won't know what hit them.
---
37. Win it All (2017)
Directed by Joe Swanberg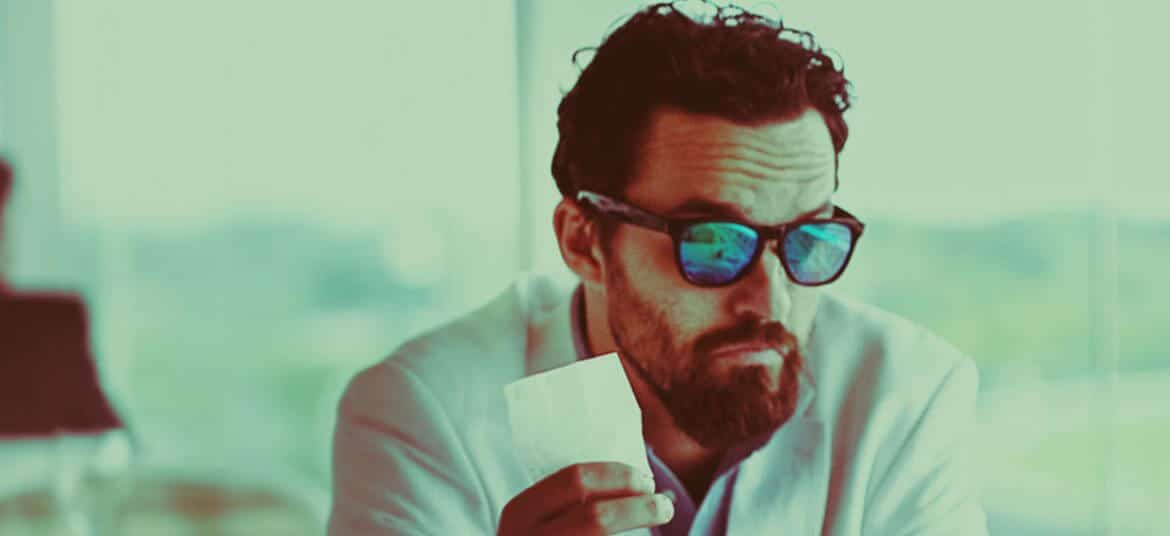 A Netflix Original about Eddie Garrett who is left a duffel bag to hold onto while an acquaintance is in prison. Even with the explicit instructions not to open the bag, temptation overcomes Eddie and he finds a large amount of cash now in his possession. Foolishly he winds up deeply in debt and making things worse the owner of the money's prison sentence was shortened significantly. This is a great gambling film that's definitely worth a watch.
---
36.  Cool Runnings (1993)
Directed by Jon Turteltaub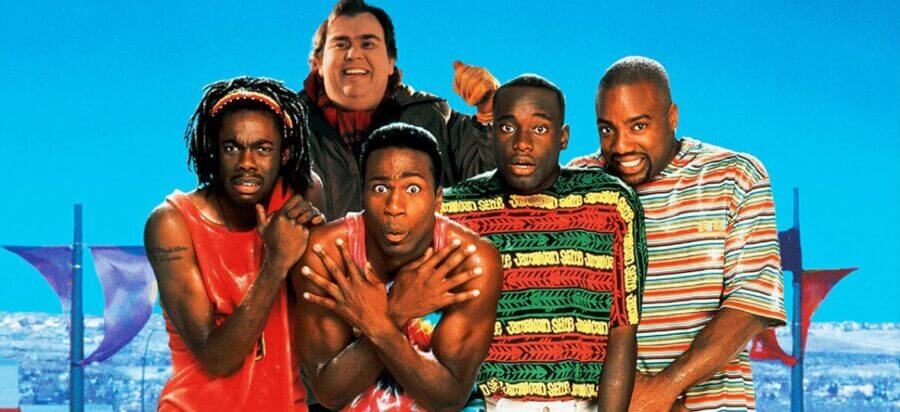 The 1993 Adventure, comedy 'Cool Runnings' is about a team of Jamaicans who, after being disqualified from the Olympic games decide to start the worlds first Jamaican Bobsled Team. Inspired but not complacently accurate to the true story, the sweet film surprisingly holds up even now. Why not go back and give it a watch now it's available to stream on Netflix?
---
35. The Fundamentals of Caring (2016)
Directed by Rob Burnett

Although classed as a comedy this is certainly a story that's supposed to make you feel something other than joy. It deals with some pretty complex issues but delivers some excellent lines from seasoned veteran Paul Rudd who has to take on giving care to someone that makes him change his outlook on life.
---
34. The Commitments (1991)
Directed by Alan Parker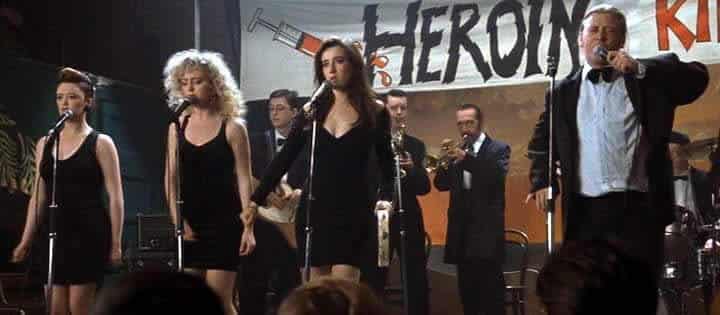 Written by the great Roddy Doyle and directed by Alan Parker, the Commitments is the story of a band who come within an hour of "making it". One of the things about this movie is many of the stars went on to enjoy successful careers in music and it spawned a real band. The comedy is throw away stuff and embedded in the nature of the characters. If you have any taste for soul music, this is one for you.
---
33. Handsome: A Netflix Mystery Movie (2017)
Directed by Jeff Garlin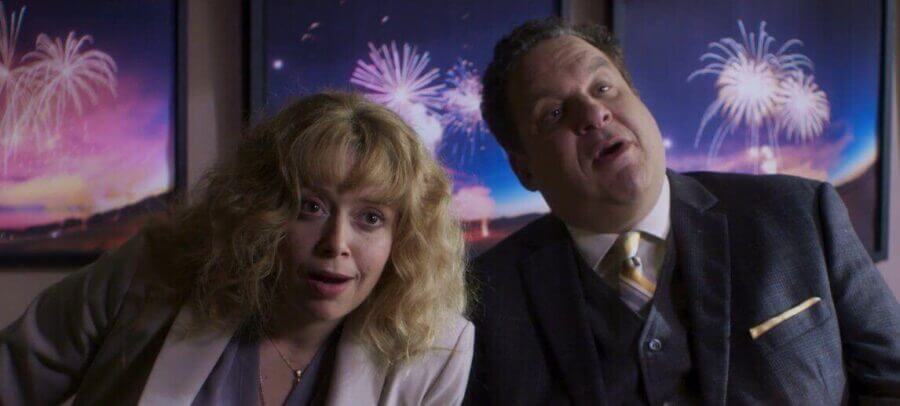 Jeff Garlin both directs and plays the LA homicide detective 'Gene Handsome' an incompetent and overall pretty useless detective who is attempting to solve the brutal murder of his next door neighbour's babysitter. Unfortunately, his own problems seem to be just as bad, and difficult to solve. This wacky, but dark Netflix original is a noteworthy comedy that is worth your time.
---
32. Mindhorn (2016)
Directed by Sean Foley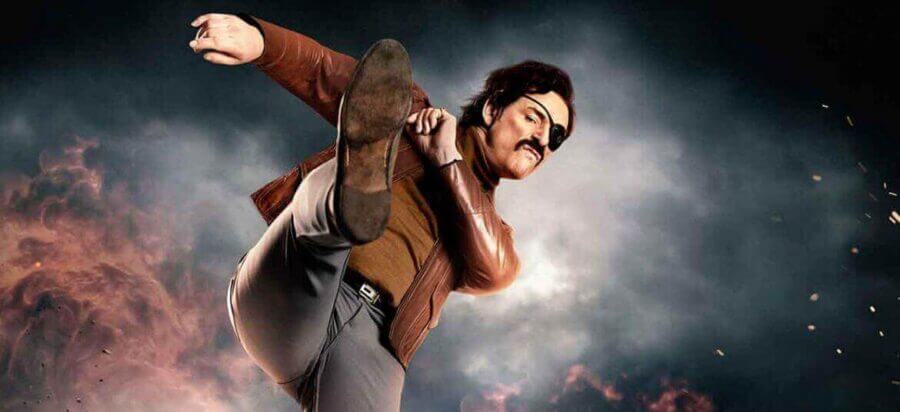 Another Netflix original to make our list is the 2016 comedy Mindhorn. Julian Barret plays Richard Thorncroft, a washed-up 80s actor who was best known for portraying Mindhorn, a detective who used a bionic eye to literally "See the truth". Richard is down on his luck, and out of work when out of the blue a serial killer gives him another chance of the spotlight.
---
31. Paddington (2014)
Directed by Paul King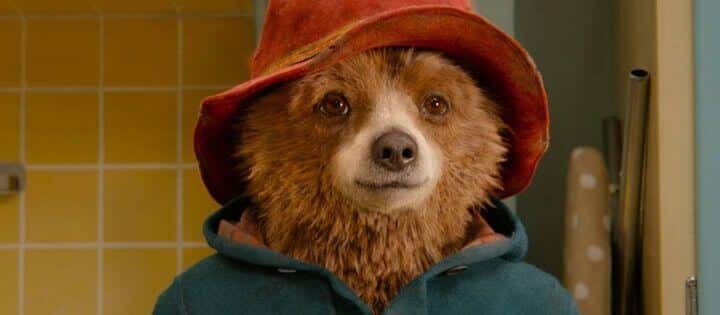 You can't do a list of comedy movies without an animated Teddy Bear. Seriously. The story of Paddington is an enduring children's favourite and the movie does justice to the Peruvian bear. The script works equally well for adults and children and has many laugh out loud moments. Actually, you grown-ups don't really need to hide behind the kids to watch this one.
---
30. Toys (1992)
Directed by Barry Levinson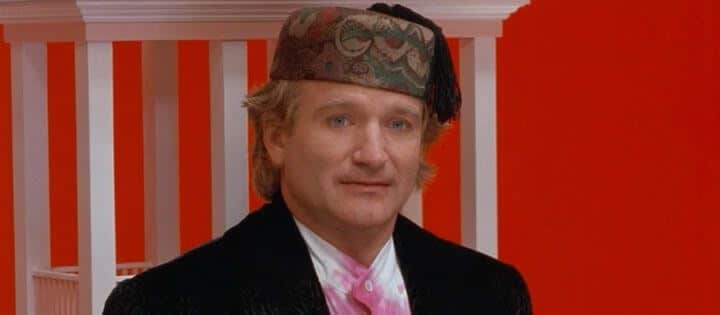 No comedy list would be complete without an entry for the late great Robin Williams. Playing against our favourite nutter Joan Cusack, Williams plays the most unlikely toy maker and brings his usual high energy to a movie with a message. That message is there's absolutely no need to ever grow up. And, of course, the lovely Robin Wright from House of Cards puts in an appearance.
---
29. War on Everyone (2016)
Directed by John Michael McDonagh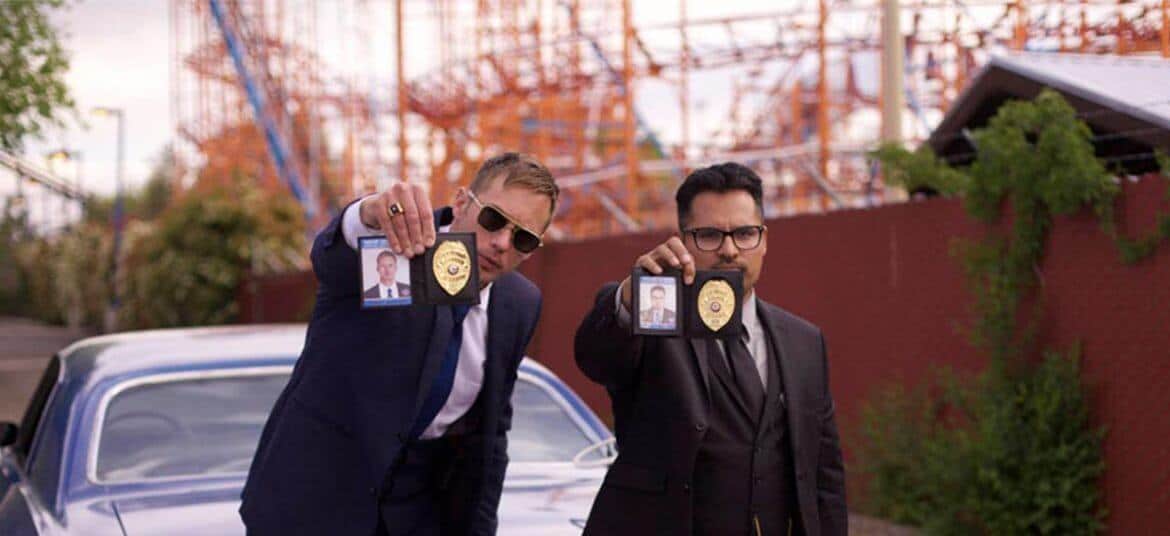 Alexander Skarsgard and Michael Pena are two corrupt cops who are willing to bend or break (Mostly Break) the rules however they want to ensure they come out on top. But after a new player arrives in town they might finally meet their match. The new 2016 film feels like a homage to classic 70's cop action films that many remember fondly. If you love dark comedies this film will be perfect for you.
---
28. Chicken Run (2000)
Directed by Peter Lord and Nick Park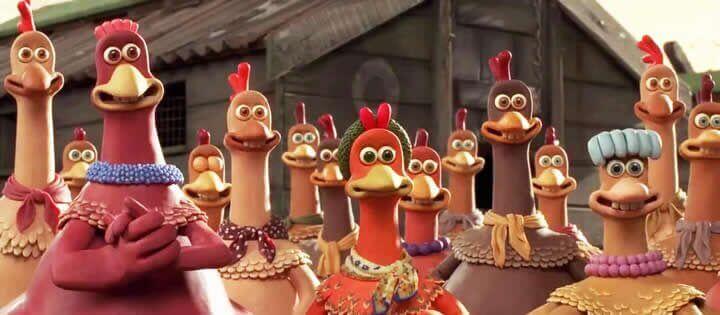 From the geniuses at Aardman, Chicken Run is another family movie for kids and adults alike. The dialogue is clever and brilliantly voiced by, amongst many others, Mel Gibson. And the final bid for freedom by the chickens is as uplifting as any scene from a feel-good movie. Unfortunately, the Aardman production process is so time-consuming, there are years between their movies.
---
27.  The Boss Baby (2017)
Directed by Tom McGrath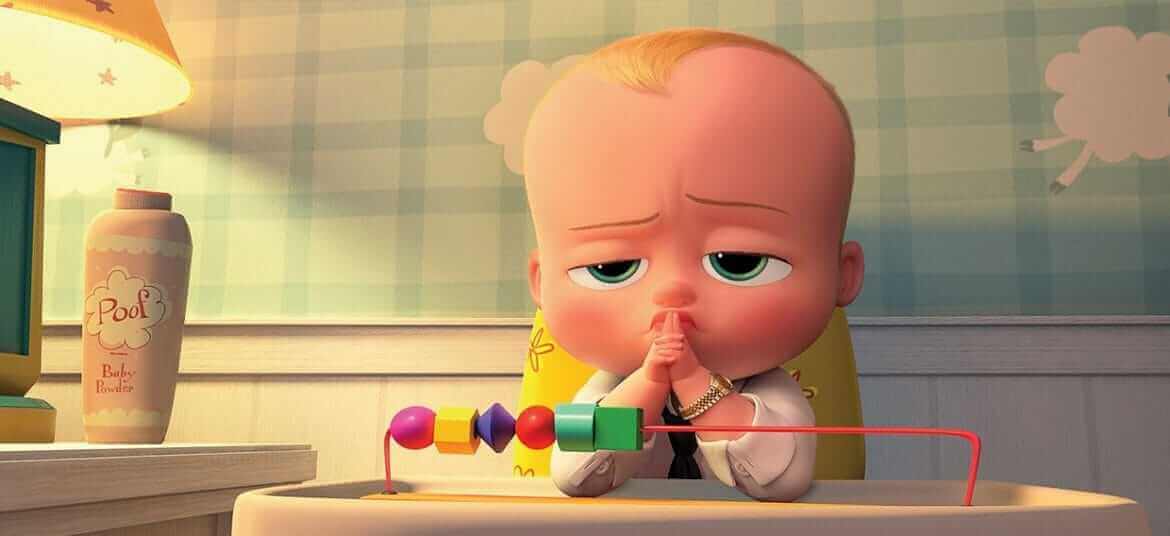 The Boss Baby is a pretty new Dreamworks production starring Alec Baldwin as the suit-wearing, taking baby who has just been introduced to a new family. His new 7-year old brother has a hard time now he's no longer the centre of attention, but in the end, they must come together against the evil corporation of Puppies that threatens the world of Babies. The film is a great choice for kids and is some good family fun.
---
26. Police Academy (1984)
Directed by Hugh Wilson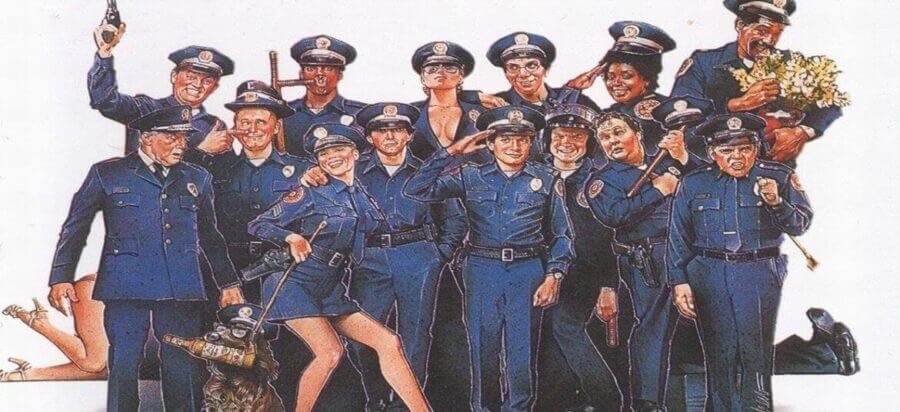 Police Academy is a pretty well known an iconic movie franchise and the first 1984 movie has just come to Netflix. The film follows a group of misfits who are entered into the police academy. In this group is Mahoney, a petty criminal who as punishment is forced to join the police force and after initial doubt eventually, decides he does wish to become a full-fledged police officer. This Comedy and it's 5 sequels are very welcome on Netflix.
---
25. Masterminds (2016)
Directed by Jared Hess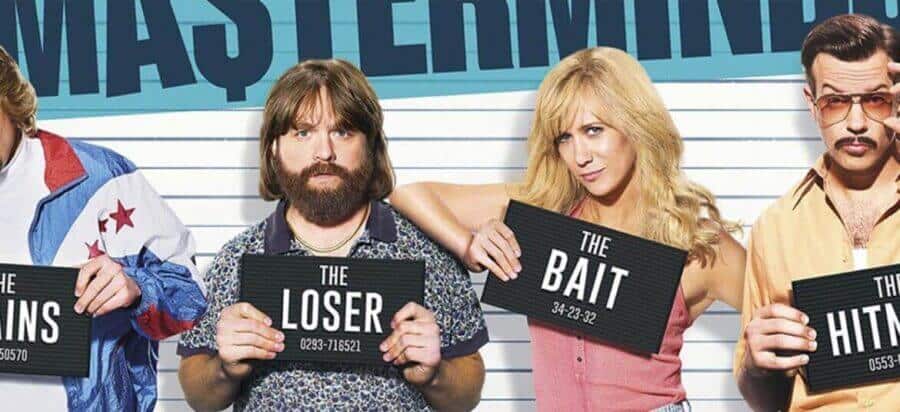 Zach Galifianakis plays a David Ghantt, a guard at an armoured car company who always felt like he needed more adventure in his life. After meeting his work colleague Kelly Campbell they hatch a plan to steal the millions that they spend all day carting around in the largest bank heist in American History. The film is an enjoyable comedy based on the real 1997 Loomis Fargo robbery where $17.3 million was stolen.
---
24. The Addams Family (1991)
Directed by Barry Sonnenfeld
This Fantasy, Comedy follows the dark and somewhat sinister Addams family, made up of Morticia, Gomez, and their two children, Wednesday and Pugsley. They are also accompanied by a con artist claiming to be their long-lost Uncle Fester and a detached sentient hand. Ever since it's release back in 1991 this film has become much loved, with superb acting and great dark comedy.
---
23. Big Mouth (2017)
Created by Jennifer Flackett, Mark Levin, Andrew Goldberg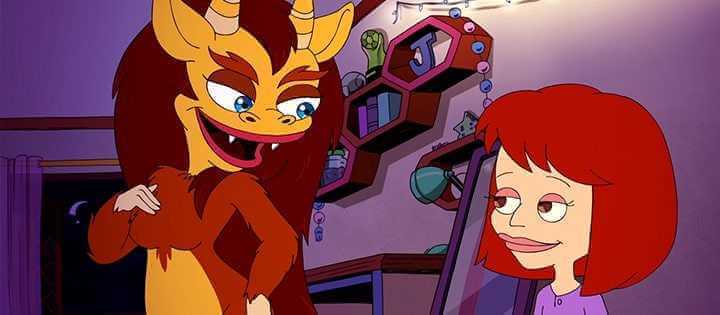 A brand new Netflix Original has just been welcomed to our screens. Big Mouth is an animated show covering the sensitive topic of puberty surrounding a group of school kids. The show personifies puberty into seemingly real creatures known as the hormone monster/monstress, who influence the kid's bodies. The animation is amazing and the show also supplies some great comedy.
---
22. Kung Fu Panda (2008)
Directed by Mark Osborne, John Stevenson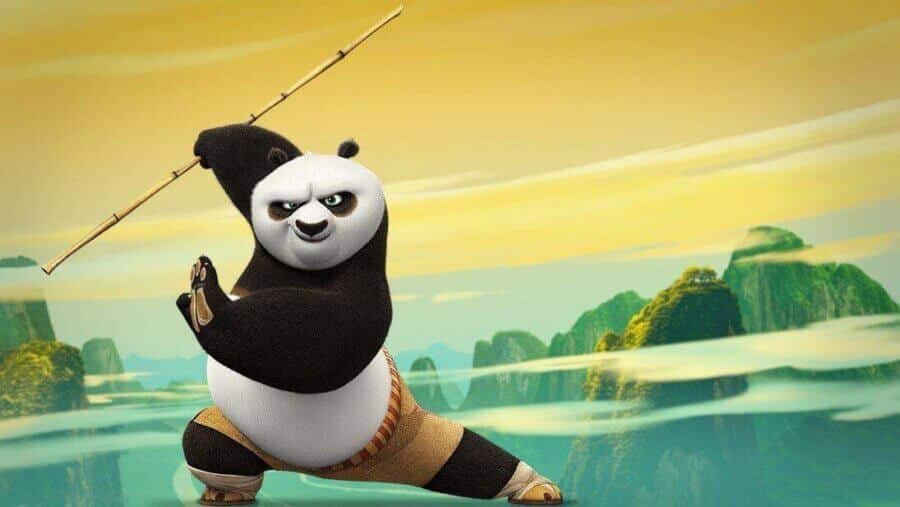 Jack Black plays an unsuspecting and immature panda who lives with his noodle loving dad (A goose). He always felt he was destined for great things and due to very unlikely circumstances is chosen to be the legendary Dragon Warrior and fight alongside his kung fu heroes. Now the whole of China's fate rests in the paws of this obese and seemingly incompetent panda. The animated dream works film was an instant success and spawned quite a few follow-up films. But I think we can agree the first one was by far the best.
---
21. Grease (1978)
Directed by Randal Kleiser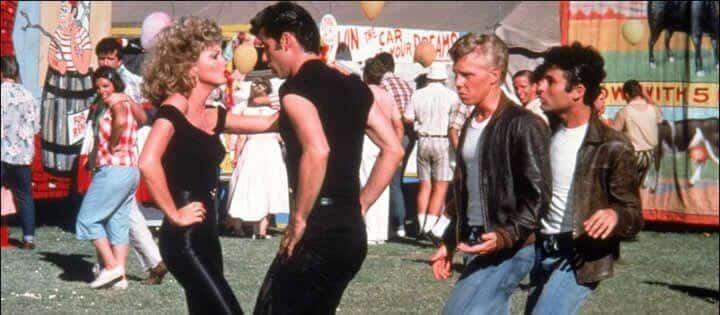 The ultimate all-time feel good movie, Grease demands at least an annual viewing; probably more often. Fresh off the back of his triumph in Saturday Night Fever, John Travolta grinds his hips in sync with Olivia Newton-John grinding her hips. In some jolly tight trousers at the end. The songs are catchy and there's a happy ending. A timeless piece of joy.
---
20. The Do-Over
Directed by Steve Brill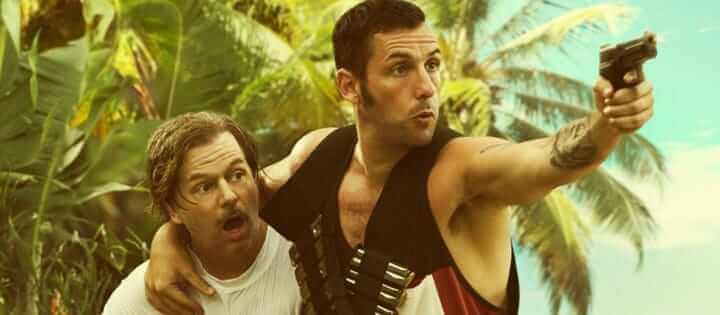 The second Netflix Original Sandler movie was infinitely better than the first, and that's thanks largely in part to David Spade. The film sees our two protagonists meeting at a school reunion, and soon being thrown into the deep end after they fake their deaths and assumes the identity of someone else.
---
19. The Meyerowitz Stories (New and Selected) (2017)
Directed by Noah Baumbach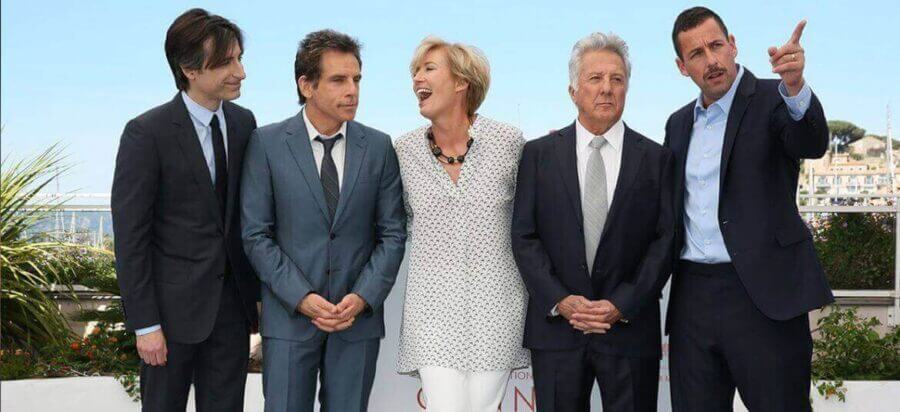 This new Netflix original stars Adam Sandler, Dustin Hoffman, Ben Stiller and Grace Van Patten as the Meyerowitz Family. The father Harold is a famous artist and decides to gather his sons and daughter in New York for a celebration of his work. Since its release, the dysfunctional family have been met with overwhelmingly good reviews and is actually a very pleasant comedy to sink into.
---
18. Skiptrace (2016)
Directed by Renny Harlin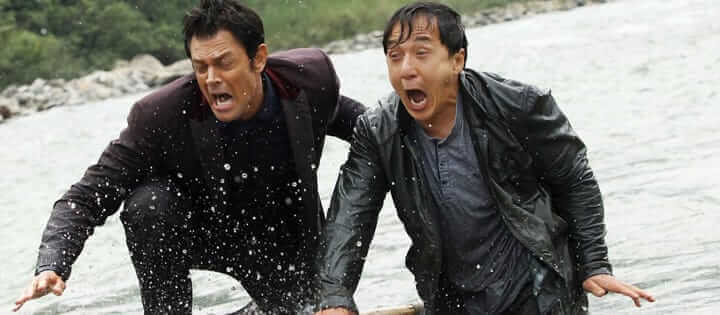 Attempting to recreate the magic that was the Rush Hour movies but replacing with Johnny Knoxville instead of Chris Tucker. The Netflix Original movie was picked up in 2016 and while it's not quite as good as Rush Hour, it certainly has plenty of high moments that are worth checking out.
---
17. Trolls (2016)
Directed by Walt Dohrn, Mike Mitchell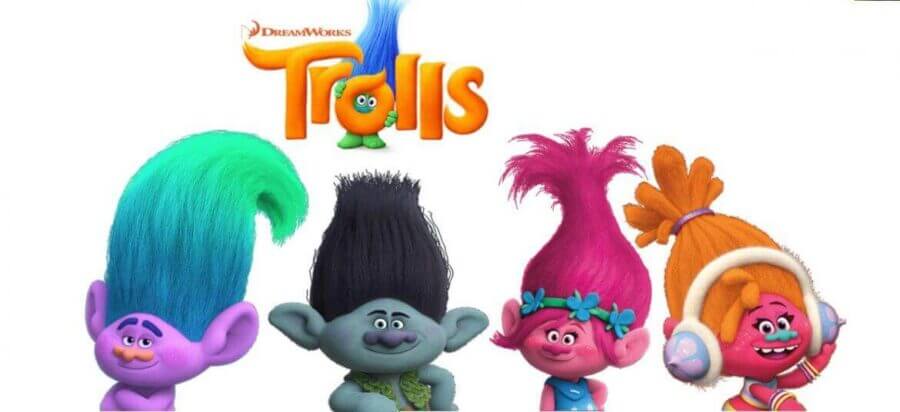 Including such voice talents as; Anna Kendrick, Justin Timberlake, Russel Brand, John Cleese and James Corden, the 2016 film is a DreamWorks animation based on the 80's toy line 'Trolls' (the ones with the hair). Usually, some of these animated kids films can be a little hit and miss, but overall Tolls was received quite well and was even nominated for an Oscar.
---
16. Anger Management (2003)
Directed by Peter Segal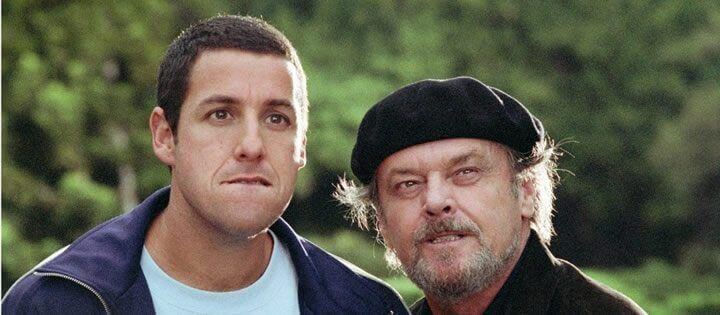 When Jack Nicholson does comedy, he does it properly. He's very very funny. Enough said. The movie has a rhythm that delivers the jokes on cue which is pretty unusual for this type of film. In the end, it's difficult to see how this movie would have worked without Nicholson but that is why it's so watchable.
---
15. Ace Ventura: When Nature Calls (1995)
Directed by Steve Oedekerk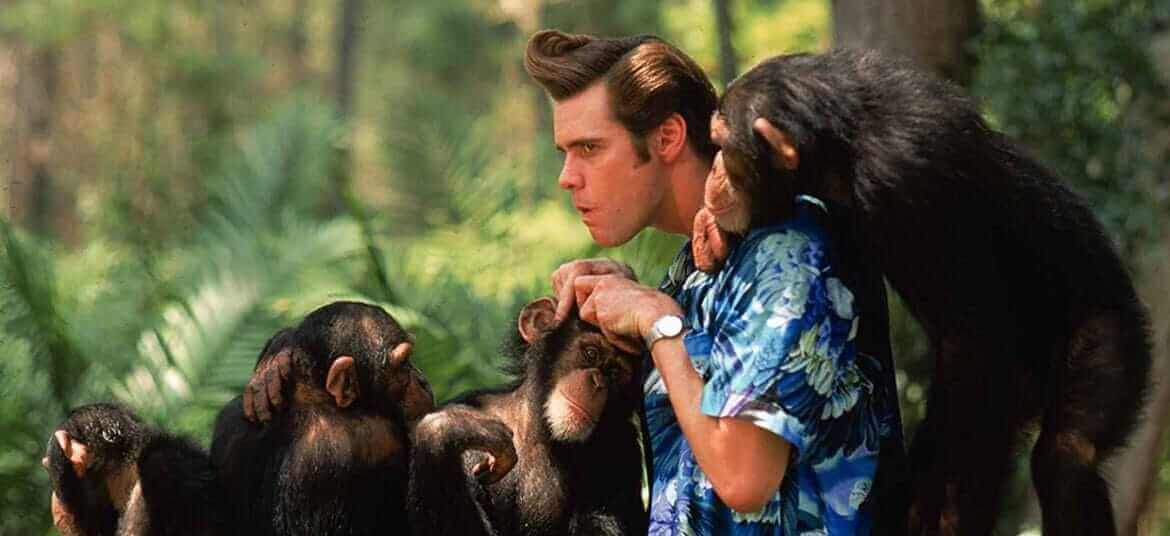 Following the relative success of 'Ace Ventura: Pet Detective' only a year before, this Jim Carrey film follows the adventures of a Pet Detective who is often hired to investigate the disappearance of rare and valuable animals. This film is packed with Jim's staple comedy charm that you either love or loathe.
---
14. Jackass 2 (206)
Directed by Jeff Tremaine

The MTV boys, famous for their elaborate pranks went on to make three full featured movies and the second is available on Netflix. The third movie will be the last time the full team are fully together and likely will be the last Jackass as we know it. It featured some of the biggest pranks the franchise had ever pulled off.
---
13. The Switch (2010)
Directed by Josh Gordon and Will Speck

It hits many of the flaws that are present in a romantic comedy but is still a great movie. It stars Friend's Jennifer Anniston and Arrested Development's Jason Bateman in a rom-com that see's Jason's character after being a sperm donor getting mixed up with the girl who actually had his baby.
---
12. Pee-wee's Big Adventure (1985)
Directed by Tim Burton

This was Tim Burtons first feature as a director and a long way from the gothic movies that have become his trademark. It's a road trip, a revenge movie and good old-fashioned slapstick all rolled into one.
---
11. Tropic Thunder (2008)
Directed by Ben Stiller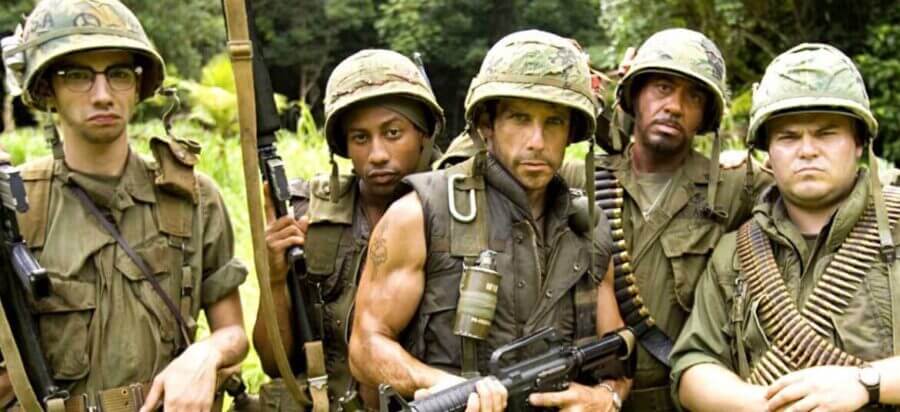 Tropic Thunder is a 2008 Action, Comedy that follows the making (or the attempt at least) of a serious Vietnam film with an all-star cast. Unfortunately the director, Damien Cockburn is an incompetent mess who decides at the last minute to shoot the film 'found footage style' in the real Vietnam forest in the hope that the previously uncooperative actors get a grip. Completely oblivious, the cast stumbles into the territory of a real and ruthless drug gang that attempts to kill and capture them. The film is a clever Hollywood parody and was nominated for an Oscar. The cast includes Ben Stiller, Jack Black, Robert Downey Jr, and Tom Cruise.
---
10. The Big Short (2015)
Directed by Adam McKay

After watching this movie it's often hard to understand how it's considered a comedy as the end goal saw the utter devastation that was the 2008 crash. It follows multiple key figures involved in the betting of the financial crash. It features some comedy elements but it's super subtle and on the same level as The Wolf of Wall Street.
---
9. Hot Fuzz (2007)
Directed by Edgar Wright

The second film in the Cornetto trilogy is probably my favorite. A big-time London cop is relocated to a quaint village after supposedly making the Metropolitan police "look bad" with his amazing performance. At first, the town appears completely normal, but over time, and after a number of 'accidents', the Sgt. starts to suspect something more is going on. It features some of the trilogies best gags to date and is enjoyable to watch over and over again.
---
8. Sing (2016)
Directed by Garth Jennings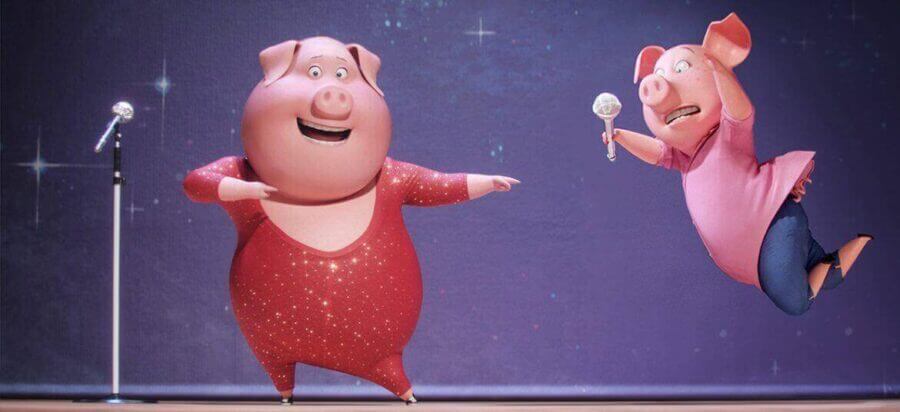 An animated brought to you by Illumination (Despicable Me), takes place in a bustling city inhabited by humanoid animates ranging from pigs, Gouriallas and pretty much any animal imaginable. After a theatre owner hosts a singing competition in order to save his business. The show quickly gets out of hand, and bad turns to worse. The film is a great musical animation with an all-star cast including; Matthew McConaughey, Seth MacFarlane and Reese Witherspoon.
---
7. The Inbetweeners Movie (2011)
Directed by Ben Palmer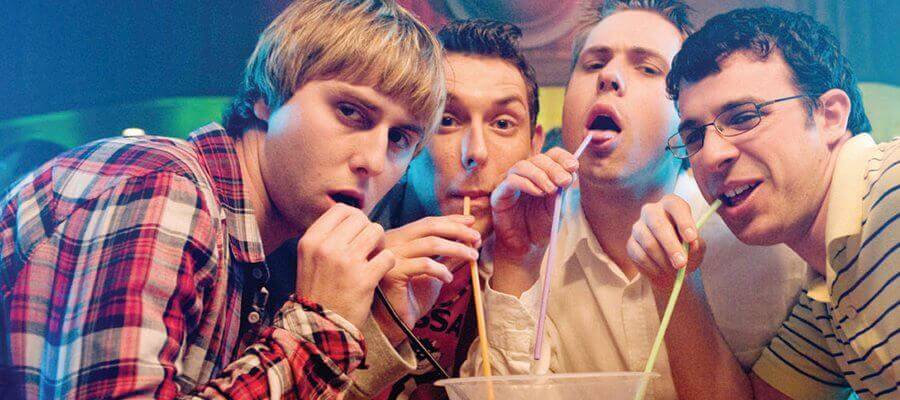 While it's still miles behind how good the series was, the first movie paid a massive fan service with our coming of age lads from Britain. The British comedy broke many records in its home region when it first released and went on to get a sequel too. It follows four lads who are desperate to lose their virginity and goes on holiday to make that a reality.
---
6. War Machine (2017)
Directed By David Michod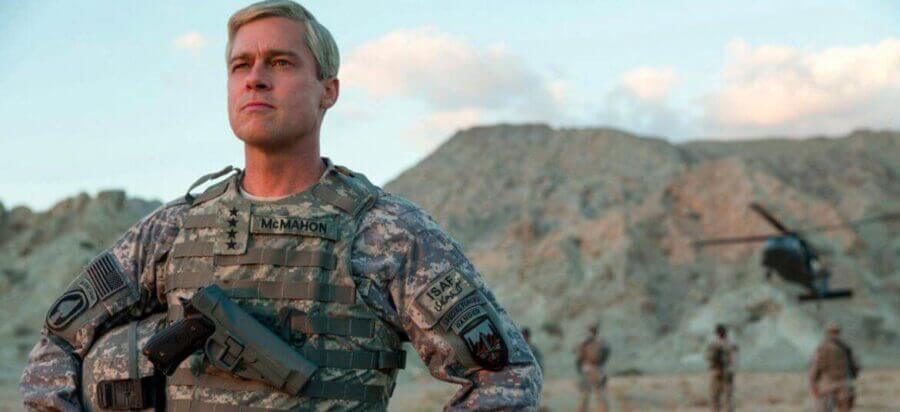 This is Brad Pitt's first role in a Netflix original and he plays General Glen McMahon a hot-headed and overconfident general who is called in to command NATO troops in Afghanistan and jumps in head first. The film is half serious, and half a ridiculous spoof based on a real life General in the United States Army. Hopefully, the success of this original will mean that we will be seeing Brad Pitt in more films with Netflix in the near future.
---
5.  Okja (2017)
Directed by Bong Joon Ho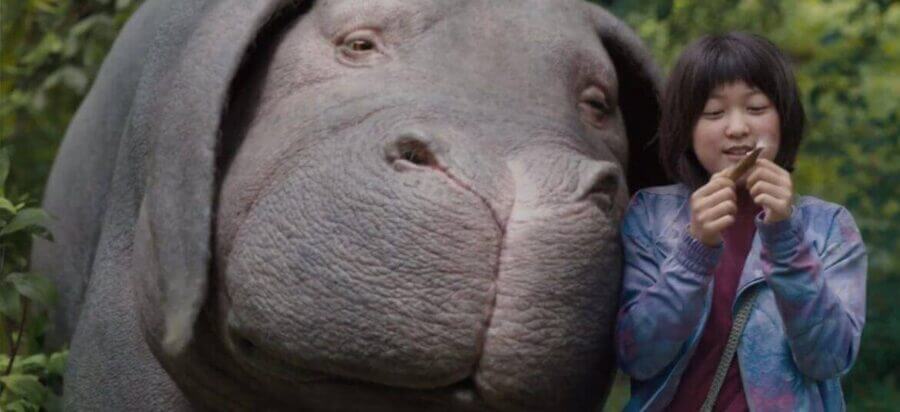 Okja isn't specifically a pure comedy, but rather a Drama/Adventure following a little girl and the emotional bond between her and the experimental 'super-pig' Okja. A multi-national food corporation attempts to take Okja back after 10 years in order to become food, but the young Mija won't let that happen. The film has been regarded as a "fairytale for adults" and is defiantly worth a watch.
---
4. The Secret Life of Pets (2016)
Directed by Chris Renaud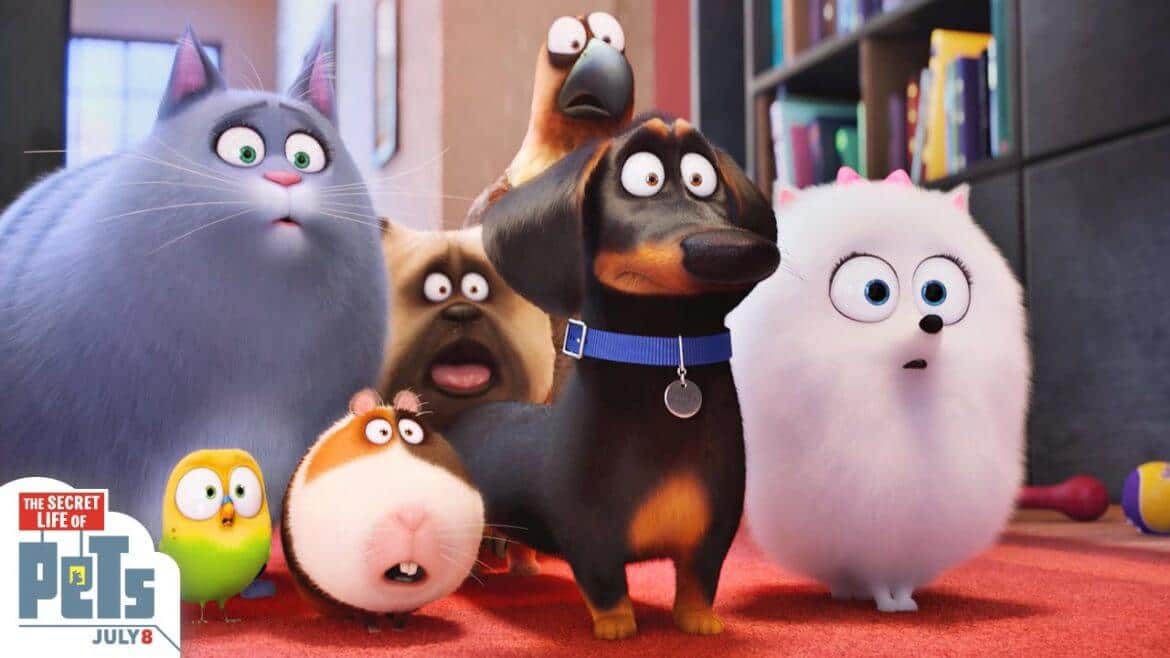 From the creators of Despicable Me comes 'The Secret Life of Pets' a film about what your fluffy friends get up to when you're not around. This comedy is a lighthearted enjoyment for all the family and includes voice talents from Kevin Hart, Louis C.K., Eric Stonestreet and much more.
---
3. Finding Dory (2016)

The long-awaited sequel to the classic 'Finding Nemo', 'Finding Dory' mostly follows the forgetful fish voiced by 'Ellen DeGeneres' as she searches for her long-lost family, and in turn find herself. The film has the same charm as the first, and can be watched and enjoyed by both adults and kids.
---
2. St. Vincent (2014)
Directed by Theodore Melfi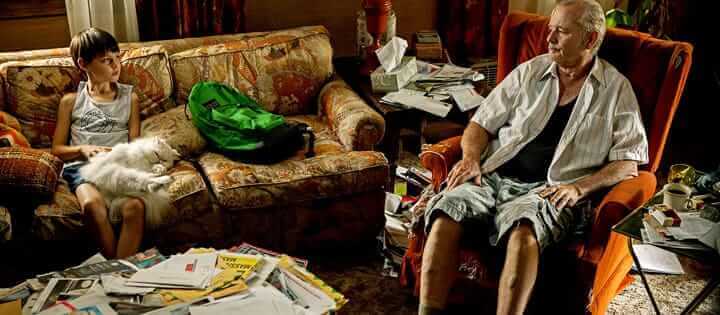 One of Bill Murray's modern hits has been St. Vincent which was released in 2014. It's your classic neighbour from hell movie but perfect with Bill Murray and Melissa McCarthy nailing the roles they're given. The movie was nominated for 2 golden globes as well as holding an exceptional fan score on Netflix. The chances are you haven't seen this, so log off right now and do yourself a favour.
---
1. Moana (2016)
Directed by John Musker and Ron Clements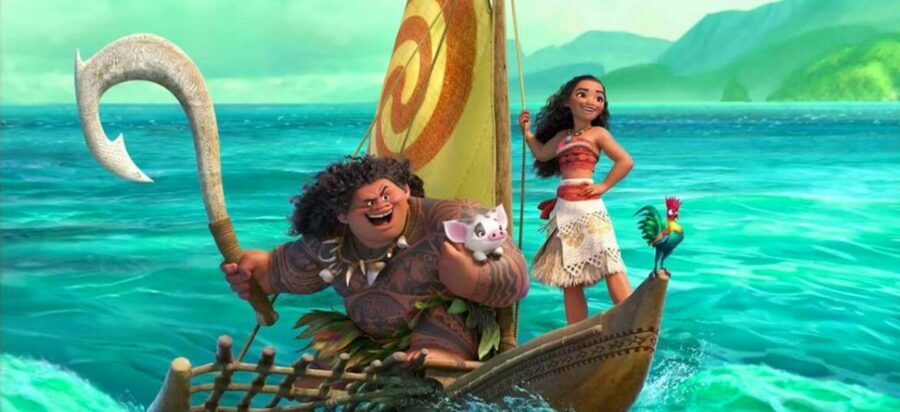 At the time of writing 'Moana' is the latest Disney Animated movie to be released. Auli'l voices the Chief's Daughter who calls a small tropical island her home. After a rumoured curse takes a grip of the island and starts to exhaust their food supply, Moana is once again drawn to the vast unknown of their surrounding ocean. She is picked to venture out and restore the heart of Te Fiti with the help of the Demigod Maui (Dwayne Johnson). As you should expect from a Disney movie like this it hit's the perfect notes and is an ideal movie to watch with the family.