Top 8 AMC Shows on Netflix
AMC has some of its best content on Netflix and we'll be picking out the top eight AMC shows currently on Netflix below. Some of the very best content on Netflix comes in the form of AMC shows because of the 8 listed below almost all rank in our top 50 TV series on Netflix.
We've also cataloged all of the AMC series on Netflix here with the amount of series available and when they usually get new seasons added.
Here's the top 8 AMC shows on Netflix.
8. TURN: Washington Spies

Based on historian Alexander Rose's novel of the same name, this period drama is the true story of the spy ring that helped America win the Revolutionary War. Filmed in Virginia, it's a history of the Culper Ring.
"[It's] the real story of the American Revolution from the ground up," -Joel Stillerman, AMC
TURN goes beyond the battles and into the lives of everyday men and women, conflicted in a world of double agents, covert operations and code-breaking. It revolves around Abe Woodhull, who joins a group of his childhood friends to form what becomes known as the Culper Ring. Under the direction of Gen. George Washington, Abe and his friends change the course of the war and in the process ultimately serve as the foundation for modern espionage. TURN returns for its final forth season in 2017.
---
7. Halt and Catch Fire

Called the "best show on tv that no one is watching" by The Guardian, Halt and Catch Fire is a period show that takes you back to the 1980s, where we get an insider's view of the personal computer revolution. IBM has just cornered the market with its flagship PC, but a flaw is discovered, opening the door for competition. In steps our trio: A former IBM executive who recruits an engineer and a prodigy who risk everything to realize their vision of building a machine that can change the future. It's sort of like Mad Men with computers, but it has an energy that won't have you taking 2 martini lunches.
---
6. Into the Badlands

Brought to you by the creators of Shanghai Noon and Smallville, this is a martial arts drama that takes you on a journey seeking enlightenment. A skilled warrior mentors a teenage boy and takes him on a spiritual odyssey across the Badlands,  a dangerous region controlled by ruthless power hungry barons. If you're a martial-arts fan, you won't be disappointed.
---
5. Better Call Saul

He wasn't always Saul Goodman, everyone's favorite attorney-at-law. There was a time when he was Jimmy McGill, a small-time lawyer hustling to make a name for himself. His docket was filled with low-income clients that he worked hard for, his morals and ambitions often clashing.
If you're a Breaking Bad fan it's a must watch. There are easter eggs throughout. Characters from the series make appearances, have storylines ( I love you, Mike Ehrmantraut!), and there's even a little rumor that major characters will be back and *cough*alive in the new season. Trouble with the law? Better Call Saul!
---
4. Hell on Wheels

A western drama, Hell on Wheels begins shortly after the assassination of Abraham Lincoln. The war may be over, but the horrific memories are fresh in the minds of many. Former Confederate soldier Cullen Bohannon can't put it behind him. He sets forth on a course of revenge, following the railways and  the lawless melting pot of a town called "Hell on Wheels," which moves with the construction of the railroad. Bohannon must learn to leave revenge in the past and put his energy into the Union Pacific Railroad during its westward expansion.
---
3. Mad Men

Mad Men is the show of all shows. Multi award-winning, it's as classic as one of Don Draper's ads. Smoking, whiskey, and canoodling are all in a day's work for these guys. It's a beautiful show, its costumes and sets were meticulously chosen and created. The drama between the characters makes you feel a bit like you're watching a soap opera, the show itself becoming something of the 60s. It's a cool as the other side of the pillow. …And you're going to have the opening song stuck in your head forever.
---
2. The Walking Dead

TWD is THE zombie show. Does anything even compare? The haunting theme music, the gore, the camaraderie all pull you in. But it goes beyond zombies. It's really a show about community and the life and death struggle to keep it together. It has thrilling moments, scary moments, and those moments that just break your heart. (I won't spoil anything). You really get connected to the characters. Watch this show and be prepared to say "WHAT JUST HAPPENED?!" a lot. Your friends are all saying it, too. Now you have something to talk about.
---
1. Breaking Bad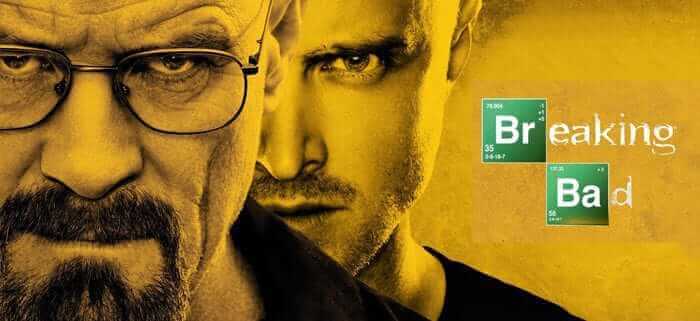 Arguably one of the best shows ever created, Breaking Bad changed television and the way we watch it. Initially, the show didn't have stellar ratings. But when it went to Netflix, the number of eyeballs on the show skyrocketed. The ratings went up and history was made. (Thanks, Netflix!) BrBa wasn't the first gruesome, gritty, F-bomb-riddled show (The Wire, The Sopranos, etc. granted us similar unforgettable adventures!) But it was different. Always surprising. Always threading a story through another very deftly, sometimes through an entire season. It could go from monstrous and dangerous to caring in the blink of an eye. The show had a life of its own, beyond the characters contained within it, it reached out and pulled you in. If you're willing to step into that RV, you won't regret the ride.