Independence day! A time to celebrate the red, white, and blue. It's a long holiday weekend filled with grilled foodstuffs, fireworks, and sun. When the thrill of has worn off and the meat sweats have set in, what better way to continue the celebration than with a marathon of movies? (Ok. The thrill of explosions hasn't worn off…but it will be a lot more fun to experience them from your couch. Am I right?) Chant it with me: "U.S.A! U.S.A!"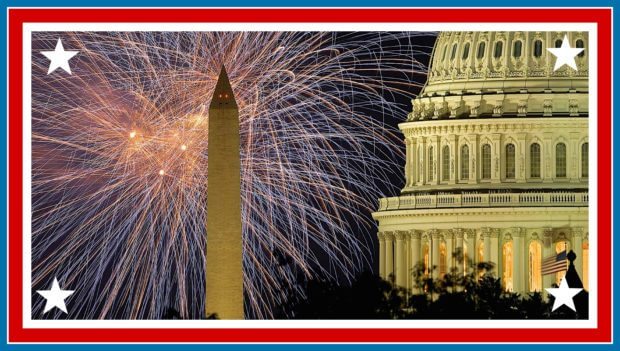 To Kill A Mockingbird
Gregory Peck won an Oscar for his role in this adaptation of Harper Lee's Pulitzer Prize-winning novel. Atticus Finch is a lawyer defending an innocent black man in a time of extreme prejudice. It's not only a reminder of our nation's past, but of hope and the good to be found in our fellow man. It's a classic that everyone should see at least once in their lifetime.
Beavis and Butthead Do America
Does your family 4th celebration include hearing the phrase "Hey you guys! Watch this!" a lot? (Because mine does.) If so, this is for you. Your favorite MTV idiots are on a road trip across America in search of their one true love: their stolen television. With guest appearances from everyone from Demi Moore to David Letterman, it's a Star Spangled escapade across the nation.
The Sandlot
Nothing says summer like The Sandlot. A group of boys brought together by their love of baseball and united in their battle of The Beast? It's the best! And is anything better than that 4th of July game at night illuminated by the glow of fireworks? It's a must watch.
Turn: Washington's Spies
A Revolutionary War-era drama, Turn goes beyond the battle to a conflicts involving everyday men and women. It centers around Abe Woodhull, a young farmer torn between loyalty to his background and respect for those who fight for the Patriot cause. He joins a group of friends in a spy ring that eventually turns the tide of the war. Fun bonuses for history lovers: It's based on Alexander Rose's book Washington's Spies: The Story of America's First Spy Ring, an interesting read. As well, the show page has some very interesting extras, including a refresher course of the real-life events.
Forrest Gump
When he wasn't running across America, Forrest was witnessing history. It's a view of some of our nation's defining moments. Besides that, it's just so doggone great! Just like Forrest never seems to age, this movie is timeless.
Streaming Bonus: This year, A Capitol Fourth will be streaming LIVE and FREE on Facebook. "America's favorite Independence Day celebration, A Capitol Fourth features well-known musical artists and puts viewers front and center for the greatest display of fireworks anywhere in the nation. A Capitol Fourth is broadcast live from the West Lawn of the U.S. Capitol, before a concert audience of hundreds of thousands, millions more at home, and our troops watching around the world." (PBS) For more details visit http://www.pbs.org/a-capitol-fourth/home/
Have a happy and safe holiday, everyone, and happy streaming!