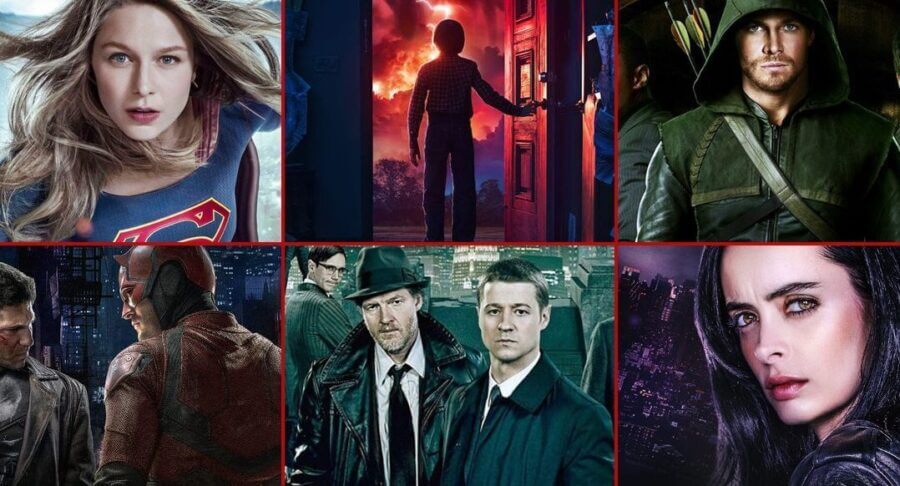 Netflix has unquestionably the best library when it comes to superhero TV series. Because of its strategic partnerships with The CW, it manages to get most of the DC TV library and thanks to ties with Marvel, it has not only its own lineup of Marvel shows but most of the ones from ABC too.
Away from Marvel and DC though, Netflix also hosts some other fantastic superhero TV shows which we hope to pick you out the best ones below. You'll notice some X-men series are notably missing, that's because most are owned by Fox who no longer deals with Netflix so you'll have to look elsewhere for them.
This list is updated regularly so check back every few months where we'll update the ranking.
Article Continues Below...
Note: Availability of titles may differ from region to region. 
Notable Mentions
Strong Girl Bong-Soon (1 Season)
The Defenders (Season 1)
Aftermath (2 Seasons)
11. Iron Fist
Netflix Original
Number of seasons available: 1

Iron Fist did have some good moments in it but some questionable choices overall left many fans feeling rather sour about the series. The main reason we rank it on this list is that it's ultimately integral to the leadup of the main Defenders series which landed shortly after Iron Fist aired.
Danny Rand is played by Finn Jones (Game of Thrones) who is a young billionaire who returns to New York City to claim what's rightfully his, his father's company. Gifted with the Iron Fist, Danny finds his way into the clutches of the Hand and must use his ability to stop them.
10. DC's Legends of Tomorrow
Network: The CW
Number of seasons available: 2

The premise of putting together a lesser known group of superheroes and having them fight bad guys seems like a bad idea especially if you have the choice to pick the bigger heroes, but this series just about works. The series is about a time master who brings together both heroes and villains to save the world from an evil. The special effects often are quite amazing considering each season is 16 episodes long. If you watch any of the other CW titles, you should definitely add this to your list too.
9. Supergirl
Network: The CW
Number of seasons available: 2

Although it's no substitute for the much older Smallville which remains away from Netflix, Supergirl is our direct route to the Superman universe on Netflix. The series initially aired on CBS but was later moved to The CW which is arguably where its rightful home is.
Melissa Benoist plays the role of Kara Denver who also doubles as supergirl who in absence of her cousin, must protect National City.
8. Agents of SHIELD
Network: ABC
Number of seasons available: 4

Set soon after the events of Captain America: The Winter Soldier and the first Avengers movie, this series takes us to the heart of Shield where we follow its new recruits. Coulson is the major character who returns from his movie duties to help train the new recruits.
The series is currently the only Marvel title from ABC to come to Netflix with both Agent Carter and Inhumans remaining away from Netflix
7. Luke Cage
Netflix Original
Number of seasons available: 1

Part of The Defenders, Mike Colter plays the role of Luke Cage who also features in Jessica Jones as a major character to thanks to a love interest. The first season takes us back in time, however as we discover the source of Luke's super strength and bulletproof skin.
The series features a great cast with an equally fantastic soundtrack too. Unlike other superhero shows, this one feels a lot more grounded with a mob storyline that just happens to have Luke Cage with superpowers in it.
6. The Flash
Network: The CW
Number of seasons available: 3
It was easy to be sceptical when we first heard that The Flash was getting his own TV series. After all, TV CGI has never been like that of the movies but The CW does seem to have created a believable world with a solid character.
Waking from a coma, Barry Allen discovers he's got a new superhero to travel at super speed. Throughout the show, we meet loads of super villains all possessing convincing powers but Barry persists. The series has actually gotten better as time progressed and we look forward to many more adventures with The Flash.
5. Jessica Jones
Netflix Original
Number of seasons available: 1

The first season of Jessica Jones blew us away when it landed in late 2015. The series focuses on Krysten Ritter who plays Jessica Jones, a superhero with super strength and the ability to jump really high. The main reason the first season was as good as it was is that of the talents of David Tennant. Tennant played the purple man who, with his power to influence people, made a great match for Jessica.
At the time of writing, the second season of Jessica Jones is just around the corner making it almost three years since her last full solo outing so it's been a long time coming.
4. Gotham
Network: Fox
Number of seasons available: 3

Wait, I hear you cry! Batman isn't a superhero let alone his younger self! To which I say, Netflix categorizes it as a superhero show so move on if you don't like it. The prequel series rewinds the clock on the Batman universe and takes us to when the villains of Gotham are just starting out. It provides convincing backstories to every character and remains good three seasons in with the fourth currently airing.
It's created by Bruno Heller and Danny Cannon and is aired on Fox although not distributed meaning it will still be streaming after the rest of the Fox library leaves Netflix.
3. Arrow
Network: The CW
Number of seasons available: 5

Arrow is one of The CW's top performing shows regularly outranking all of the other shows it outputs. Although you could definitely make an argument for the series faltering in the later seasons, the early are still best in class.
The series is based on the DC comic book hero, Green Arrow. It stars Stephen Amell who plays the role of the Green Arrow as he spends the daytime being a playboy billionaire and a superhero armed with a bow and arrow at night.
2. Stranger Things
Netflix Original
Number of seasons available: 2

Although you wouldn't initially think to include Stranger Things on a list of superheroes, you quickly realise how Eleven fits the bill in every single way. She has a tragic backstory, wicked powers and the show follows many major traits you'd come to think about when thinking of conventional superheroes.
The blockbuster series is possibly Netflix's biggest show in their library. The show focuses on four boys who live in a small town who stumble onto big secrets. Later in the first season, we're introduced to Eleven, the series main hero. She is gifted with telekinetic powers and the ability to communicate with a different dimension.
1. Daredevil
Netflix Original
Number of seasons available: 2

The first member of The Defenders was Daredevil and he still has yet to be beaten by his fellow Defenders when it comes to being the best superhero series. Played by Charlie Cox, Matthew Murdoch was blinded as a young boy but gained supersenses prominently in his hearing.
Throughout the two seasons, we're introduced to several memorable villains and also some of the franchises best side characters to date. We should also mention the fact that both seasons broke records for the longest recorded fight scenes. Best news of all, a new season is due out in 2018.