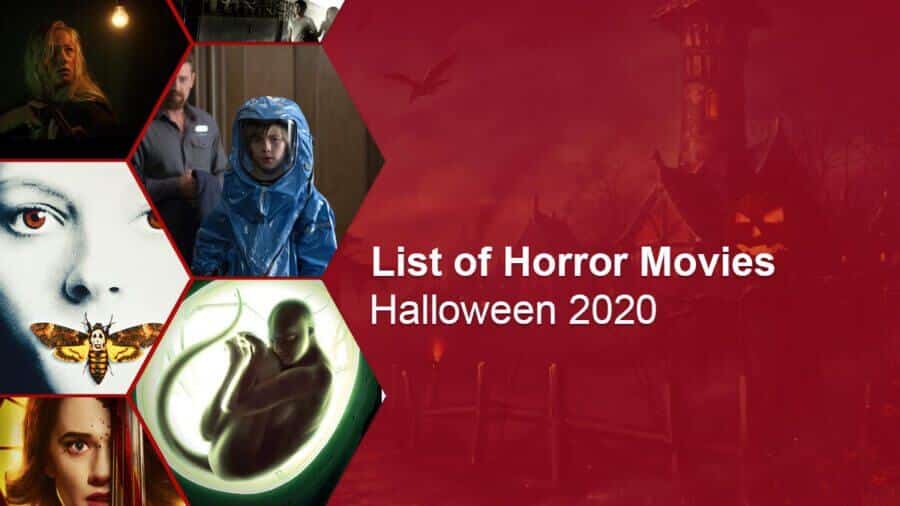 Happy Halloween and welcome to the entire list of horror movies currently streaming on Netflix US for 2020. This list includes thrillers, horrors, and anything else Halloween related that's currently on Netflix for Halloween 2020. 
Please note this list only covers Netflix in the United States. Other regions will likely vary dramatically.
If this list is a little long and you need some suggestions, take a look at our top Netflix Original horror movies picks.
Article Continues Below...
---
Full List of Horror Movies on Netflix
Please note: there may be some inaccuracies here but for the most part, this is the comprehensive horror movie list. 
Cover
Title / Description
#Alive (2020)
Rating: TV-MA First Released: 09/08/2020
122 (2019)
IMDb Score: 7.1/10 Rating: TV-MA First Released: 06/01/2020
13 Sins (2014)
IMDb Score: 6.3/10 Rating: R First Released: 01/13/2019
1920 (2008)
IMDb Score: 6.4/10 Rating: TV-14 First Released: 12/15/2017
1BR (2019)
Rating: TV-MA First Released: 08/23/2020
A Haunted House (2013)
IMDb Score: 5.0/10 Rating: R First Released: 02/21/2020
A.M.I. (2019)
IMDb Score: 3.9/10 Rating: TV-MA First Released: 10/01/2019
Aaviri (2019)
Rating: TV-14 First Released: 12/31/2019
Adrishya (2017)
IMDb Score: 5.5/10 Rating: TV-14 First Released: 12/31/2019
Agyaat (2009)
IMDb Score: 2.9/10 Rating: TV-14 First Released: 10/01/2018
All Light Will End (2018)
IMDb Score: 4.0/10 Rating: TV-MA First Released: 02/01/2019
Anaconda (1997)
Rating: PG-13 First Released: 09/01/2020
Animas (2018)
IMDb Score: 4.8/10 Rating: TV-MA First Released: 01/25/2019
Antidote (2018)
IMDb Score: 2.7/10 Rating: TV-MA First Released: 04/14/2019
Apollo 18 (2011)
IMDb Score: 5.2/10 Rating: PG-13 First Released: 03/09/2019
Apostle (2018)
IMDb Score: 6.3/10 Rating: TV-MA First Released: 10/12/2018
As Above, So Below (2014)
IMDb Score: 6.2/10 Rating: R First Released: 09/16/2018
Assimilate (2019)
IMDb Score: 5.3/10 Rating: TV-MA First Released: 10/25/2019
Aurora (2018)
IMDb Score: 4.3/10 Rating: TV-14 First Released: 04/25/2019
Aval (2017)
Rating: TV-14 First Released: 01/02/2018
Await Further Instructions (2018)
IMDb Score: 4.8/10 Rating: TV-MA First Released: 02/02/2019
Before I Wake (2016)
IMDb Score: 6.2/10 Rating: PG-13 First Released: 01/05/2018
Bhoot (2003)
IMDb Score: 6.5/10 Rating: TV-14 First Released: 12/31/2019
Bulbbul (2020)
Rating: TV-14 First Released: 06/24/2020
Cabin Fever (2016)
IMDb Score: 3.7/10 Rating: R First Released: 06/05/2019
Cadaver (2020)
Rating: TV-MA First Released: 10/22/2020
Cam (2018)
IMDb Score: 5.9/10 Rating: TV-MA First Released: 11/16/2018
Cargo (2018)
IMDb Score: 6.3/10 Rating: TV-MA First Released: 05/18/2018
Cirque du Freak: The Vampire's Assistant (2009)
IMDb Score: 5.8/10 Rating: PG-13 First Released: 04/16/2018
Clinical (2017)
IMDb Score: 5.1/10 Rating: TV-MA First Released: 01/13/2017
Creep (2014)
IMDb Score: 6.3/10 Rating: R First Released: 07/14/2015
Creep 2 (2017)
IMDb Score: 6.4/10 Rating: TV-MA First Released: 12/23/2017
Dabbe 5: Curse of the Jinn (2014)
IMDb Score: 6.0/10 Rating: TV-MA First Released: 04/12/2019
Dabbe 6: The Return (2015)
IMDb Score: 5.7/10 Rating: TV-MA First Released: 04/12/2019
Dabbe: The Possession (2013)
IMDb Score: 6.8/10 Rating: TV-MA First Released: 04/12/2019
Danur: I Can See Ghosts (2017)
IMDb Score: 5.4/10 Rating: TV-MA First Released: 03/27/2019
Dark Light (2019)
IMDb Score: 4.1/10 Rating: TV-MA First Released: 04/05/2020
Dark Skies (2013)
IMDb Score: 6.3/10 Rating: PG-13 First Released: 06/22/2020
Darna Mana Hai (2003)
IMDb Score: 6.3/10 Rating: TV-14 First Released: 08/01/2019
Day of the Dead: Bloodline (2018)
IMDb Score: 3.4/10 Rating: R First Released: 04/05/2018
Deadcon (2019)
IMDb Score: 2.8/10 Rating: TV-14 First Released: 01/16/2020
Deadly Detention (2017)
IMDb Score: 3.4/10 Rating: TV-14 First Released: 02/15/2019
Death House (2017)
IMDb Score: 3.0/10 Rating: R First Released: 05/05/2019
Death Note (2017)
IMDb Score: 4.5/10 Rating: TV-MA First Released: 08/25/2017
Delirium (2018)
IMDb Score: 5.7/10 Rating: R First Released: 09/01/2018
Demonic (2015)
IMDb Score: 5.3/10 Rating: R First Released: 08/10/2017
Devil's Gate (2017)
IMDb Score: 0.33 Rating: TV-MA First Released: 07/16/2020
Don't Be Afraid of the Dark (2010)
IMDb Score: 5.6/10 Rating: R First Released: 11/02/2019
Don't Knock Twice (2016)
IMDb Score: 5.1/10 Rating: R First Released: 02/08/2019
Doom: Annihilation (2019)
IMDb Score: 3.6/10 Rating: R First Released: 12/25/2019
Eerie (2019)
IMDb Score: 4.7/10 Rating: TV-14 First Released: 07/26/2019
Eli (2019)
IMDb Score: 5.8/10 Rating: TV-MA First Released: 10/18/2019
Errementari: The Blacksmith and the Devil (2018)
IMDb Score: 6.4/10 Rating: TV-MA First Released: 10/12/2018
Family Blood (2018)
IMDb Score: 4.2/10 Rating: TV-MA First Released: 05/04/2018
February (2015)
IMDb Score: 5.9/10 Rating: R First Released: 05/18/2019
Game Over (Hindi Version) (2019)
IMDb Score: 7.1/10 Rating: TV-MA First Released: 08/21/2019
Game Over (Tamil Version) (2019)
Rating: TV-MA First Released: 08/21/2019
Game Over (Telugu Version) (2019)
Rating: TV-MA First Released: 08/21/2019
GANTZ:O (2016)
IMDb Score: 7.1/10 Rating: TV-MA First Released: 02/18/2017
Gerald's Game (2017)
IMDb Score: 6.6/10 Rating: TV-MA First Released: 09/29/2017
Ghost Stories (2020)
IMDb Score: 4.3/10 Rating: TV-MA First Released: 12/31/2019
Girl on the Third Floor (2019)
IMDb Score: 4.6/10 Rating: TV-MA First Released: 02/22/2020
Girls With Balls (2019)
IMDb Score: 3.8/10 Rating: TV-MA First Released: 07/26/2019
Grandmother's Farm (2013)
Rating: TV-14 First Released: 05/28/2020
Grandmother's Farm Part 2 (2015)
IMDb Score: 7.4/10 Rating: TV-14 First Released: 05/28/2020
Green Room (2015)
IMDb Score: 7.0/10 Rating: R First Released: 11/12/2018
Hantu Kak Limah (2018)
IMDb Score: 6.4/10 Rating: TV-PG First Released: 01/31/2019
Haunting on Fraternity Row (2018)
IMDb Score: 3.8/10 Rating: TV-MA First Released: 03/01/2019
He Never Died (2015)
IMDb Score: 6.4/10 Rating: R First Released: 03/18/2016
His House (2020)
Rating: TV-14 First Released: 10/30/2020
Hisss (2010)
IMDb Score: 2.8/10 Rating: TV-MA First Released: 12/01/2017
Holidays (2016)
IMDb Score: 5.1/10 Rating: TV-MA First Released: 07/15/2016
Horns (2013)
IMDb Score: 6.5/10 Rating: R First Released: 08/01/2019
Horror Story (2013)
IMDb Score: 4.3/10 Rating: TV-14 First Released: 04/02/2019
House at the End of the Street (2012)
IMDb Score: 5.6/10 Rating: PG-13 First Released: 05/10/2020
House of 1,000 Corpses (2003)
Rating: R First Released: 10/01/2020
Hubie Halloween (2020)
Rating: PG-13 First Released: 10/07/2020
Hungerford (2014)
IMDb Score: 3.8/10 Rating: TV-MA First Released: 06/20/2018
Hush (2016)
IMDb Score: 6.6/10 Rating: R First Released: 04/08/2016
I Am the Pretty Thing That Lives in the House (2016)
IMDb Score: 4.5/10 Rating: TV-14 First Released: 10/28/2016
In the Tall Grass (2019)
IMDb Score: 5.4/10 Rating: TV-MA First Released: 10/04/2019
Inhuman Kiss (2019)
IMDb Score: 6.5/10 Rating: TV-MA First Released: 06/30/2019
It Comes at Night (2017)
IMDb Score: 6.2/10 Rating: R First Released: 12/09/2019
Kaal (2005)
IMDb Score: 4.6/10 Rating: TV-14 First Released: 04/01/2020
Kaali Khuhi (2020)
Rating: TV-14 First Released: 10/30/2020
Kanika (2017)
IMDb Score: 4.6/10 Rating: TV-14 First Released: 03/01/2018
Keeping Love Alive (2017)
Rating: TV-14 First Released: 12/18/2017
Killer Klowns from Outer Space (1988)
IMDb Score: 6.2/10 Rating: PG-13 First Released: 04/01/2020
KL Zombi (2013)
IMDb Score: 4.5/10 Rating: TV-14 First Released: 08/21/2017
Krishna Cottage (2004)
IMDb Score: 5.1/10 Rating: TV-14 First Released: 05/15/2019
Kuntilanak (2018)
IMDb Score: 4.7/10 Rating: TV-14 First Released: 10/12/2018
Laddaland (2011)
IMDb Score: 6.3/10 Rating: TV-MA First Released: 09/07/2018
Ladronas de almas (2015)
IMDb Score: 4.9/10 Rating: TV-14 First Released: 07/01/2018
Lechmi (2017)
IMDb Score: 4.9/10 Rating: TV-MA First Released: 08/01/2018
Little Evil (2017)
IMDb Score: 5.7/10 Rating: TV-MA First Released: 09/01/2017
Living in Bondage: Breaking Free (2019)
Rating: TV-MA First Released: 05/22/2020
Ludo (2015)
IMDb Score: 2.8/10 Rating: TV-MA First Released: 11/22/2016
Lupt (2018)
IMDb Score: 7.3/10 Rating: TV-14 First Released: 04/05/2019
Mad Ron's Prevues from Hell (1987)
IMDb Score: 6.0/10 Rating: TV-MA First Released: 11/01/2010
Malevolent (2018)
IMDb Score: 4.8/10 Rating: TV-MA First Released: 10/05/2018
Malicious (2018)
IMDb Score: 5.0/10 Rating: TV-MA First Released: 02/01/2019
Mara (2017)
IMDb Score: 5.1/10 Rating: TV-MA First Released: 01/05/2019
May the Devil Take You (2018)
IMDb Score: 6.0/10 Rating: TV-MA First Released: 11/15/2018
Mercy Black (2019)
IMDb Score: 4.9/10 Rating: TV-14 First Released: 03/31/2019
Munafik 2 (2018)
IMDb Score: 6.3/10 Rating: TV-MA First Released: 05/01/2019
Mythily Veendum Varunnu (2017)
IMDb Score: 2.3/10 Rating: TV-PG First Released: 08/01/2018
Nang Nak (1999)
IMDb Score: 6.5/10 Rating: TV-MA First Released: 01/01/2019
Nobody Sleeps in the Woods Tonight (2020)
Rating: TV-MA First Released: 10/28/2020
Oh My Ghost (2009)
IMDb Score: 5.4/10 Rating: TV-14 First Released: 07/23/2018
Oh My Ghost 2 (2011)
IMDb Score: 4.9/10 Rating: TV-MA First Released: 07/23/2018
Oh My Ghost 3 (2012)
IMDb Score: 4.8/10 Rating: TV-MA First Released: 07/23/2018
Oh My Ghost 4 (2015)
IMDb Score: 5.6/10 Rating: TV-MA First Released: 07/23/2018
Our House (2018)
IMDb Score: 5.3/10 Rating: PG-13 First Released: 06/01/2020
P (2006)
IMDb Score: 5.1/10 Rating: TV-MA First Released: 04/25/2019
Pagpag: Nine Lives (2013)
Rating: TV-14 First Released: 10/30/2020
Paranormal Investigation (2018)
IMDb Score: 3.7/10 Rating: TV-14 First Released: 03/01/2019
Pari (2018)
IMDb Score: 4.5/10 Rating: TV-14 First Released: 01/15/2019
Pee Mak (2013)
IMDb Score: 7.3/10 Rating: TV-MA First Released: 09/01/2018
Phobia 2 (2009)
IMDb Score: 6.7/10 Rating: TV-MA First Released: 09/01/2018
Pizza (2014)
IMDb Score: 6.2/10 Rating: TV-14 First Released: 10/01/2018
Polaroid (2019)
IMDb Score: 5.1/10 Rating: PG-13 First Released: 02/09/2020
Poltergeist (1982)
IMDb Score: 7.1/10 Rating: R First Released: 02/01/2019
Priest (2011)
IMDb Score: 5.7/10 Rating: PG-13 First Released: 06/01/2020
Psycho (2020)
Rating: TV-MA First Released: 05/01/2020
Ragini MMS (2011)
IMDb Score: 4.9/10 Rating: TV-MA First Released: 05/15/2019
Ragini MMS 2 (2014)
IMDb Score: 3.9/10 Rating: TV-MA First Released: 05/15/2019
Rakkhosh (2019)
IMDb Score: 4.8/10 Rating: TV-MA First Released: 06/20/2019
Rattlesnake (2019)
IMDb Score: 4.6/10 Rating: TV-MA First Released: 10/25/2019
Ravenous (2017)
IMDb Score: 5.9/10 Rating: TV-MA First Released: 03/02/2018
Red Dragon (2002)
IMDb Score: 6.8/10 Rating: R First Released: 05/01/2018
Revenge of the Pontianak (2019)
IMDb Score: 5.2/10 Rating: TV-14 First Released: 10/24/2019
Rise of the Zombie (2013)
IMDb Score: 3.6/10 Rating: TV-MA First Released: 12/15/2017
Romina (2018)
IMDb Score: 2.2/10 Rating: TV-MA First Released: 07/13/2018
Sabrina (2018)
IMDb Score: 4.2/10 Rating: TV-MA First Released: 11/20/2018
Savita Damodar Paranjpe (2018)
IMDb Score: 6.0/10 Rating: TV-14 First Released: 11/15/2018
Scary Movie V (2013)
Rating: PG-13 First Released: 08/12/2020
Secrets in the Hot Spring (2018)
IMDb Score: 6.0/10 Rating: TV-14 First Released: 12/31/2018
Session 9 (2001)
IMDb Score: 6.4/10 Rating: R First Released: 05/30/2020
Seven in Heaven (2018)
IMDb Score: 5.3/10 Rating: PG-13 First Released: 10/01/2018
Shark Night (2011)
IMDb Score: 4.0/10 Rating: PG-13 First Released: 11/02/2019
Shutter (2004)
IMDb Score: 7.1/10 Rating: TV-MA First Released: 09/01/2018
Silence of the Lambs (1991)
IMDb Score: 8.2/10 Rating: TV-MA First Released: 02/01/2019
Silent Hill: Revelation (2012)
IMDb Score: 5.0/10 Rating: R First Released: 12/13/2019
Sinister 2 (2015)
IMDb Score: 5.3/10 Rating: R First Released: 10/16/2019
Sinister Circle (2017)
Rating: TV-MA First Released: 10/01/2019
Siren (2016)
IMDb Score: 5.3/10 Rating: TV-MA First Released: 01/01/2020
Sleepy Hollow (1999)
IMDb Score: 7.3/10 Rating: R First Released: 07/01/2020
Splatter (2009)
IMDb Score: 3.1/10 Rating: TV-MA First Released: 11/18/2009
Splice (2009)
IMDb Score: 5.7/10 Rating: R First Released: 07/01/2020
Stephanie (2017)
IMDb Score: 5.8/10 Rating: R First Released: 09/01/2018
Still (2010)
IMDb Score: 4.4/10 Rating: TV-MA First Released: 09/14/2018
Stree (2018)
IMDb Score: 7.6/10 Rating: TV-MA First Released: 06/07/2019
Suzzanna: Buried Alive (2018)
IMDb Score: 5.7/10 Rating: TV-MA First Released: 04/03/2019
Sweetheart (2019)
IMDb Score: 5.7/10 Rating: PG-13 First Released: 12/25/2019
Tales From the Hood 2 (2018)
IMDb Score: 4.4/10 Rating: R First Released: 10/02/2018
Target (2018)
IMDb Score: 4.0/10 Rating: TV-14 First Released: 11/20/2018
Temple (2017)
IMDb Score: 3.6/10 Rating: TV-MA First Released: 12/02/2017
The Autopsy of Jane Doe (2016)
IMDb Score: 6.8/10 Rating: R First Released: 12/30/2018
The Babysitter (2017)
IMDb Score: 6.3/10 Rating: TV-MA First Released: 10/13/2017
The Babysitter: Killer Queen (2020)
Rating: TV-MA First Released: 09/10/2020
The Bar (2017)
IMDb Score: 6.3/10 Rating: TV-MA First Released: 09/24/2017
The Binding (2020)
Rating: TV-MA First Released: 10/02/2020
The Blue Elephant 2 (2019)
Rating: TV-14 First Released: 09/20/2020
The Boy (2016)
IMDb Score: 5.8/10 Rating: TV-MA First Released: 06/01/2018
The Bridge Curse (2020)
Rating: TV-MA First Released: 08/27/2020
The Bye Bye Man (2017)
IMDb Score: 4.2/10 Rating: PG-13 First Released: 04/01/2019
The Car (1977)
IMDb Score: 6.2/10 Rating: PG First Released: 06/01/2020
The Car: Road to Revenge (2019)
IMDb Score: 4.0/10 Rating: TV-MA First Released: 02/01/2020
The Darkness (2016)
IMDb Score: 4.4/10 Rating: PG-13 First Released: 06/16/2020
The Day of the Lord (2020)
Rating: TV-MA First Released: 10/30/2020
The Doll (2016)
IMDb Score: 5.4/10 Rating: TV-MA First Released: 01/15/2019
The Doll 2 (2017)
IMDb Score: 5.3/10 Rating: TV-MA First Released: 01/15/2019
The Evil Dead (1981)
IMDb Score: 7.5/10 Rating: TV-MA First Released: 01/10/2020
The Figurine (Araromire) (2009)
IMDb Score: 4.5/10 Rating: TV-14 First Released: 10/01/2019
The Forest (2016)
IMDb Score: 4.8/10 Rating: PG-13 First Released: 02/16/2020
The Girl with All the Gifts (2016)
IMDb Score: 6.6/10 Rating: R First Released: 04/01/2020
The Golem (2018)
IMDb Score: 5.6/10 Rating: TV-MA First Released: 06/26/2019
The Green Inferno (2013)
IMDb Score: 5.3/10 Rating: R First Released: 11/16/2019
The House Next Door (2017)
IMDb Score: 6.8/10 Rating: TV-MA First Released: 01/09/2018
The Influence (2019)
IMDb Score: 4.5/10 Rating: TV-MA First Released: 10/11/2019
The Invitation (2015)
IMDb Score: 6.6/10 Rating: TV-MA First Released: 07/08/2016
The Mansion (2017)
IMDb Score: 4.6/10 Rating: TV-MA First Released: 07/28/2018
The Maus (2017)
IMDb Score: 5.0/10 Rating: TV-MA First Released: 06/30/2018
The Monster (2016)
IMDb Score: 5.4/10 Rating: R First Released: 01/06/2019
The Open House (2018)
IMDb Score: 3.2/10 Rating: TV-MA First Released: 01/19/2018
The Perfection (2019)
IMDb Score: 6.1/10 Rating: TV-MA First Released: 05/24/2019
The Promise (2017)
IMDb Score: 6.0/10 Rating: TV-MA First Released: 09/01/2018
The Recall (2017)
IMDb Score: 4.3/10 Rating: R First Released: 12/15/2019
The Ritual (2018)
IMDb Score: 6.3/10 Rating: TV-MA First Released: 02/09/2018
The Secret (2018)
Rating: TV-14 First Released: 09/15/2018
The Silence (2019)
IMDb Score: 5.3/10 Rating: TV-14 First Released: 04/10/2019
The Super (2017)
IMDb Score: 5.9/10 Rating: R First Released: 02/16/2019
The Unborn Child (2011)
IMDb Score: 4.6/10 Rating: TV-MA First Released: 07/30/2018
The Vatican Tapes (2015)
IMDb Score: 4.9/10 Rating: PG-13 First Released: 04/20/2020
Thriller (2018)
IMDb Score: 3.7/10 Rating: TV-MA First Released: 04/14/2019
Train of the Dead (2007)
IMDb Score: 3.5/10 Rating: TV-MA First Released: 07/23/2018
Tremors: A Cold Day in Hell (2018)
IMDb Score: 5.0/10 Rating: PG-13 First Released: 05/01/2018
Tremors: Shrieker Island (2020)
Rating: TV-14 First Released: 10/20/2020
Truth or Dare (2017)
IMDb Score: 5.0/10 Rating: TV-MA First Released: 10/03/2018
Twinsanity (2018)
IMDb Score: 4.1/10 Rating: TV-MA First Released: 03/15/2019
Two Sentence Horror Stories (2019)
IMDb Score: 5.5/10 Rating: TV-14 First Released: 09/20/2019
Under the Shadow (2016)
IMDb Score: 6.9/10 Rating: PG-13 First Released: 01/07/2017
Underworld: Rise of the Lycans (2009)
IMDb Score: 6.6/10 Rating: R First Released: 05/01/2020
Unfriended (2014)
Rating: R First Released: 10/16/2020
Vampires vs. the Bronx (2020)
Rating: PG-13 First Released: 10/02/2020
Veronica (2017)
IMDb Score: 6.2/10 Rating: TV-MA First Released: 02/25/2018
Visions (2015)
IMDb Score: 5.3/10 Rating: R First Released: 02/01/2020
Warda (2014)
IMDb Score: 4.1/10 Rating: TV-14 First Released: 04/18/2019
We Summon the Darkness (2019)
Rating: R First Released: 08/08/2020
Wildling (2018)
IMDb Score: 5.5/10 Rating: R First Released: 04/01/2020
Winchester (2018)
IMDb Score: 5.4/10 Rating: PG-13 First Released: 07/01/2020
Would You Rather (2013)
IMDb Score: 5.7/10 Rating: TV-MA First Released: 06/05/2019