5.  Courage: The Cowardly Dog (4 Seasons)


Although it's still categorized as an animated comedy, this show actually had a fair bit of horror thrown into the mix too. The Cartoon Network show ran between 1999 and 2002 and was all about an anthropomorphic beagle that along with his parents, went on some pretty obscure and odd 'trips' with his family which were often very dark in tone. As a kid you wouldn't have picked up on many of it and it does leave you reeling as to how this show was ever able to be on television.
4. Young Justice (2 Seasons)

Two superhero shows in a row now and let's kick off with the new one, Young Justice. Putting its DC license into good use, Cartoon Network rewinds the clock on many of your favorite DC superheroes, whether that be Superman, Batman, The Flash or Arrow and lets you see them when they're much younger but still fighting together.
3. Justice League (2 Seasons)

Justice League is older in both senses of the word. The heroes featured in Young Justice are all grown up and therefore more badass and the show came out long before its younger cousin. But with age comes finess and Justice League demonstrated that a little bit more than Young Justice. The Cartoon Network show only ran for two seasons which is a shame but featured all of your favorite DC characters.
2. Naruto (4 Seasons)

Cartoon Network has had very few forays into its anime offerings but when it has explored it, it's nailed it. Cartoon Network carries the show in many regions including the US. It's an anime series that follows a young boy called Naruot Uzmaki who wants to be the best ninja in the land.
1. Star Wars : The Clone Wars (6 Seasons)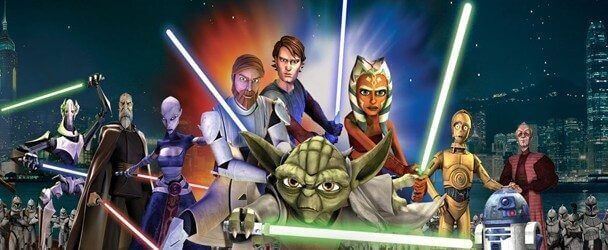 The best thing to come out of the Star Wars prequel movies was this series and no, we're not kidding. The Cartoon Network show was commissioned after the first animated movie for Star Wars went down well with fans. It's excellently animated and is quite literally a wet dream for Star Wars fans as there is, thanks to Netflix, now six seasons of the show to enjoy and therefore is the best that Cartoon Network had to offer.