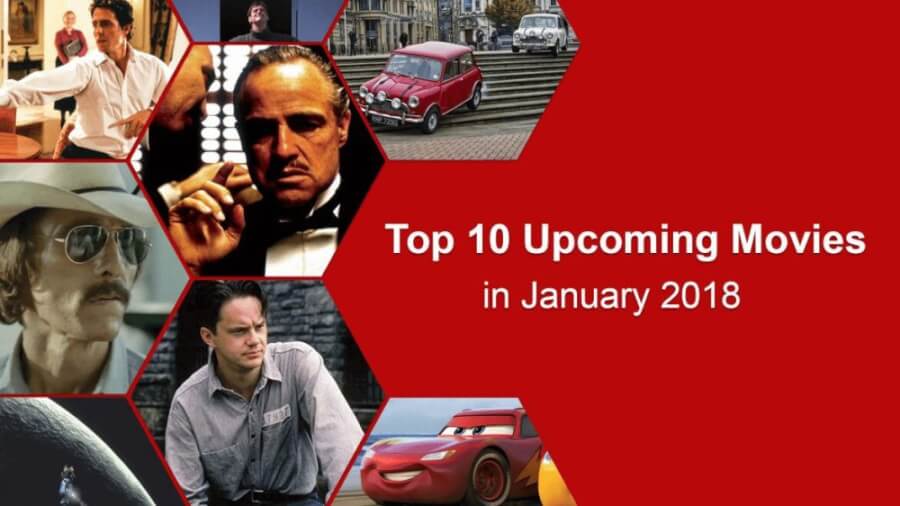 As January begins and all the Christmas decorations are put away and we start the arduous task of preparing for 2018. Something that's going to make it a bit easier, is the number of great titles being added to Netflix throughout the month.
We're taking a quick look through all the January additions and picking out our top 10 movies, whether they are classic masterpieces, or more modern additions.
Check out the full list right here to decide for yourself, along with the top list for TV series as well.
Article Continues Below...
---
10. Batman Begins (2005)
Releases on January 1st
Directed by Christopher Nolan
This 2005 film marked the introduction of Christian Bale's Batman, arguably one of the most popular and best cinematic adaptations of the Dark Knight. The film follows Bruce Wayne's return from training with his mentor Henri Ducard, back to the crime-ridden Gotham City that he vowes to help. This would be the first in the Dark Knight trilogy and pits the caped vigilante against the sinister League of Shadows and the villain Scarecrow, who uses a toxin to strike intense phycological fear into his victims.
---
9. The Truman Show (1998)
Releases on January 1st
Directed by Peter Weir
Not one of Jim Carrey's normal comedies, The Truman show follows a man who's lived his entire life inside the world's largest studio, televised live around the world. As Truman is exposed to more and more clues to his true reality, he soon realises everyone he knows is just an actor, even his wife. The show was nominated for 3 Oscars and we'll be glad to see it on Netflix.
---
8. The Italian Job (1969)
Releases on January 1st
Directed by Peter Collinson
Famous for its car chase consisting of 3 mini's, the Italian Job follows a robbery in Torino where Charlie (Michael Caine) and his group of misfits set out to steal tons of Gold. Any classic movie fan should be familiar with this film and it's greatness, right down to where the gold ends up. The film was re-made back in 2003 staring Mark Wahlberg, but paled in comparison to the 1969 original.
---
7. Love Actually (2003)
Releases on January 1st
Directed by Richard Curtis
One of the most liked and still relevant rom-coms ever made is Love Actually. The story of eight very different couples who attempt to overcome the many obstacles in the way of happiness before Christmas. The film has a star-studded cast, and to name a few; Bill Nighy, Colin Firth, Keira Knightley, Alan Rickman, Hugh Grant and a surprising amount more. The abundance of great character and delightful tone makes many people come back to this romantic comedy over and over. And with it being added back onto Netflix, you can do just that.
---
6. Dallas Buyers Club (2013)
Releases on January 16th
Directed by Jean-Marc Vallée
Based on a true story, Dallas Buyers Club portrays the struggle that Ron Woodroof went through after being diagnosed with AIDS in the 1980s. And how Ron worked around the American system to get medication for him and other people with AIDS who desperately needed it to survive. This might be a little more of a somber pick for our list but we think Matthew McConaughey's performance in this 3-time Oscar-winning film deserved a place on this list.
---
5. Cars 3 (2017) Disney Early Release
Releases on January 31st
Directed by Brian Fee
Pixar released the true sequel to the 2006 animated film 'Cars' on July of 2017, and once again focuses on Lightning McQueen (Owen Wilson). In a last-ditch attempt to prove he's still got it against the new generation of race cars, Lightning begins training with Cruze Ramirez, a modern race technician. The deal that Disney has with Netflix means that pretty new films like Cars 3 are released early on Netflix.
---
4. Apollo 13 (1995)
Releases on January 1st
Directed by Ron Howard
Starring Tom Hanks, the late Bill Paxton, and Kevin Bacon, Apollo 13 depicts the real-life disaster surrounding the 13th Apollo mission. NASA must somehow bring the astronauts back home safe, despite the spacecraft undergoing massive internal damage. The film was praised for its amazing casting and even though most knew how the story ended, it kept you unable to take your eyes off the screen.
---
3. Pirates of the Caribbean:  Dead Men Tell No Tales (2017) Disney Early Release
Releases on January 2nd
Directed by Joachim Ronning and Espen Sandberg
Due to a Netflix deal with Disney new titles such as 'Dead Men Tell No Tales' are set to come to Netflix pretty soon after their theatrical release. This film is the fifth instalment in the Pirates of the Caribbean franchise, following on from Stranger Tides. Once again starring Johnny Depp as the infamous pirate, Captain Jack Sparrow, this time being hunted by the Pirate killer, Captain Salazar. Fans will also be pleased that the film wraps the Will Turner – Elizabeth Swan plotline that has been prevalent since the first movie.
---
2. The Shawshank Redemption (1994)
Releases on January 1st
Directed by Frank Darabont
Originally based on a Stephen King book, The Shawshank Redemption is often referred to as one of the best films ever made. Starring Tim Robbins and Morgan Freeman, the film follows the wrongful imprisonment of a former banker in the infamous Shawshank prison. Andy Dufresne (Robbins) must now adapt to the horrors of his new life and dream of his name being cleared. A masterpiece of film-making and writing that no doubt deserves to be on Netflix.
---
1. The God Father Trilogy (1972-1990)
Releases on January 1st
Directed by Francis Ford Coppola
Our number one spot for January is not just one great film, but three. The Godfather trilogy mostly centres around Michael Corleone's (Al Pacino) ascension to power within the Mafia, becoming his fathers' successor. The trilogy is nothing less than a masterpiece, with the second film 'The Godfather Part II', not only being the first major film in America to use "Part II", but one of the best sequels in cinematic history.
---
Are you looking forward to any of the films we have listed above? Why not take a look at the full list and pick your own top 10? We would love to see it in the comments below.