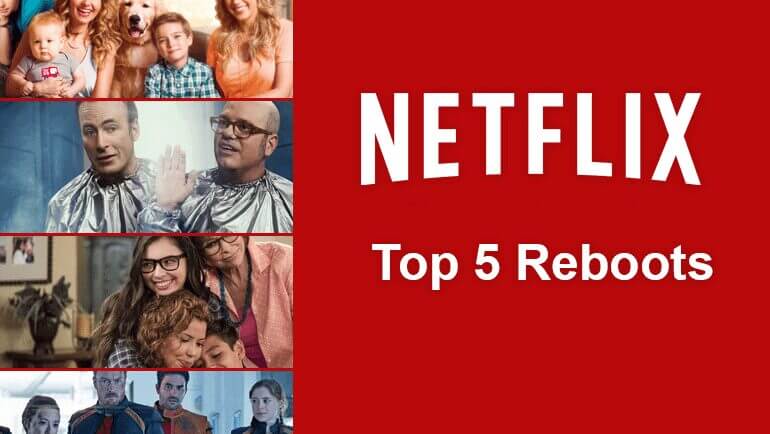 In case you haven't noticed, Netflix has been creating quite a lot of shows recently. One of the key ways its produced shows is by looking into the back library of other networks and picking the best shows to reboot. In almost all cases, it's successfully managed to reboot the shows for new audiences and we've picked out the best 5 titles that do just that.
So without further ado, here's our picks at the best 5 Netflix series reboots:
---
Fuller House
3 Seasons Available
Article Continues Below...

The first of the big reboots, this runaway hit has been a huge success for Netflix. Now three seasons in and more ordered, the sitcom has been working numbers for Netflix. Based on the 90's series Full House, the show features familiar, if grown-up faces that any kid from the era will recognize. It features a similar proven concept to the original and a healthy dose of appearances from other old cast members too. It's a fan-favorite and we hope the show has plenty more to give to both new and old audiences alike.
---
One Day at a Time
2 Seasons available

This reboot of a relatively unknown show has broken ground and has already been renewed for a third season. It's been hailed as an exceptional show at Latino representation in a TV series. The series follows a struggling mother who's tasked with raising her kids in tough conditions with the absence of their father.
---
W/ Bob & David
1 Season Available

Although HBO's relationship is not as strained as it first was with documentaries from the cable network now finding their way onto Netflix in some regions, Bob and David was the first big scoop for Netflix from HBO. The sketch show from HBO was rebooted back in 2015 with some frankly fantastic sketches which surpassed the original series,  Mr. Show with Bob and David, which ran between 1995 and 1998.
Sadly, no news of a second season has been announced with Bob Odenkirk working full time on multiple movie projects and his starring role in Better Call Saul, it's likely it'll be some time until we see the return.
---
The Magic School Bus Rides Again
2 Seasons Available

If you grew up during the 90's Netflix already has some cracking throwback shows for you to watch but not content with leaving it all in the past, it rebooted The Magic School Bus last year. Featuring the voice of Kate McKinnon who is most known for her role on SNL, this series is back for a new audience featuring updated visuals but the same lovable characters and adventures that the original exhibited.
---
Lost in Space
1 Season Available

Perhaps the biggest reboot to come to Netflix yet arrived in April 2018 with a show that spared no expense in bringing the concept of the original to the 21st century. Lost in Space is based on both the series which ran in the sixties and the 1999 movie. The cast is just as impressive as its visuals which easily competes among the best and could even be considered movie quality. It's been a hit for Netflix already and given the ending of season 1, there's plenty more the show has to give in the future.
Have we omitted any reboots that need to be included in this list? Let us know down below.