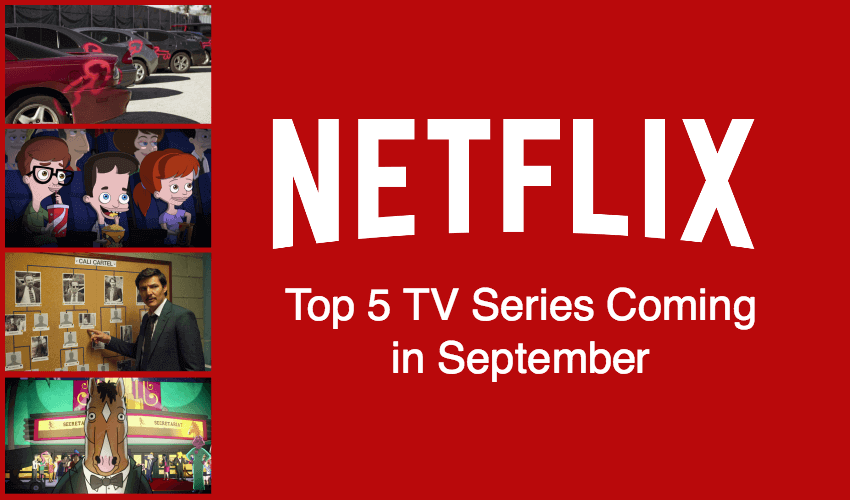 Netflix is kicking the content into high gear for Fall. Here we take a look at the shows you should definitely be adding to your queue. For a complete list of September additions, check out our preview.
August was a bit of a quiet month, but your patience is about to be rewarded. September promises to be a month filled with cider and streaming. In addition to all the great Netflix Original series, be on the lookout for these specials:
Marc Maron: Too Real Netflix Original Standup Special
Disney's Newsies: The Broadway Musical
Jerry Before Seinfeld Netflix Original Standup Special

---
5. Big Mouth 
Netflix Original
Puberty is fresh hell on earth. Now Nick Kroll lets you experience it with all your favorite comedians. No one is left unscathed. John Mulaney lends his voice to the character of Andrew, while Kroll voices many, including best friend Nick. Maya Rudolph, Jason Mantzoukas, Jordan Peele, Fred Armisen, Jenny Slate, and Jessi Klein also lend their voices in the series. (Can you say dream Drunk History line-up?) Judging by the trailers, it's completely disgusting and very inappropriate. I really think I'm going to like it.
Article Continues Below...
---
4. The Walking Dead: Season 7
If you survived the dark side of the web, all the spoilers for the past year, and you still don't know what happens at the cliffhanger ending of the end of season six: Congratulations! Welcome to the Negan era of The Walking Dead. Our group of survivors are now trying to adjust to a new life under the terrifying leader and follow his orders. Survival is getting tougher and they must work even harder than before to take out a dangerous enemy before they get taken out themselves.
---
3. American Vandal  
Netflix Original
This controversial Netflix Original caused quite a stir when its trailer was initially released. From Funny or Die comes this gripping crime saga that will have your mind reeling and leave you asking yourself only one question: "Who drew the dicks?"
---
2. BoJack Horseman: Season 4
Netflix Original
Will Arnett is one of the hardest working men for Netflix (Arrested Development, Flaked) and he is back again as BoJack. When we last left him BoJack was totally adrift. We watch this season as deals with more personal challenges and how it affects him and those around him. Somewhat bleak but always soulful, this Hollywood satire has consistently gotten better and continues to grow.
---
1. Narcos: Season 3 
Netflix Original
Pablo Escobar is dead. But wherever a drug lord falls a new one is sure to rise. Now the DEA and agent Javier Pena must deal with the Cali Cartel. Can the show keep up the momentum after a terrific two year run? An array of strong characters, a tense storyline, and the ruthless antics of the Cali heavyweights leave me thinking they will ride the same high.
What are looking forward to seeing most in September? Let us know in the comments!