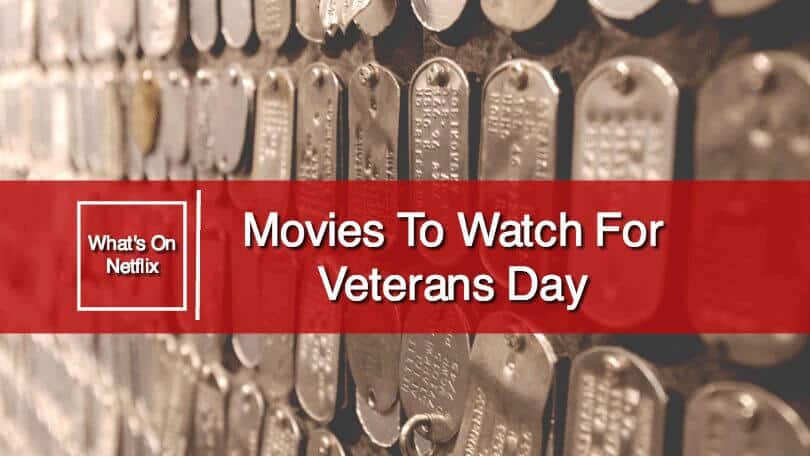 This year, Veterans Day falls on Saturday, November 11 in the US. Since the holiday falls on a weekend, the federal holiday is observed Friday, November 10.
Veterans Day pays tribute to all American veterans who have served in the U.S. military, both living and dead. Commemorate the day with a few of these titles currently streaming on Netflix.
The War
This Ken Burns documentary series was six years in the making. It chronicles the horrifying historical impact of World War II from an American perspective by focusing on the personal stories of private citizens from four American towns: Waterbury, Conn., Mobile, Ala., Sacramento, Calif., and Luverne, Minn. Together, these four communities remarkably illustrate the ordeal Americans went through during the four years of the war. Witnesses share vivid and often harrowing accounts of how the war dramatically altered their own lives as well as those of their friends and neighbors.
Article Continues Below...
---
War Machine
Netflix Original
Brad Pitt stars in this original as successful, charismatic four-star general, Glenn McMahon. Based on the book The Operator: The Wild and Terrifying Inside Story of America's War in Afghanistan by Michael Hastings, it's a story of war, ego, and how one man is taken down by a journalist. (You must watch this if only to see Brad Pitt run.)
---
The Longest Day
This epic film features an extraordinary ensemble cast that includes John Wayne, Robert Mitchum, Richard Burton, Steve Forrest, Sean Connery, Henry Fonda, Peter Lawford, Eddie Albert, Jeffrey Hunter, Stuart Whitman, and Rod Steiger, among others.  It's about the D-Day landings at Normandy on June 6, 1944, during World War II.  The movie won two Oscars and was nominated for three others.
---
USS Indianapolis: Men of Courage
Two words: Nic Cage. Based on the terrifying true story, it's the harrowing tale of real-life American heroes shipwrecked in shark-infested waters as their ship goes down in the Philippine Sea. You may remember this story as told by Robert Shaw in Jaws. It was a heck of a telling. This is your 'so bad it's good' popcorn movie.
---
Five Came Back
Netflix Original
For something from a different perspective, this miniseries was executively produced by Steven Spielberg and Scott Rudin and narrated by Meryl Streep. It explores the experiences of five U.S. film directors – John Ford, William Wyler, John Huston, Frank Capra, and George Stevens – and their frontline work during the Second World War. If you love film you are going to love this series. The directors' war-related works are analyzed by modern filmmakers Paul Greengrass, Steven Spielberg, Francis Ford Coppola, Guillermo del Toro, and Lawrence Kasdan. Meryl Streep won the Primetime Emmy Award for Outstanding Narrator for her performance. It's a sensational examination of Hollywood history.
Thank you to everyone that has served or is serving, in the United States and beyond.
Have more suggestions for Veterans Day watching? Let us know your picks in the comments.