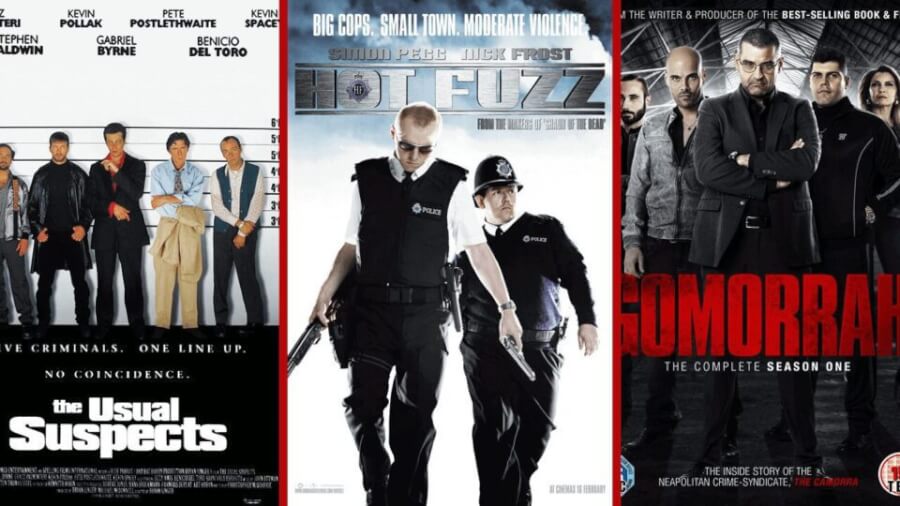 As usual, we have picked three of the 36 releases for Netflix Australia  this week for special mention. There's plenty of powerful stuff but these are the pick of the crop.
Hot Fuzz is the second movie in the Three Flavours Cornetto trilogy – Shaun of the Dead  and The World's End being the other two. This is British comedy at it's finest; it's funny, witty and intelligent. There's violence but only in a cartoon style and it's completely throwaway which simply adds to the comedy. There are a host of cameo appearances from some top stars and the references to other movies just go on and on. The direction is perfect and the action sequences are immaculately executed. We could go on and on but it would be better and easier if you just watched this movie which is destined to be a cult classic. It's one of our all time favourites.
The Usual Suspects is one of those movies you have to watch more than once. Five dysfunctional criminals are drawn together to commit a major robbery. But there are other factors at play and we are left guessing what is going on until the final scene. And what a twist. The movie has layer upon layer on intrigue which draws you in from the very first scene. Stephen Baldwin, Gabriel Byrne, Benicio Del Toro and Kevin Pollak all deliver superb performances and it's unfair to single out any one for special credit. So that's what we're going to do. Kevin Spacey delivers in trumps. We started by saying you should watch the movie more than once and we'll finish by saying it again. It's one of those rare pieces in which you'll find something new with every viewing.
Article Continues Below...
Crime and the mafia in Italy are well covered in the cinema. Gomorrah follows the Savastano clan who are big into drugs. Which is something of a departure because crime in Naples grew out of the Fashion industry and the original book followed this. There was a very creditable movie made in 2008 by the same director (who also wrote the book) and from this you can gather that he really has his teeth into the subject. Often, Italian crime movies are reworkings of age old material but this is not the case with Gomorrah. Since it had it's genesis in truth, the story borders on a documentary and will have you completely hooked.
Let us know what you think.
Here are the 36 new titles added to Netflix Australia this week.
20 New Movies
2 States (2014)
Baaghi (2016)
Beyond the Clouds (2017)
Brij Mohan Amar Rahe (Long Live Brij Mohan) (2018) Netflix Original
Bring It On: In It to Win It (2007)
Charlie St. Cloud (2010)
Chennai Express (2013)
Flavors of Youth: International Version (Si shi qing chun) (2018) Netflix Original
Get Hard (2015)
Happy Gilmore (1996)
Hot Fuzz (2007)
I Kill Giants (2017)
Ouija: Origin of Evil (2016)
Perdida (2018) Netflix Original
Pride & Prejudice (2005)
The Package (2018) Netflix Original
The Usual Suspects (1995)
To the Beat (2018)
Tower Heist (2011)
Weird Science (1985)
10 New TV Series
All About The Washingtons (Season 1) Netflix Original
Chesapeake Shores (Season 3)
Cocaine Coast (Season 1) Netflix Original
Gomorrah (Season 1)
House of Flowers (Season 1) Netflix Original
Insatiable (Season 1)
Ponysitters Club (Season 1) Netflix Original
Pretty Man (Season 1)
The Judgement (Season 1) Netflix Original
Voltron: Legendary Defender (Season 7) Netflix Original
5 New Documentaries/Docuseries
72 Dangerous Animals: Asia (Season 1) Netflix Original
Afflicted (Season 1) Netflix Original
The Birth Reborn (2013)
The Most Unknown (2018)
Zion (2018) Netflix Original
1 Standup Special
Demetri Martin: The Overthinker (2018)