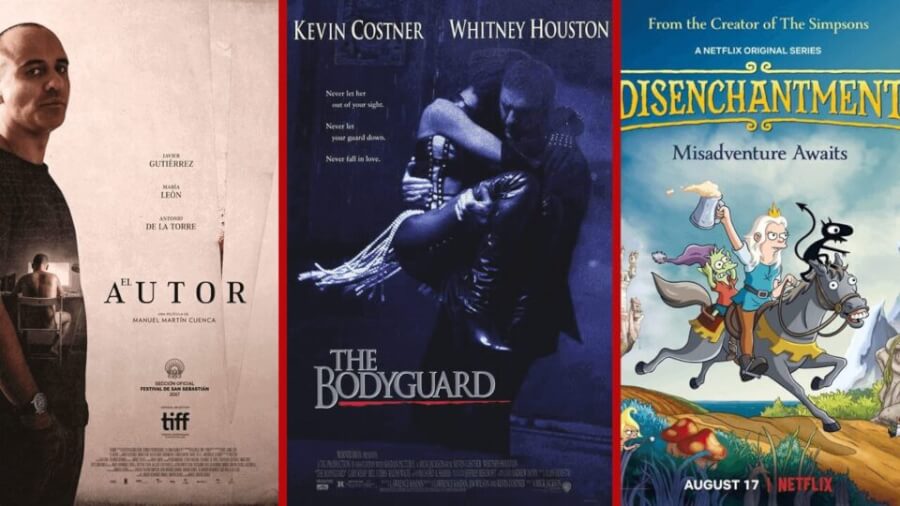 This weeks releases for Netflix Australia include several new Cantonese movies. While this is an interesting development, our Chinese isn't great so we'll keep our highlight reviews to the English language if you don't mind.
The Bodyguard was critically acclaimed when it was released, more for the music than the acting or the plot. Let's face it, Whitney Houston was a singer not an actress. This movie is a love story pure and simple. It's not quite Beauty and the Beast, it's not quite Romeo and Juliet but the burgeoning relationship between two unlikely bedfellows is what makes the movie work rather than the awkward background plot. Kevin Costner was the producer of the movie and held up production because of Houston's availability. Also, as long ago as 1992, we have the inclusion of a British actor to increase the worldwide appeal. Gary Kemp, he of Spandau Ballet of course, puts in an extremely creditable performance.
The Motive is a Netflix Original from Spain. Stay with us. In Spanish (which we do only slightly better than Chinese) the title was El Autor – The Author. This is infinitely more descriptive than the rather sensationalist rendering as The Motive. All right, the author has a motive but he's primarily an author. The story line is set against a failing relationship and the humour is more gentle than laugh out loud. This derives from the protagonist being a right PITA and we all know someone like that who we can relate to. There is an inspirational strength to the movie and we applaud Netflix for spreading their international wings in this direction
Article Continues Below...
Staying with Netflix originals, Disenchantment is the brainchild of the genius Matt Groening. It's his first new venture in nearly 20 years and, unlike the Simpsons, this is grown up stuff. We have a boozy princess, a "feisty" elf and a demon. And, because this is an absolutely new release, we don't know a huge amount more. What we do know is we are promised ogres, sprites, harpies, imps, trolls, walruses and lots of human fools in a show "about life and death, love and sex, and how to keep laughing in a world full of suffering and idiots, despite what the elders and wizards and other jerks tell you". What we particularly like is that Australia is getting Disenchantment at the same time as the rest of the world so you can write your own rave reviews.
Here are all the 42 Netflix Australia releases for the week. Let us know what you think.
34 New Movies Now Available
Bhavesh Joshi Superhero (2018)
Bioscope (2015)
Casino Tycoon 2 (Do sing daai hang II ji ji juen mo dik) (1992)
City of Angels (1998)
Curious George (2006)
Disciples Of The 36th Chamber (1985)
For Here or to Go? (2015)
Hurricane Bianca: From Russia With Hate (2018)
Legendary Weapons of China (1982)
Lifeline (1997)
Look Out, Officer (1990)
Love on Delivery (1994)
Loving You (1995)
Mahjong Heroes (1981)
Mr. Virgin (Sam sap chue lam) (1984)
My Schoolmate, the Barbarian (Wo de Ye man Tong xue) (2001)
Oh My Ghost 3 (OMG khun phi chuay) (2012)
Opium and the Kung Fu Master (Lightning Fists of Shaolin) (1983)
Painted Faces (Qi xiao fu) (1988)
Public Schooled (2018)
Return To The 36th Chamber (1980)
Shark Busters (2002)
Sully (2016)
Super 8 (2011)
Sword Masters: Two Champions of Shaolin (Two
Champions of Death) (1980)
The Bare-Footed Kid (1993)
The Bodyguard (1992)
The Guilt Trip (2012)
The Mad Monk (1993)
The Motive (2017)

Netflix Original

The Young Vagabond (1985)
To All The Boys I've Loved Before (2018)

Netflix Original

What's Your Raashee? (2009)
Who Gets the Dog? (2016)
5 New TV Series Now Available
Disenchantment (Season 1)

Netflix Original

Magic for Humans (Season 1)

Netflix Original

Spirit Riding Free (Season 6)

Netflix Original

Stay Here (Season 1)

Netflix Original

Ultraviolet (Season 1)

Netflix Original
3 New Documentaries/Docuseries
Lords and Ladles (Season 2)
Save Our Shelter (Season 1)
The Creative Indians (Season 1)